Silver Bullet er spillet for alle som liker det ville vesten. Her har man et enkelt og oversiktlig spill som skaper god stemning. Spillet kommer fra Playtech, og har bare 9 gevinstlinjer. Det gjør at spillet er rimelig, og et lavt linjeantall er også fint for nye spillere, for da er det lettere å holde oversikten over vinnerkombinasjoner. Spillfølelsen er god, og symbolene passer fint til temaet.
Spillets oppbygging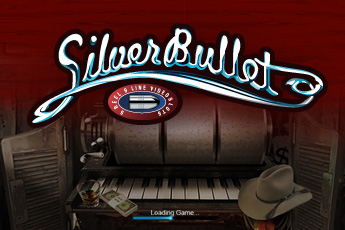 Det finnes flere varianter av dette spillet. En variant har en klassisk myntsprekk på siden av skjermen, og knappene er laget slik at skjermen ser ut som en gammeldags spilleautomat. Dette gir en god, nostalgisk følelse som gjør det enda morsommere å spille. Spillerne trenger ikke å aktivere alle de 9 gevinstlinjene, men færre aktive linjer betyr færre vinnersjanser. Det er rimelig å spille med minsteinnsatsen, selv når alle linjene er aktivert. Minsteinnsatsen er 0,01 euro per linje, totalt 0,09 euro for 9 linjer. Maksimums innsats er 5 euro per linje, totalt 45 euro for 9 linjer. Dersom spillerne vil aktivere færre linjer, kan de enten trykke på knappen Bet One til det ønskede antallet linjer har blitt aktivert, eller de kan trykke på firkantene som markerer gevinstlinjene. Trykker man på firkanten med et sjutall i, aktiverer man automatisk sju linjer, og så videre. Knappen Bet Max aktiverer alle linjene, og man spiller med ni mynter i den valgte myntverdien.
Oppbygningen av spillet er klassisk, med fem hjul og tre rader. Gevinstlinjene er listet opp i gevinsttabellen, men man kan også se linjene gjennom å følge streken mellom de fargerike firkantene som markerer hver linje. Knappene i spillet er lette å forstå, og selv om spillet ikke har bakgrunnsmusikk, byr det på lydeffekter når hjulene spinner.
Utbetalinger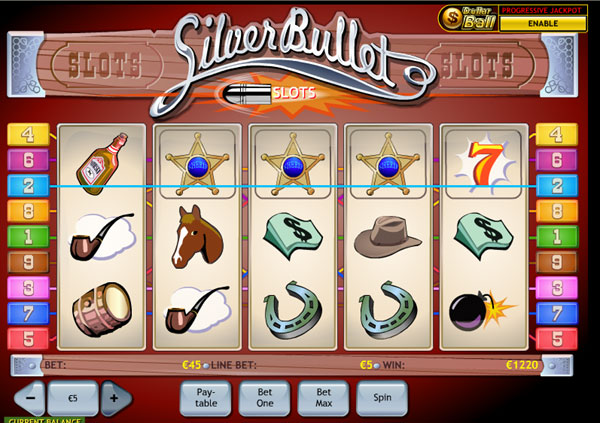 Man trenger to eller flere like symboler etter hverandre for å vinne, og det første av disse symbolene må være plassert på det første hjulet, altså lengst til venstre. Vinnerrekkene må være ubrutte, det vil si uten andre symboler mellom de like symbolene. Symbolene i spillet er unike. Noen gir gevinst for to eller flere like, mens andre gir gevinst for tre eller flere like. Symbolene inkluderer flasker, sjutall, bomber og tønner. Tønnen gir faktisk hele 10  000 mynter i gevinst for fem på rad. Smågevinstene deles ut av hester, penger, hestesko, piper, hjul og hatter. Alle symbolene er selvsagt listet opp i gevinsttabellen, og der kan man enkelt se hvor mye man får for to, tre, fire eller fem like av et symbol.
Man kan også vinne scattergevinster, det vil si gevinster der de vinnende symbolene ikke er plassert på samme gevinstlinje. Det er revolveren som kan gi slike gevinster, og man trenger bare to revolvere på hjulene for å få gevinst. Sheriffstjernen fungerer som et wildsymbol i spillet, og kan telle som et hvilket som helst annet symbol.
Ekstraspill

Ekstraspillet Dollar Ball er tilgjengelig øverst til høyre på skjermen. Dette spillet er et lotteri, der man velger fem tall fra 1 til 49. Under selve spillet blir en rekke tall trukket, og med ett eller flere riktige tall, vinner spillerne en gevinst. Det er frivillig å spille ekstraspillet. Det koster litt ekstra per spinn, derfor må man vurdere om det er verdt det eller ikke. Spillere som tester ut Silver Bullet som gratisspill kan ikke aktivere ekstraspillet. Det kan bare aktiveres når man satse ekte penger.
Oppsummering
Silver Bullet byr på spenning og enkel moro. Spillet er ukomplisert og lett å forstå, og det passer fint til nye spillere. Det er lett å velge hvor mange linjer man vil aktivere, og myntverdiene starter på bare 0,01 euro. Dermed kan man aktivere alle linjene for bare 0,09 euro per spinn. Spillet har wildsymboler og scattere, og det er mulig å aktivere ekstraspillet Dollar Ball. Dette spillet er lett å forstå, og det er valgfritt å aktivere det. Det er ingen gratisspinn eller andre bonusspill i Silver Bullet, men spillet har god spillfølelse og underholdningsverdi.