Bakgrunnsinformasjon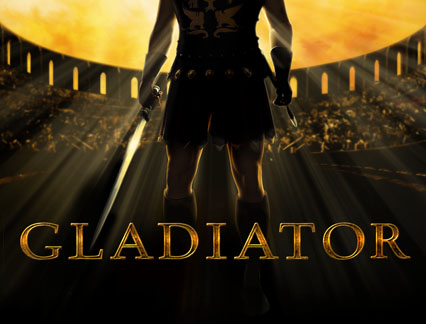 Playtech heter det spillutviklerselskapet som står bak videosloten Gladiator. Playtech er et av de mest kjent spillutviklerselskapene innen slotspill for nettkasinoer, og de har denne gangen kommet med et slotspill som omhandler en veldig kjent film. De har nok fått en lisens på å kunne bruke bilder og scener fra filmen, og det setter bare temaet i spillet enda mer på spissen.
Spillets tema
Temaet er jo så klart gladiatorer. Gladiatorer er noe som hører til i historien vår, og det er noe som mange har hørt veldig mye om. De kjempet i gammel romersk tid, og ble brukt som en populær, kongelig underholdning for menneskene i høyere sosiale stillinger. I dette spilleautomaten er det ikke hvilken som helst gladiator det er snakk om; dette er gladiatorene som hadde flotte roller i filmen ved navn Gladiator fra år 2000. Det er her temaet til spillet har hentet sin inspirasjon fra, og det er tydelig så fort man begynner å spille.
Grafikk og lyd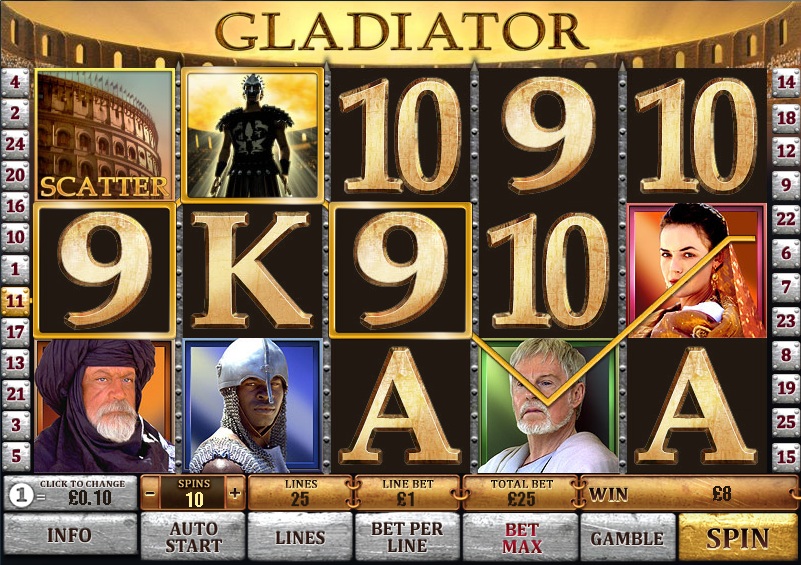 Playtech har tydelig fått en avtale med produsentene fra filmen, for det er brukt veldig mye bilder og grafikk fra filmen i spilleautomaten. Dette gjør så klart at grafikk i spillet er utrolig god, og det er jo nesten så man føler at man blir en del av filmen. Alle hovedkarakterene fra filmen er på plass og vises i form av symboler på hjulene. I tillegg til karakterene som man kjenner igjen fra filmen finner man symboler som er hentet fra en vanlig kortstokk. Det gjelder de høyeste symbolene i en kortstokk, og de er så klart blitt utformet slik at de passer godt inn i forhold til resten av symbolene. De kommer i en slags gullfarge, og passer tydelig inn i tiden temaet stammer fra. De siste symbolene som man kan finne her, er det som er designet som gladiatorens maske og det som kommer i form av Colosseum. Disse to symbolene har en liten animasjon å vise til, som blir vist underveis i spillingen når de utgjør en del av en gevinstgivende kombinasjon. Bakgrunnsmusikken passer utmerket til spillets tema. Det er en behagelig musikk, som passer aller best inn i forkant av en gladiatorkamp. De har lagt ulike lydeffekter inn underveis i spillet, og disse blir aktiverte når man får en gevinst.
Spillets gang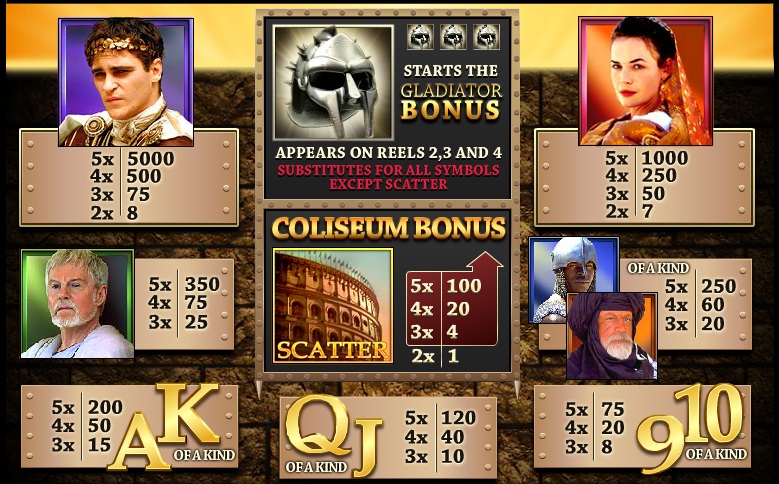 Det er noen ting som man må justere på før man setter i gang spillet. Innsatsen er viktig å ha på plass før man starter å spinne, slik at man får en så god og underholdende spilleopplevelse som mulig. Oppsettet i Gladiator er på fem hjul, tre rader med symboler og til sammen finner man 25 innsatslinjer. Innsatslinjene er ikke faste, det vil si at spilleren kan velge å justere på antallet aktive spillelinjer. Innsatsen i spillet blir aktivert per innsatslinje, og denne kan ligge på mellom 0,01 euro og opp til 10 euro. Med andre ord passer spillet best for low rollers, selv om man med 5.000 x innsatsen kan vurdere noen spinn også som high roller.
Spesialeffekter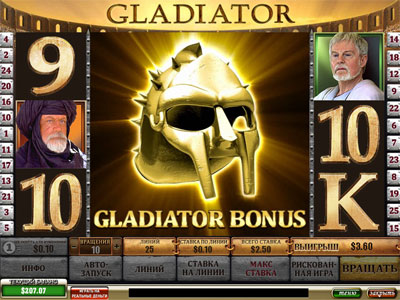 Gladiator spilleautomaten har ikke bare ett, men to ulike bonusspill som kan utløses underveis. Det ene bonusspillet har fått navnet gladiatorbonusen, og dette blir aktivert ved at man får tre gladiatorhjelmer på hjulene. Disse må da være på hjul to, tre og fire. Når dette skjer vil bonusspillet bli aktivert, og man vil få opp ni hjelmer på skjermen. Hver av disse hjelmene vil skjule en bonus som utbetales som en gevinst. Det fungerer slik at den innsatsen man har lagt i spillet ganges opp, og spillet betaler denne summen ut som gevinst. Det kan være det dobbelte av innsatsen, tre ganger innsatsen eller fem ganger innsatsen. Når alle hjelmene har vist sin bonus, er bonusspillet over. Høydepunktet i Gladiator er bonusspillet som heter amfiteaterbonusen. Denne blir aktivert ved at man får tre colosseumsymboler hvor som helst på hjulene. Når dette skjer blir man tatt med til inngangen av Colosseum. Foran seg vil spilleren nå ha et rutenett på fire ganger fem. Under hver av disse rutene vil man finne en gevinst, og en oversikt over alternativer. Disse alternativene er det som forteller hva slags gevinst spilleren kan få.