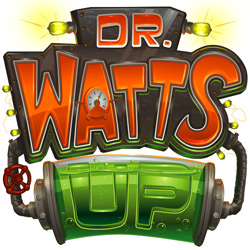 Dr Watts Up er en halvsprø forsker, som roter sammen mye rart i laboratoriet sitt. Dette er spillet for alle som liker sprø og viltre symboler og herlig grafikk. Spillets musikk er også tilpasset temaet, og spillet har 243 måter å vinne på. Spillet er utviklet av Microgaming, det har fem hjul og tre rader med symboler. Grafikken er både vellaget og fantasifull, og temaet er også underholdende. Spillet er inspirert av science-fiction, og den største mulige gevinsten er på hele 480 000 mynter. Selvsagt trenger man flaks for å vinne den, men spillet har også mange fine gevinster som er lettere å vinne.
Spillets myntverdi kan stilles fra 0,01 til 0,20 euro, og man kan satse fra 1 til 20 mynter i den valgte myntverdien. Spillet har også autospinnfunksjon for spillere som spiller mye. Man kan velge inntil 100 automatiske spinn, og man kan også velge når spinnene skal stoppe, for eksempel dersom man taper et visst beløp. I teorien kan man la automaten spinne et ubegrenset antall ganger, dersom man velger å la den spinne helt til man trykker på stopp.
Symboler og gevinster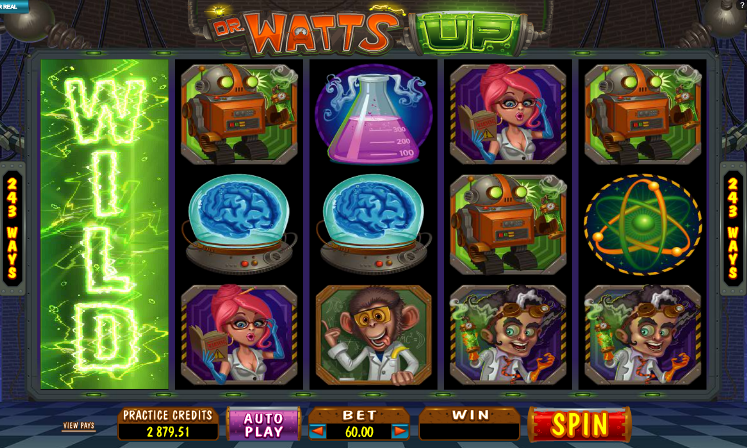 Symbolene i spillet er hentet fra laboratoriet til dr Watts Up. Spillerne blir kjent med doktoren, den vakre assistenten, en ape og en robot. Fem doktorsymboler gir 15 000 mynter i gevinst, fem assistenter gir 10 000 mynter i gevinst, fem aper eller fem roboter gir 5000 mynter i gevinst. Andre symboler som dukker opp, er en merkelig sprøyte, et mikroskop, en hjerne og et glass med rosa væske. Sprøyten gir 3000 mynter for fem like, mikroskopet gir 2000 mynter for fem like, og hjernen og glasset gir 1500 mynter for fem like. Spillet har ingen kortsymboler, bare unike symboler.
Spillets logo er det mest verdifulle symbolet. Fem slike symboler gir hele 50 000 mynter i gevinst. Fire logoer gir 10 000 mynter i gevinst, mens tre logoer gir 1500 mynter i gevinst. Atomsymbolet er det nest mest verdifulle. Dette symbolet gir 30 000 mynter for fem like, 9000 mynter for fire like og 3000 mynter for tre like. Atomsymbolet er også spillets spredte symbol, og minimum tre slike symboler hvor som helst på skjermen, betyr at man vinner gratisspinn. For en komplett oversikt over alle symbolene og gevinstene, bør man lese spillets utbetalingstabell. Der finner man også nyttig informasjon om spillet.
Gratisspinn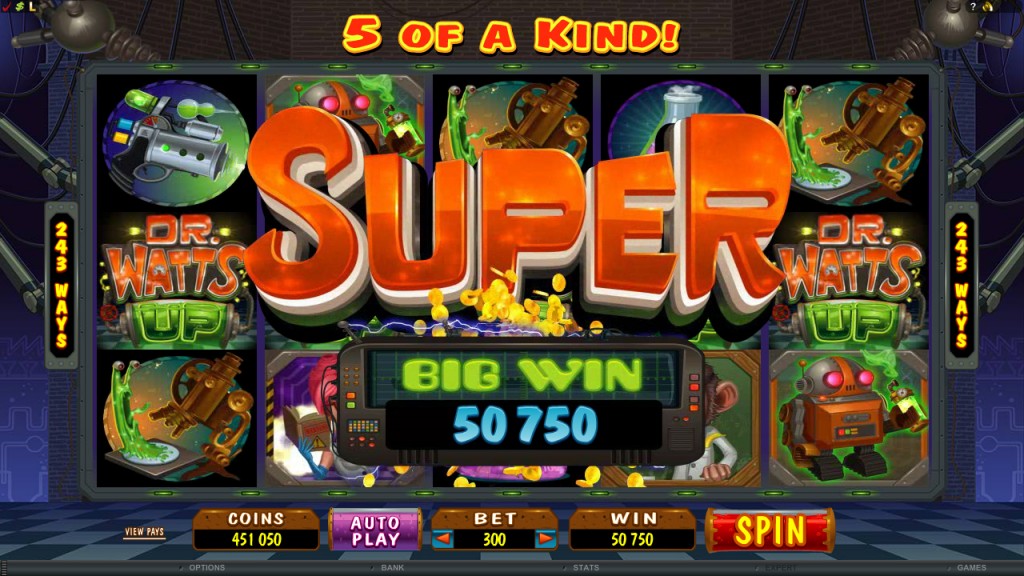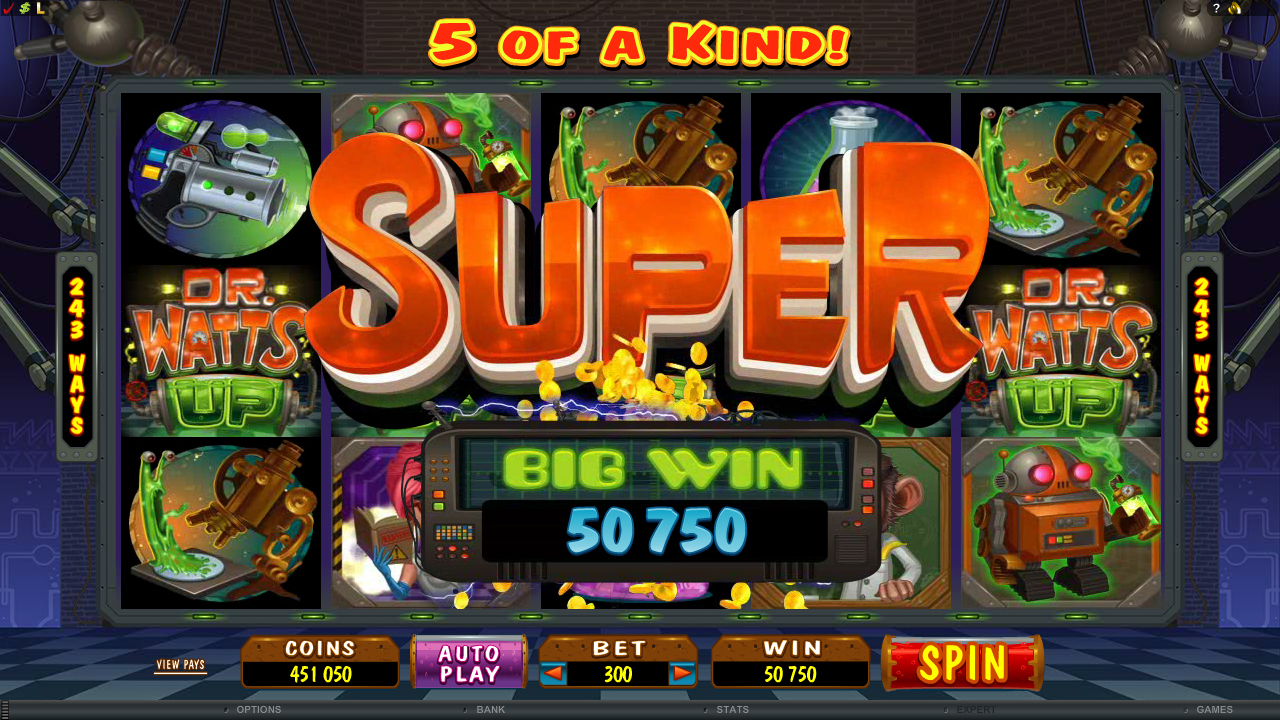 Atomsymbolet er det spredte symbolet som utløser gratisspinnene. Tre spredte symboler på skjermen betyr at man vinner 10 gratisspinn, fire spredte symboler gir 15 gratisspinn og fem spredte symboler gir 20 gratisspinn. Under hvert gratisspinn, blir et tilfeldig hjul forvandlet til et jokerhjul. Gratisspinnene kan ikke gjenutløses, og man kan ikke både vinne gratisspinn og utløse bonusspillet samtidig.
Spesialsymboler
Den hvite laboratorierotten i et glass er et spesialsymbol. Med tre slike symboler hvor som helst på hjul 1, 3 og 5, kommer spillerne til Laboratoriebonusen. I dette spillet skal spillerne velge to kjemikaliebeholdere for å avsløre gevinsten de har vunnet. Spillerne kan ombestemme seg to ganger under spillet. Dette bonusspillet kan også utløses når man spiller med gratisspinn. Når spillerne har bestemt seg for hvilke to ingredienser de vil ha, blir ingrediensene gitt til den stakkars rotta. Hvis spillerne har valgt fornuftig, forvandles rotta til en vakker drømmekvinne, men det avhenger selvsagt av at man har plukket ut de rette ingrediensene!
Oppsummering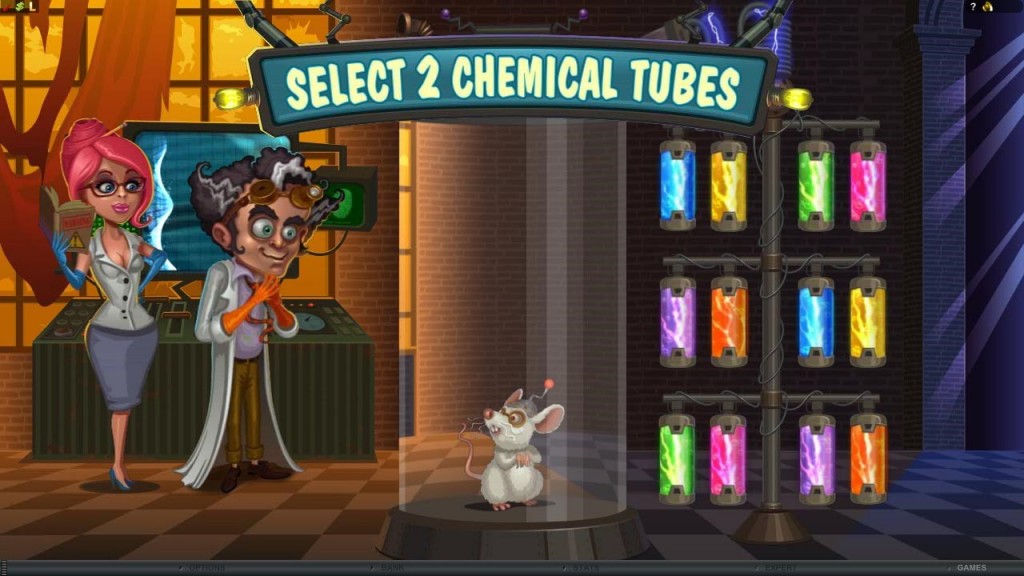 Dr Watts Up er en morsom og passe sprø spilleautomat der man møter en professor og assistenten hans. Spillets toppgevinst er stor, og mange av de andre gevinstene er også veldig fine. Under gratisspinn spiller man alltid med et tilfeldig jokerhjul. Gratisspinnene kan ikke gjenutløses, men det ekstra bonushjulet gjør at man har gode vinnersjanser under gratisspinnene. Bonusspillet er også morsomt og underholdende. Dette er en herlig spilleautomat som man blir i godt humør av. Den er vel verdt et par spinn, og man kan selvsagt teste ut spillet med lekepenger før man satser ekte penger.