Denne nifse spilleautomaten fra spillutvikleren 1×2 Gaming, tar deg med på en uhyggelig opplevelse i 1800-tallets gotiske vampyrverden. Det sies at dette spillet trolig er en av de beste spillene til 1×2 Gaming. Spilleautomaten har 25 gevinstlinjer og fem hjul. Den er et «medium variance» spill, og har en utbetalingsprosent på 97.32%. For best utnytte av spillet, bør man skru av alle lys- om man tør! Man skvetter lett til når man ser de skumle animasjonene. Et tips: vær på vakt!
Tema
Dark Thirst befinner seg på en kirkegård, og er kanskje et av årets mest makabre spill, og byr på noen nervepirrende spillerunder. Den dystre gotiske 1800-talls stilen gir deg umiddelbart gåsehud. Her må man passe seg for tørste vampyrer, og være bevæpnet med bibel, kors og eliksir! Kanskje man får hjelp av vampyrjegeren Abraham Van Helsing, eller andre allierte vampyrjegere? Dette er tiden da Dracula kom til liv, og det kan tenkes at noen av de mannlige vampyrsymbolene skal forestille ulike versjoner av Dracula. 1×2 Gaming har lagt sin sjel i spillet, da det dukker opp fire slagord relatert til spillets tema. Disse heter «Bloody big wins», «Fangs for spinning», «Vlad to be playing?» og «Are you ready to count your winnings?» Setter man sammen de tre sistnevnte, får man navnet «Count Dracula (Vlad)».
Symboler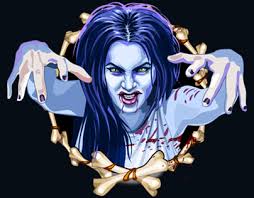 Designene til spilleautomatens symboler, er detaljerte og stilige. Både den kvinnelige og mannlige vampyren er mystiske og forførende. Den mannlige hypnotiserer deg ned med intense øyne, kritthvit som han er. Den sultne kvinnelige har valgt sitt offer – deg. I kontrast til disse to, finner vi spillets eneste wildsymbol, en blå og ufyselig zombie-vampyr. Wildsymbolet gjelder ikke for scattersymbolet eller bonussymbolet. Scattersymbolets vampyr, ser ut som om han når som helst kan hoppe ut av skjermen og bite deg! Bonussymbolet består av en gravsten med en hodeskalle. Det Dark Thirst har gjort, er å blande nåtidens attraktive vampyrer, med datidens litt skumle. De andre symbolene består av en gal flaggermus, hvitløk, bibel med trekors, glass med blod og magiske eliksirer.
Grafikk, lyd og (hårreisende) detaljer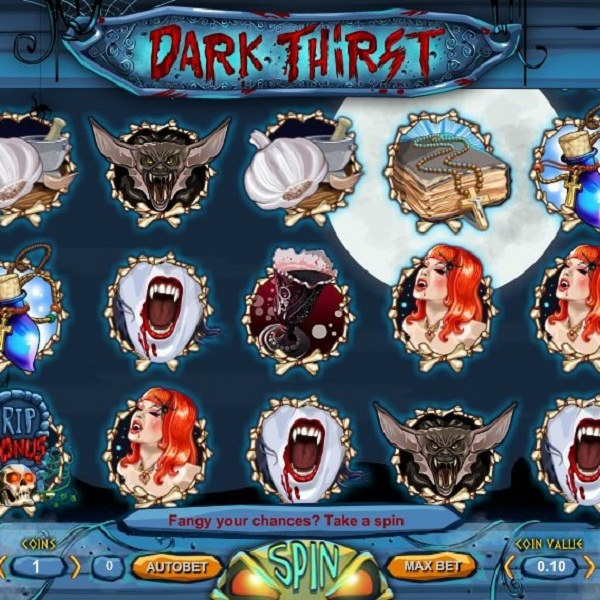 Bakgrunnen består av en kirkegård, med flagrende flaggermuser over fullmånen. Fargen på himmelen, og resten av skjermen, er blå og mørkeblå. Overskriften er skrevet i en rød skrift, trolig blod. Fra denne overskriften, henger en giftig edderkopp. På sidene av spillet, den sorte enkes spindelvev. Klikker du deg inn på reglene blir pilen, utformet som en hoggtang, dratt ned på en blodig stripe. Overskriften «Game rules and help» er også skrevet i rødt blod. Den gotisk-inspirerte bakgrunnslyden passer til temaet. Lukker vi øynene, kan vi se for oss vi er blant vampyrene. Det som hadde gjort spillet enda mer skummelt, eller stemningsfullt, var om melodien hadde en mer dyster og mørk tone. Kanskje slenge på flaggermus som flyr, ondskapsfull latter fra vampyrer og skrik fra redselsfulle mennesker hadde gjort det enda mer nifst! Når man vinner på spillet, høres lyden av en klangfull kirkeklokke. Alle disse kombinasjonen gjør at vi er meget imponert av spillets grafikk og animasjoner!
Utbetalinger og funksjoner
«Pang!»- og spillet er i gang! Det blir skudd et fyr det øyeblikket du trykker spinn. Spillet har 25 gevinstlinjer, og fem gevinsthjul. Det minste du kan satse er 0.05, og det høyeste 270 mynter. Den høyeste summen som kan vinnes av vanlige kombinasjoner, er 500 mynter. Klarer man også å få wildsymbolet, er man heldig, da den er x8 multiplikator! Den aller høyeste summen som kan vinnes, er 22 500 mynter.
Gratisspinn og bonus
Får du tre scattersymboler på skjermen, vinner du 10 gratisspinn. Om man ser bort i fra gratisspinn, er dessverre ikke scattersymbolet verdt mye mynter. Bonusspillet befinner seg på en kirkegård, og der gjelder deg å velge riktig grav. Her gjelder det å grave opp og finne en vampyr. Vampyrene bærer forskjellige premier. Hvor mye du vinner, bestemmes av antall bonussymboler. Graver du opp et menneskeskjelett, er bonusspillet ferdig.
Den grufulle konklusjon
Med sine 25 gevinstlinjer og fem hjul, er dette en spilleautomat som viser til alle forventninger! Grafikken, utseende og animasjonene er grundig planlagt- og det merkes. Man føler man er inne i spillets verden, i Draculas gotiske tidsepoke. Dekker du til gardinene for sol slik at rommet du sitter i er mørkt, er du modig. Hva om vampyrene plutselig popper ut av skjermen? For sikkerhets skyld, bør du ha liggende hvitløk eller et kors. Dette er ikke et spill for folk som sliter med dårlig hjerte! For å svare på 1×2 Gamings spørsmål: Ja, vi er «vlad to be playing»!