Edelsteiner og diamanter er et fint tema for spilleautomater, ettersom spillerne selvsagt drømmer om å vinne stort, slik at de selv kan kjøpe seg edle luksusting. Derfor finnes det mange spill som byr på glitter og glamour, og Diamond Queen fra IGT. Her står den magiske diamantdronningen klar til å belønne heldige spillere. Det er også en magiker og en skattejeger blant symbolene. Under gratisspinnene er man garantert wildhjul, som selvsagt gir ekstra gode vinnersjanser.
Mer om spillet
Diamond Queen har fem hjul med tre rader, slik at skjermen har 15 symboler. Gevinstlinjene er merket med diamantsymboler. Bakgrunnsbildet viser en fiolett skog, og under hjulene finner man knappene der man kan justere innsatsen og velge antall aktive gevinstlinjer. Det er viktig å huske at man bare får utbetaling for vinnerrekker som kommer på aktive gevinstlinjer. Totalt kan man aktivere 20 linjer, men det er også mulig å spille med færre linjer, selv om det betyr at man får færre vinnersjanser per spinn.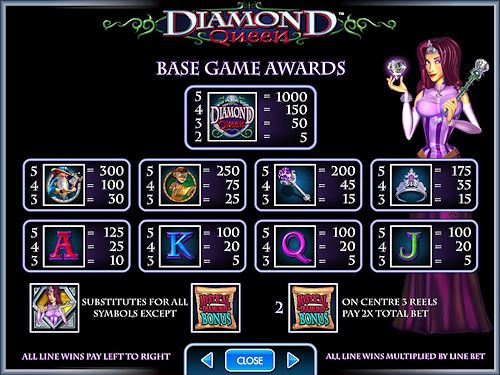 Musikken i spillet er forholdsvis enkel, og den spiller bare når hjulene spinner. Vinnerrekker animeres når spillets unike symboler inngår i vinnerrekken. Man kan også velge inntil 50 automatiske spinn, der man først stiller inn myntverdi og antall aktive linjer, og dermed velger hvor mange spinn man vil spille med den valgte innsatsen. Man kan velge en myntverdi fra 0,01 euro per linje til 10 euro per linje, og dermed kan man satse fra 0,20 euro til 200 euro per spinn.
Symboler
Spillets logo er det mest verdifulle symbolet, og man trenger faktisk bare to slike symboler på rad for å få gevinst. Med fem spillogoer får man 1000 mynter. De andre symbolene gir bare gevinst hvis man får minst tre like på rad på samme gevinstlinje. Trollmannen gir 300 mynter for fem like. Skattejegeren gir 250 mynter for fem like. Septeret med den vakre edelsteinen gir 200 mynter for to like, og kronen gir 175 mynter for fem like.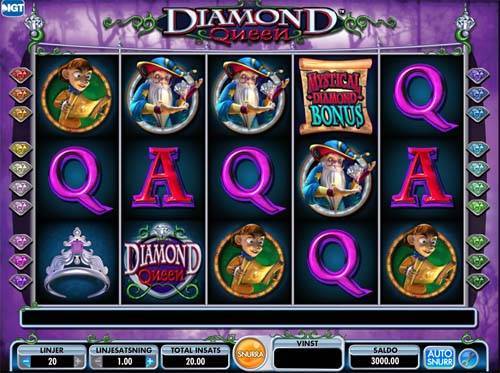 Spillets smågevinster deles ut av de klassiske kortsymbolene. Kortsymbolene er knekt, dame, konge og ess. Knekt, dame og konge gir 100 mynter for fem like, mens esset gir 125 mynter for fem like. Alle gevinstene er listet opp i gevinsttabellen.
Spesialsymboler og gratisspinn
Diamantdronningen er wild i spillet, og hun kan erstatte de vanlige symbolene for å fullføre vinnerrekker. Diamantdronningen kan ikke erstatte bonussymbolet. Bonussymbolet gir 2x totalinnsatsen i gevinst dersom man får to slike symboler på det midterste hjulet.
Med minimum 3 bonussymboler hvor som helst på skjermen, får spillerne tre gratisspinn. Tre gratisspinn virker kanskje ikke spesielt raust, men under gratisspinnene er man garantert å få låste wilds og stablede symboler. Under det første gratisspinnet er hjul 2 et wildhjul, under det andre gratisspinnet er både hjul 2 og hjul 3 wildhjul, og under det tredje og siste gratisspinnet er hjul 2, 3, og 4 wildhjul, som gjør det veldig lett å vinne.
Under gratisspinnene kan man også få ekstraspinn. Hvis det dukker opp et ekstraspinnsymbol på hjul 1, får spillerne 1 gratis respinn. Totalt kan man få 20 ekstra respinn med dette bonusinnslaget, så dermed kan man vinne inntil 23 gratisspinn på rad.
Spillets utbetalingsprosent er mellom 92,97 % og 96,08 %. Dette er det man kan forvente å vinne tilbake av innsatsen dersom man spiller over lang tid. Man må huske at dette forutsetter at man spiller mange hundre spinn. Hvis man spiller bare noen få spinn, kan utbetalingsprosenten være mye lavere eller mye høyere.
Oppsummering
Med magi og glitrende edelsteiner er Diamond Queen en herlig spilleautomat. Grafikken er fin, og fargevalget er godt avstemt, noe som skaper et veldig bra helhetsinntrykk. Det er viktig å huske at dette spillet er ganske variabelt. Det kan ta en god stund før man vinner noe, men da kan man vinne fine gevinster. Det kan også ta litt tid å vinne gratisspinn, men gratisspinnene er vel verdt å vente på, ettersom de inneholder wildhjul under alle spinnene.