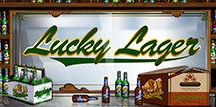 Vet du hva forskjellen på lager og ale er? De to mest vanlige øltypene er å finne i enhver butikk, enhver bar, men de færreste vet hva som skiller dem. Svaret er veldig enkelt – lager er undergjæret, mens ale er overgjæret. Lager blir lagret i kalde kjellere, mens ale gjerne gjæres ved høyere temperaturer. Lucky Lager handler dermed om vanlig, lys øl av den mest utbredte sorten.
Start kvelden med en kald en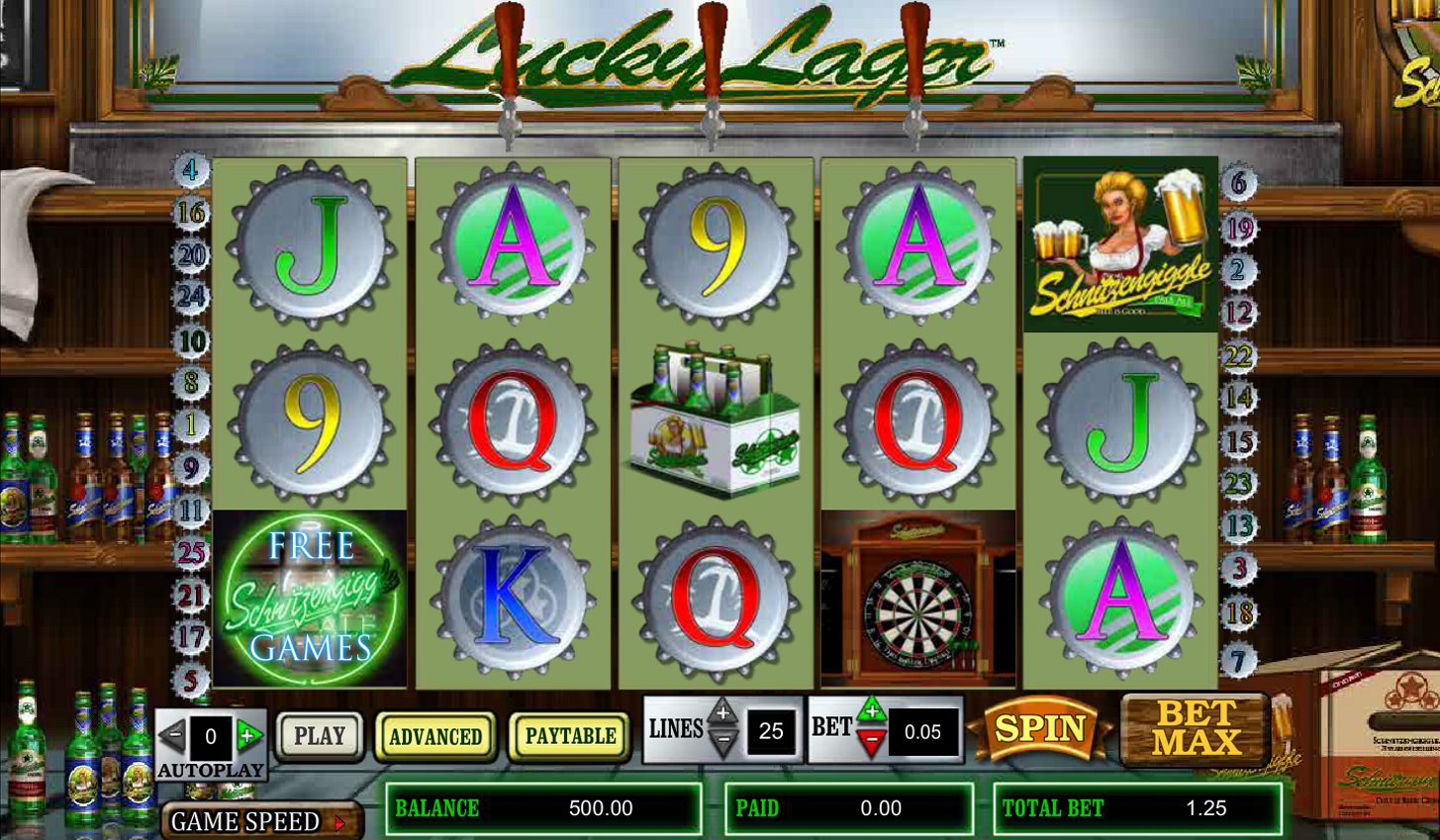 Ja, vi snakker om en spilleautomat med fokus på øl. Dette er en original spilleautomat fra Cryptologic, en verdenskjent utvikler som har holdt på i flere tiår og utviklet flere titalls pengespill de fleste kasinospillere setter pris på. Lucky Lager tar oss med til en pub, eller en bar, kall det hva du vil. Her handler alt om øl, et tema som sjeldent brukes ellers i kasinoverdenen – en kjent myte er at kasinoelskere foretrekker sjampanje eller andre dyre drikker. Dette kunne dog ikke vært lenger fra sannheten, i hvert fall med tanke på at de aller fleste kasinospillere velger å spille på nettet nå om dagen, i komforten av sin egen stue. Og der sitter man gjerne med en kald en i hånda. Lucky Lager er grundig lagd – man kan se at designerne på Cryptologic har vært på en bar eller to i løpet av livet. Bakgrunnen ser ut til å være en helt vanlig bar, med ølflasker, øltapper og ølkorker overalt. Selv gevinstlinjene er utformet som ølkorker – så detaljert har Cryptologic vært. Symbolene er en blanding av kortsymboler og tegnede detaljer. Alt fra 9 til A gir smågevinster hele veien, men spytter sjeldent ut mer enn hva du har satset. Så har man en «sixpack» med øl på glassflasker, øltønner i aluminium, samt en vakker tysk kvinne med tre ølglass i hendene. Sistnevnte gir deg størst gevinst i basespillet, med 750 mynter i gevinst om man treffer på fem like.
Bonusspill, gratisspinn, wildsymboler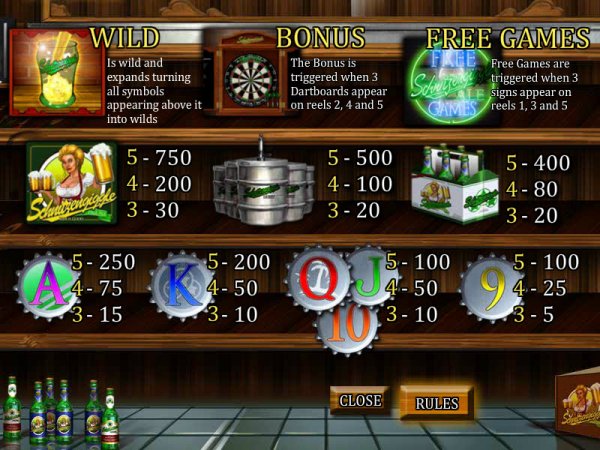 Lucky Lager er et morsomt spill, en spilleautomat man absolutt bør prøve ut om man er glad i øl samt turer på puben. Den har en høy utbetalingsrate, og veldig brede innsatsmuligheter som gjør det enkelt å finne et perfekt nivå å starte ut med. Med beskjedne 25 gevinstlinjer er det rimelig lett å gjøre seg kjent med de ulike symbolene og hvilke gevinster disse gir, samtidig som tre spesielle funksjoner muliggjør drømmen om stor rikdom. Hvem skulle vel trodd at du skulle bli rik mens du satt på puben? Wildsymbolet på Lucky Lager er et ølglass om er på vei til å fylles opp med den deilige, gule alkoholdrikken. Wildsymbolet på Lucky Lager er samtidig utvidende – det vil forvandle seg selv til alle andre symboler, og samtidig forvandle alle symboler på samme gevinsthjul til wilds. Dermed sitter man gjerne med tre-fire wildsymboler samtidig når ett av dem dukker opp. Bonusspillet på Lucky Lager aktiveres av symbolet med et dartbrett – her får du muligheten til å kaste dartpiler mot målskiven og samle inn gevinster om du treffer blink. Gå videre så langt du bare kan, sikt så godt du klarer og håv inn pengepremier i bøtter og spann. Så har man den siste, og mest viktigste funksjonen på Lucky Lager – gratisspinnene. Disse aktiveres av symbolet med neonskiltet, der ordene Free Games er synlig. Ti gratisspinn spyttes ut, og med hvert spinn vil ett av gevinsthjulene forvandle seg til wildsymboler. Dette høyner vinnersjansene ytterligere og sørger for at du alltid sitter igjen med et flis om munnen.
Manglende progressiv jackpot
Cryptologic har skapt flere spennende spill etter å ha blitt kjøpt opp av spillindustrigiganten Amaya. Dessverre har vi dog sett en økende mangel på progressive jackpotter fra denne kjente spillutvikleren. Lucky Lager kan selvsagt skryte av høye utbetalinger, brede innsatsmuligheter og hyppige runder med gratisspinn, men dette er ikke nok for mange. Storspillere og andre erfarne kasinospillere vil gjerne ha milliondrømmen i sikte, og en progressiv jackpot hadde gjort Lucky Lager til en favoritt for mange. Mangelen på denne vil neppe stoppe ølelskere fra å prøve ut denne kule maskinen, men en progressiv jackpot hadde virkelig gjort suse