Om spillet
Det er jo utrolig mye forskjellig man kan være redd for, og én ting som det faktisk finnes utrolig mange som er redde for er klovner. Hva det kommer av er det helt sikkert mange ulike grunner til, men man kan jo regne med at én av grunnene til dette er at klovner har en tendens til å dukke opp med jevne mellomrom i skrekkfilmer. I slotmaskinen som har fått navnet Carnival Royale er det absolutt ingen grunn til å være redd for klovnene, det er heller tvert imot! Spillerne bør virkelig se frem til at disse klovnene dukker opp på hjulene, nettopp fordi de kan ende opp med å betale ut store, flotte gevinster. Det kan også de utkledde apene, magikerne og alle de andre symbolene som helt tydelig er blitt inspirert av sirkus. Så det er bare for spillere å sette seg ned og bli en del av denne fantastiske sirkuset. Carnival Royale er det spillutviklerne Genesis Gaming som står bak, og denne slotmaskinen kan by på en utrolig flott, sirkusinspirert spillopplevelse. Spillet har blant annet ulike funksjoner som «all pays», og to ulike bonusfunksjoner, noe som gjør at Carnival Royale klarer å by på en helt utmerket spillopplevelse som kan underholde i lang tid.
Design, grafikk og lyd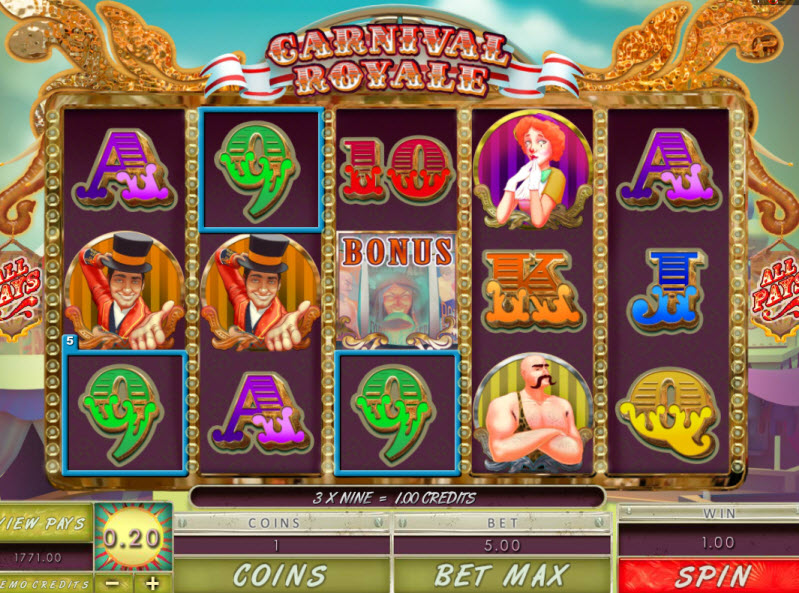 Carnival Royale er en videoslot som handler om både sirkus og karneval, og spillutviklerne fra Genesis Gaming har virkelig gjort en god jobb med å klare å få både grafikken og lyden med på å fremheve spillets tema. Symbolene som er plukket ut og designet har blitt fremstilt på en utrolig vakker måte, på en måte som får tankene til å gå tilbake til gamle sirkus og fornøyelsesparker. Med andre ord er det ikke her snakk om Cirkus Arnando; det er i stedet en sirkusutgave som viser hvordan de så ut i gamle dager. Musikk er selvfølgelig en utrolig stor del av sirkusopplevelsen og det har virkelig disse spillutviklerne som står bak spillet fortstått og jobbet for. Lydbildet som spilleren kan vente seg er jo tross alt en ganske viktig del av hele sirkusopplevelsen, og derfor har Genesis Gaming jobbet utrolig mye med akkurat dette. Det har ført til et utrolig bredt og variert lydbilde, og lydeffektene som er å høre i løpet av spillets gang er det mengder av. Carnival Royale byr enkelt og greit på utrolig mye snadder for ørene.
Oppsett og innsats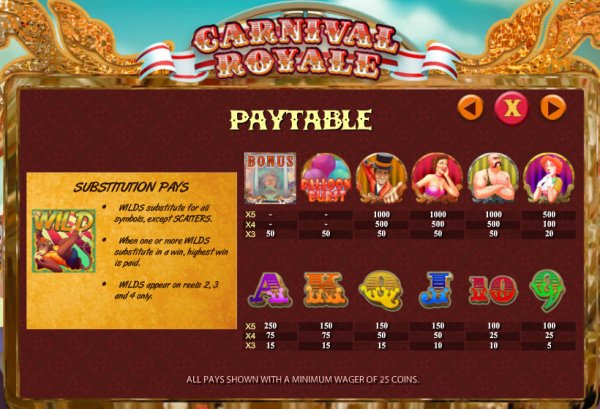 Det som er litt spesielt med Carnival Royale er at spilleautomaten faktisk ikke har noen vanlige spillelinjer, i stedet har slotmaskinen det konseptet som kalles «all pays» som gjeldende istedet. Det dette betyr er at det holder med at like symboler havner ved siden av hverandre på hjul som ligger inntil hverandre for at spillere kan få en gevinst. Derimot må kombinasjonene alltid starte på det hjlet som ligger lengst til venstre, selv om det faktisk ikke finnes noen innsatslinjer. Dermed kan man justere sine innsatser på to ulike måter; man kan delvis velge myntverdien og delvis antallet mynter som man ønsker å spille med per omgang. den laveste mulige innsatsen er på 0,25 euro eller tilsvarende i annen valuta, hvor det maksimale som er mulig å satse ligger på 62,50 euro.
Spesialfunksjoner
Spesialeffektene og spesialsymbolene som finnes i Carnival Royale er virkelig noe utenom det vanlige: Her kan man for eksempel finne et gratisspinnmodus og et bonusspill, i tillegg til wildsymboler. Om en spiller skal aktivere gratisspinnmodus må dette gjøres ved å få tre bonussymboler på hjulene 1, 2 og 3, da vil man få tre alternativer å velge mellom. Disse er enten 15 gratisspinn med en multiplikator på 3x, 10 gratisspinn med en 5x multiplikator eller 5 gratisspinn med 10x multiplikator aktivert. Dermed er det her virkelig mange muligheter, helt ut fra hva spillere selv ønsker. Bonusspillet i Carnival Royale blir spilt på en helt annen spilleskjerm, og der blir man møtt av en rekke ulike ballonger – og oppgaven er å klikke på ballongene for å få dem til å sprekke. I ballongen vil man da finne enten en myntgevinst eller et symbol.