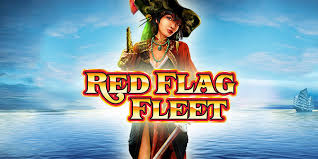 Williams Interactive har virkelig satset stort når det kommer til spilleautomaten, Red Flag Fleet. De har tatt for seg et utrolig spesielt tema som trolig ikke har blitt sett tidligere innen spilleautomater. Det kunne ha gått begge veier med akkurat dette tema, men det ser ut som Williams Interactive har gjort en så god jobb med utviklingen, at resultatet er så bra som man kunne ha fått det. Temaet de har valgt å fokusere på i Red Flag Fleet kommer fra Kina, og stammer så langt tilbake som til 1800- tallet. På den tiden så fantes det en piratdronning som hadde navnet Ching Shi, og hun var kjent for å drive mye plyndring langs den kinesiske kysten. Det er denne piratdronningen og hennes historie som er satt til å være tema i Red Flag Fleet. I tillegg til et så originalt tema, så har Williams Interactive satt inn flere elementer som gjør at spillet skiller seg enda mer ut.
Spillets oppsett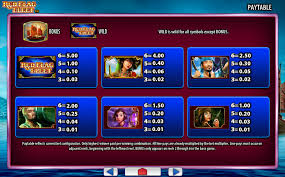 Oppsettet som man finner på spilleskjermen i Red Flag Fleet er noe helt spesielt. Det er nemlig slik at hjulene er satt opp i en asymmetrisk form, og det gir et helt spesielt inntrykk når man ser på spilleskjermen. Til sammen så har man seks hjul i spillet, men disse hjulene går da fra å ha to symboler på hjulene til å ha syv symboler på hjulene. Det ser med andre ord litt ut som en pyramide som ligger på siden. Dette helt spesielle oppsettet gjør også at det blir et helt spesielt antall innsatslinjer. Totalt i Red Flag Fleet så har man faktisk 192 innsatslinjer fordelt over hjulene. Innsatsen settes derimot ikke i forhold til innsatslinjene. Innsatsen har et grunnbeløp på 0,40 euro, og så kan spilleren selv velge hvor mye mer han eller hun ønsker å satse. På det meste så kan man satse 200 ganger så mye. Innsatsen justerer man veldig enkelt ved å bruke pluss- og minusknappene som man finner nederst på spilleskjermen. Laveste totale innsats i spillet kan ligge på 0,40 euro, mens høyeste innsats kan ligge på 80 euro.
Spilleskjermen og grafikken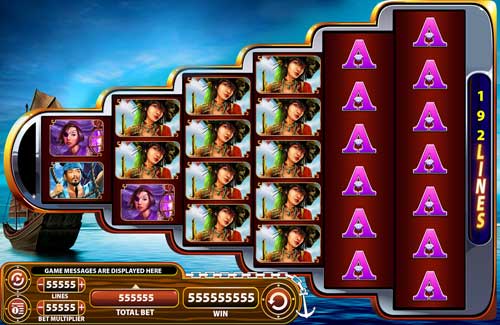 Presentasjonen av spillet er utrolig flott, og det er takket være den gode grafikken som Williams Interactive har plassert i spillet. Det er virkelig en flott spilleskjerm som møter en når man begynner å spille Red Flag Fleet, og man skjønner raskt at det er et helt spesielt spill man har foran seg. Bakgrunnsbildet i spillet viser det store åpne havet, og til venstre så kan man skimte skipet til Ching Shi. Rett over skipet så finner man spillets logo, som er formet i noen flotte blokkbokstaver. Nederst i venstre hjørne så har man spillets knapper, som er plassert veldig enkelt og nøytralt. Resten av spillets skjerm består av hjulene. Hjulet med to symboler er plassert lengst til venstre, og hjulet med syv symboler er plassert lengst til høyre. Bakgrunnsfargen på hjulene er i en mørk rødfarge og symbolene er plassert over den. Symbolene er enten formet i flotte bilder eller i form av symboler hentet fra en vanlig kortstokk.
Spillets spesialfunksjoner
Det er to spesialsymboler i spillet, og det er wildsymbolet og bonussymbolet. Wildsymbolet fungerer først og fremst som spillets joker, og det gjør at den kan erstatte andre symboler på hjulene. Wildsymbolet har en helt spesiell funksjon underveis i gratisspinnene. Der kan den dekke opp til tre hjul kun med wildsymboler. Gratisspinnene i spillet blir aktivert med bonussymbolet. Man trenger minst tre bonussymboler, men får man flere enn det, vil man få tildelt både gratisspinn og en liten kontantgevinst. På det meste så kan man få 50 gratisspinn og en kontantgevinst som vil ligge på 50 ganger innsatsen man har lagt i spillet. Dette i tillegg til at man kan få et helt hjul med wildsymboler, tilsier at man kan få ganske gode gevinster når man spiller spilleautomaten Red Flag Fleet, fra Williams Interactive.