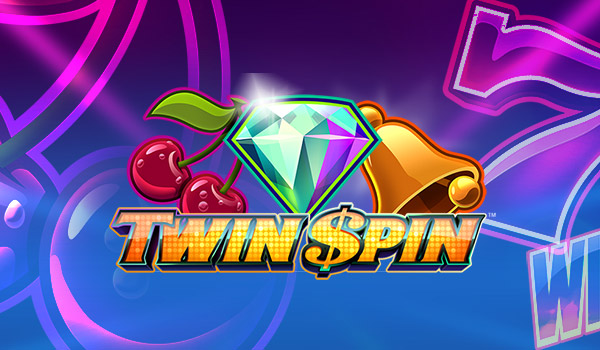 Twin Spin er en moderne videoautomat som har hentet sin inspirasjon fra gamle automatoppsett. Symbolene inkluderer bjeller, diamanter og 7-tall, og mange vil nok spørre seg hva som er så nytt og spennende med dette spillet. Spillutvikleren Net Entertainment tilfører spillet noe nytt gjennom noe de kaller tvillinghjulinnslag, som låser hjulene til hverandre. Det var mye snakk om dette spillet lenge før det ble lansert. Det ble lovt at spillet skulle være litt annerledes enn andre spill, og tvillinghjulfunksjonen er ganske unik og spennende – spesielt dersom man er heldig og får flere hjul som låses sammen.
Grafikk og symboler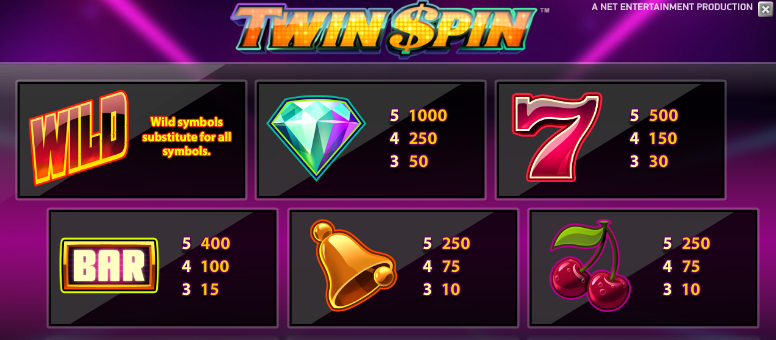 Ved første øyekast, har Twin Spin mye til felles med klassiske spilleautomater fra 70-tallet. Automaten har fem hjul, og velkjente symboler. Men spillet har et par unike innslag som skiller det fra de gamle klassikerne. Wildsymbolet fungerer som en joker, og kan erstatte alle andre symboler. Dermed kan wildsymbolet fullføre en symbolrekke man ellers ikke ville fått gevinst på, eller wildsymbolet kan forbedre en vinnerkombinasjon, slik at man får høyere utbetaling. Dersom man for eksempel får tre like og ett wildsymbol, teller dette som fire like – og gir utbetaling deretter. To like og ett wildsymbol teller som tre like. Wildsymbolene kan bare dukke opp på de fire siste hjulene, og vil altså ikke komme opp på hjul nummer 1.
Tvillinghjulfunksjonen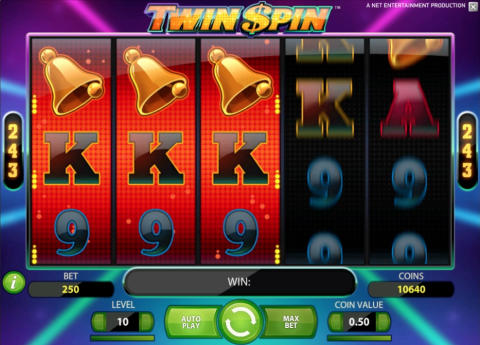 Tvillinghjulfunksjonen sikrer at minimum to av hjulene låser seg sammen og stanser på samme symbolkombinasjon. Det vil si at alle symbolene på de to hjulene er identiske. Dermed har man allerede sikret seg to like et eller annet sted på hjulene. Dersom man er heldig, kan både hjul tre, fire og fem hjul låse seg sammen, og sikre spillerne store gevinster. Hver runde starter med at to hjul låses sammen, men denne funksjonen kan utvide seg til flere hjul. Det er ikke sikkert det er de to første hjulene som låses sammen, det kan også være de to bakerste hjulene. Det vet man ikke før spinnet starter. Denne funksjonen garanterer ikke gevinst, ettersom man må ha minst tre like for å vinne, men dersom man allerede starter med to like i hvert spinn, har man i hvert fall gode vinnersjanser.
Innsatser og utbetalinger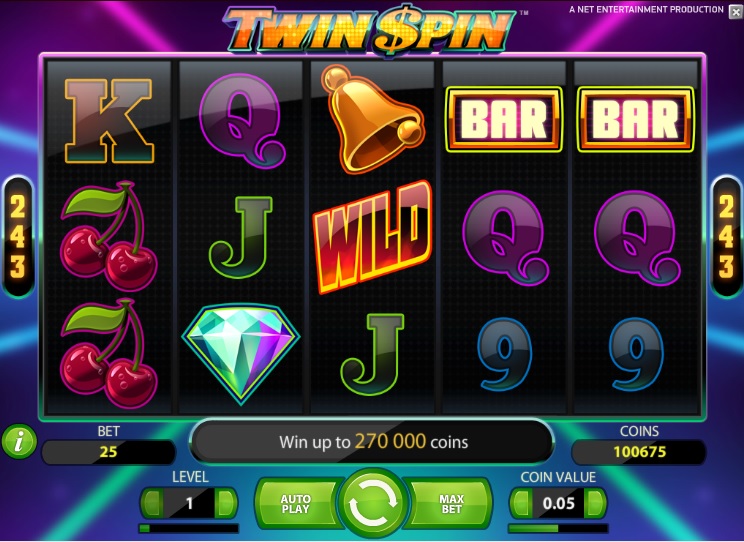 Myntverdien kan varieres fra 0,01 til 0,50, og den største innsatsen man kan spille med, er 125 € per spinn. Man satser alltid 25 mynter, og gjennom å velge myntverdien har man ti ulike nivåer å velge blant. Dermed passer spillet for de fleste lommebøker og spillbudsjett. Twin Spin har fem hjul, men ingen klassiske gevinstlinjer: I stedet gir spillet deg 243 måter å vinne på.
Utbetalingsfrekvensen er ganske god, noe som betyr at man vinner ganske ofte. De fleste gevinstene man vinner er selvsagt små, men små gevinster hjelper også på spillbudsjettet, slik at man kan fortsette å spille uten å tape penger. Spillets utbetalingstabell gir en fullstendig oversikt over alle symbolene og hvor mye de ulike vinnerrekkene gir i gevinst.
Den største gevinsten i spillet er på 135 000 €. Man må spille med den største innsatsen for å vinne denne gevinsten, ettersom myntene man vinner har samme verdi som innsatsmyntene. Jackpotten er på 270 000 mynter, og man ganger myntene med myntverdien man spiller med for å finne ut hva jackpotbeløpet er verdt i penger.
Oppsummering
Det mest negative med spillet er at det ikke skjer særlig mye. Tvillinghjulinnslaget er det eneste ekstrainnslaget. Man kan ikke vinne gratisspinn, og det finnes ingen bonusspill. Bortsett fra dette er spillet både interessant og morsomt, og man vinner relativt ofte. Selv om de fleste gevinstene er små, er det alltid morsomt å vinne. Tvillinghjulfunksjonen gjør at man starter hvert spinn med to like hjul og dermed symbolkombinasjoner. Dersom man er heldig, kan alle hjulene låse seg, og stanse på nøyaktig den samme symbolkombinasjonen over det hele. Twin Spin har god grafikk og god spillfølelse, og selv om spillet mangler mange ekstrafunksjoner, er det likevel morsomt å prøve noen spinn på denne automaten, nettopp fordi den skiller seg litt ut fra de fleste spilleautomater.