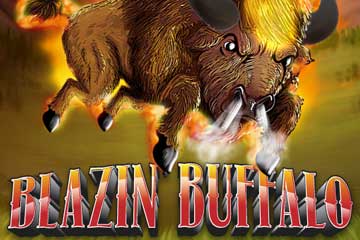 Rival Gaming er et spillutviklerselskap som ble lansert i 2006 og siden det året så har det virkelig jobbet med å skape et godt navn for seg selv på det enorme markedet. Det er stadig vekk noen nye spillutviklerselskap som dukker opp og det er ganske stor konkurranse. Ønsker man og fått et velkjent navn innen alle selskapene så er et viktig å ha gode spill å presentere. Spillene må gjerne ha noe originalt ved seg, slik at de skiller seg ut, og det kan helt klart være til selskapet fordel å ha noen kjennetegn som de da legger inn i hvert eneste av sine spill. Rival Gaming ser ut som de endelig begynner å få god utvikling på sine spille og Blazin Buffalo er helt klart et av deres beste spill hittil. Blazin Buffalo er en videoslot som har den ville vesten som tema og alt er presentert på en utrolig god måte.
Spillets spesialfunksjoner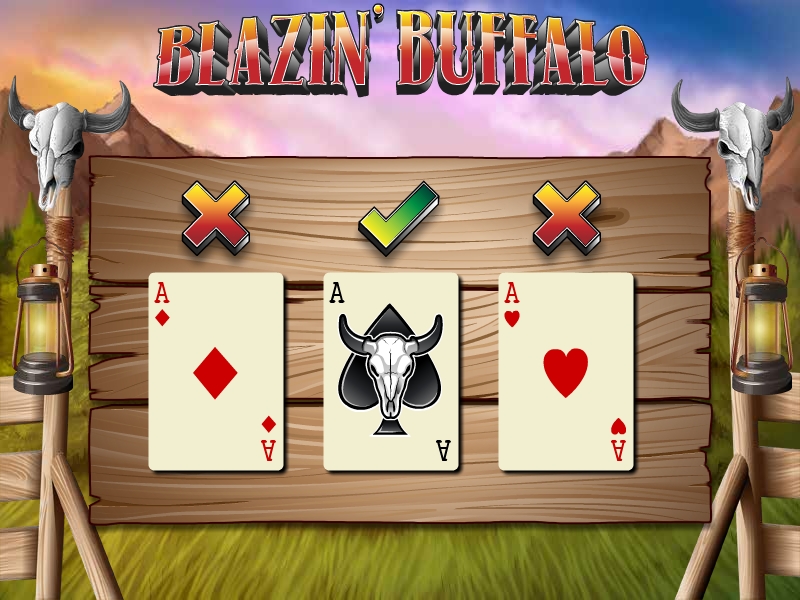 Spesialfunksjonene i en videoslot er det som får spillet litt mer spennende og som tilføyer litt mer action mens man spiller. Det er noen unike funksjoner som er lagt på spillets spesialsymboler og det gir spillet litt mer originalitet i forhold til andre videoslots. Wildsymbolet i spillet er i form av en fullmåne og den fungerer først og fremst som spillets joker. Som joker så kan symbolet erstatte andre symboler på hjulene, faktisk alle andre symboler bortsett fra scattersymbolet. I tillegg til denne funksjonen så vil en kombinasjon på tre wildsymboler aktivere en spesialfunksjon i spillet. Det er en slags bonusrunde hvor man skal spille en runde med kort og spillet har fått navnet Find the Buffalo. Gevinsten man kan vinne i denne bonusrunden vil variere ut i fra hvor mange wildsymboler man fikk i kombinasjonen. Gevinsten i spillet vinner man hvis man klarer å velge ut riktig kort. Spillets logo er det som man ser på scattersymbolet i spillet og dette symbolet kan aktivere gratisspinnrundene i spillet. Man trenger minst tre scattere spredt på hjulene for at rundene skal bli aktivert og man kan på det meste få tildelt syv stykker. Scattersymbolene som eventuelt dukker opp underveis i gratisspinnrundene vil aktivere flere små bonuser. For eksempel så kan man ende opp med et helt hjul dekket med wildsymboler, som da er med på å øke sjansen for vinnende kombinasjoner.
Oppsett og innsats i spillet
Oppsettet som man finner i Blazin Buffalo er på 50 innsatslinjer som er fordelt over fem hjul og tre rader med symboler. Det er mange innsatslinjer å spille på men for noen så kan det bli for mye. Derfor har Rival Gaming valgt å gjøre innsatslinjene til justerbare, slik at det er helt opp til spilleren hvor mange innsatslinjer som er aktivert når man spiller. I tillegg til det så kan man justere myntverdien man skal spille med. Alle justeringene gjøres ved at man bruker knappene nederst på spilleskjermen. Høyeste innsatsen man kan ha i en spillerunde ligger på 125 i kreditt.
Spillets grafikk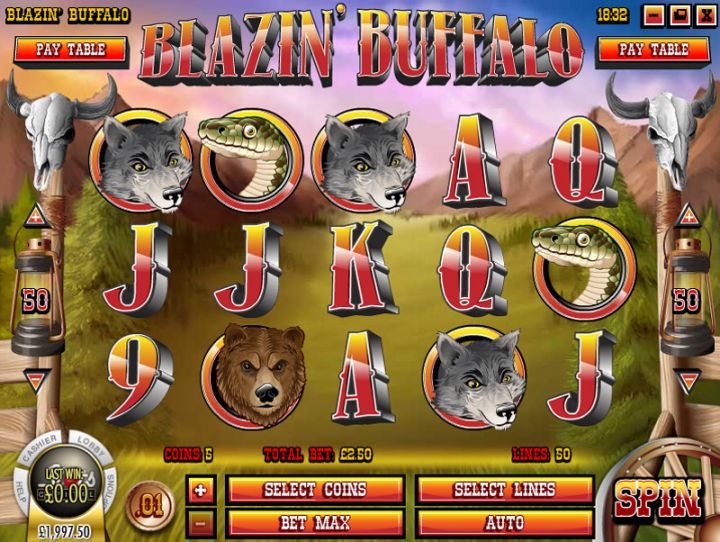 Spilleskjermen som møter en i Blazin Buffalo får helt klart og tydelig frem spillets tema. Bakgrunnsbildet er laget som et litt utydelig bilde men man kan likevel skimte et stort og åpent landskap, som er typisk for den ville vesten. På hver side av spilleskjermen så har man en trepåle og på toppen av hver påle så har man skjelettet fra et dyr. Midt i mellom disse to skjelettene så finner man spillets logo, som er formet i store bokstaver som er i røde nyanser. Mellom de trepålene så har man spillets hjul og på hjulene så har man spillets symboler. Symbolene er enten formet i bilder eller i bokstaver. Symbolene i bilder viser blant annet en ørn, en fullmåne, en bøffel og noen pengesekker. Symbolene som er i form av bokstaver er hentet fra en vanlig kortstokk. Det er kun de høyeste symbolene som er med og de er i samme farge som logoen.