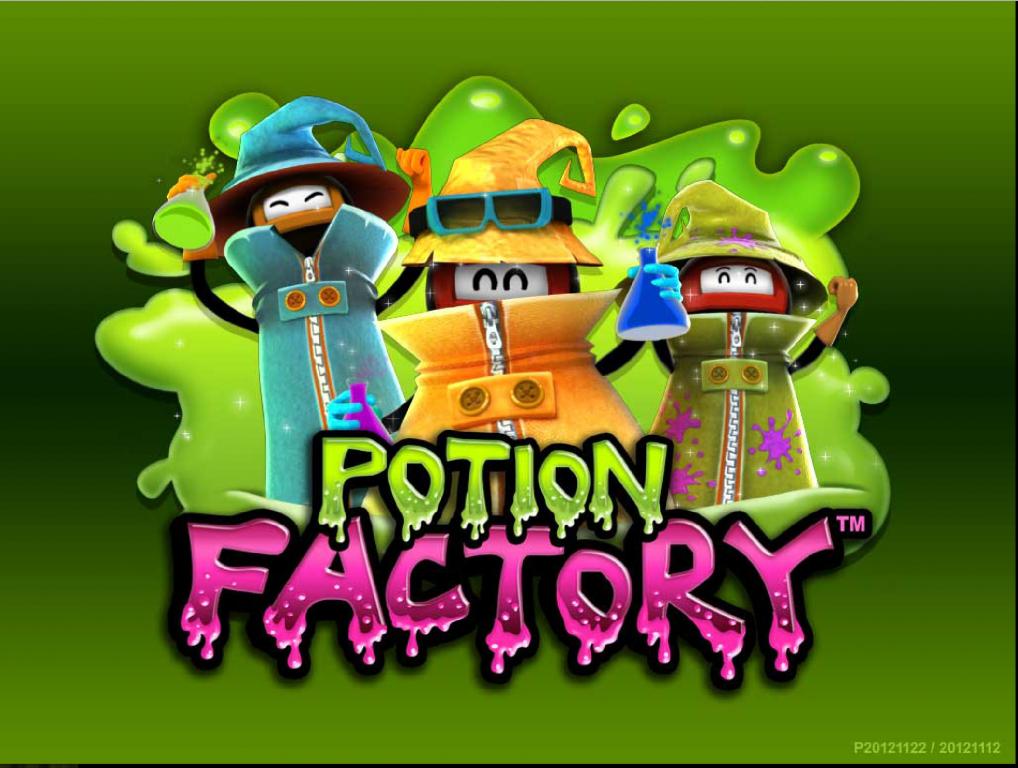 Leander Games, som er spillutviklerselskapet som står bak spilleautomaten Potion Factory, har laget en skikkelig sprek og fargerik videoslot. De har tatt for seg et morsomt tema og satt det til liv på en måte som ikke har blitt sett tidligere. Potion Factory handler om trolldrikker, men ikke på den måten at man har de ferdigblandet i flasker, men faktisk på den måten at man ser hvordan de blir laget og hva slags ulike blandinger man kan ha. Potion Factory er rett og slett en fabrikk som produserer trolldrikker. I tillegg til at Leander Games har kommet med et nytt tema så har de også lagt inn noen helt spesielle funksjoner og gjort det slik at Potion Factory ikke kan kalles en typisk videoslot.
Oppsettet i spillet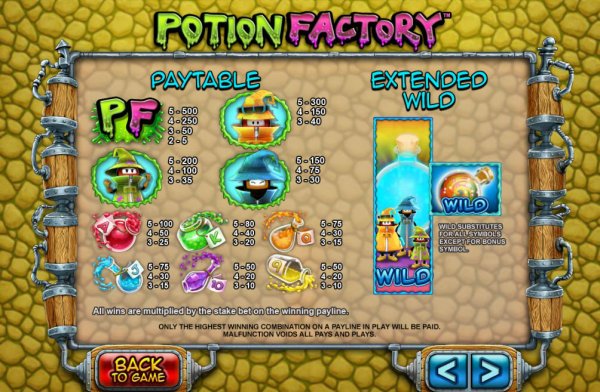 Allerede ved oppsettet i spillet så ser man at Potion Factory skiller seg ut fra mengden. Oppsettet består av fem hjul og fire rader med symboler. Den ekstra raden som er plassert inn i spillet gjør at det er ekstra mange innsatslinjer. Faktisk så har man en total på 40 innsatslinjer. Innsatslinjene er også laget som faste, så det er faktisk ikke mulig å regulere om på det antallet. Det man derimot kan regulere på er hvor mye man ønsker å satse på hver av disse 40 innsatslinjene. Innsatsen per linje kan ligge på mellom 0,01 euro og opp til 0,40 euro. Det vil si at på det meste så kan man ligge på en innsats på 20 euro i en spillerunde. Det er ikke et høyt innsatsnivå i Potion Factory, noe som gjør at spillet vil være interessant for veldig mange.
Grafikk og lyd i spillet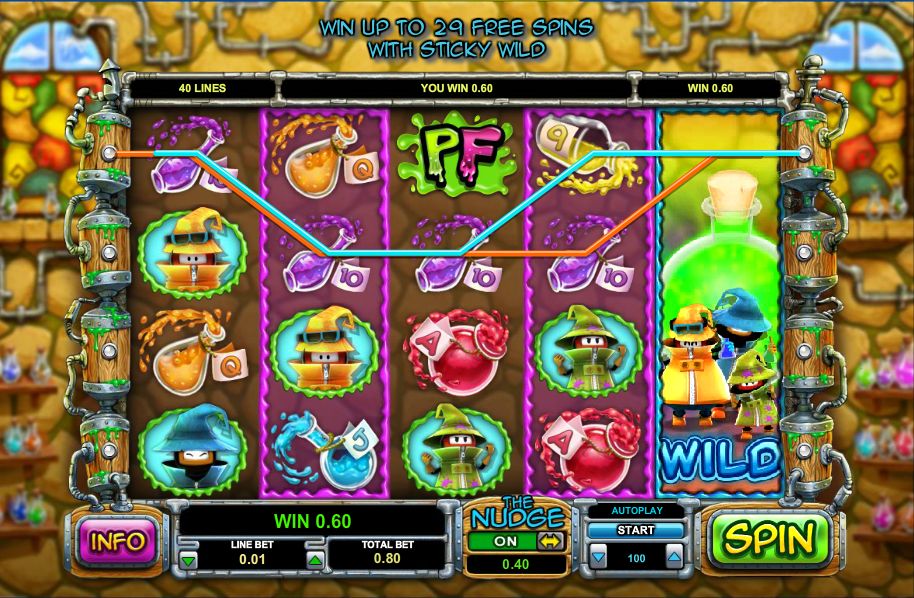 Grafikken som man ser i Potion Factory er utrolig bra og i tillegg utrolig fargerik. Det passer helt utmerket til tema som er satt i spillet og det er tydelig at alt i spillet er godt gjennomtenkt. Fargene er med på å skape liv i spilleskjermen og det blir enda morsommere å begynne å spille. Bakgrunnsbildet som er valgt til spillet viser et noe uklart bilde av en vegg som består av masse forskjellige rør. Det er trolig disse rørene som holder på de ulike væskene som trengs for å lage de forskjellige trolldrikkene. Øverst på spilleskjermen så har man spillets logo, som er formet i to ulike spreke farger. Nederst på spilleskjermen så har man spillets knapper, som er blitt bygget inn i resten av spillet. Rammen rundt hjulene består av ulike beholdere, som har innholdet som trengs til de ulike trolldrikkene. Hjulene i spillet er laget slik at bakgrunnsbildet skinner litt gjennom og at symbolene står mot bakgrunnsbildet. Symbolene er skikkelig fargerike og de er laget på en bra måte. Det er ulike flasker med trolldrikker som former spillets symboler. Noen av dem er merket med en lapp, og på den lappen så finner man noen symboler som er hentet fra en vanlig kortstokk. Lydbilde som er lagt på spillet løfter spillet enda litt til. En leken bakgrunnsmusikk er lagt på i hovedspillet og underveis i spillet hører man en mengde ulike lydeffekter.
Spesialfunksjoner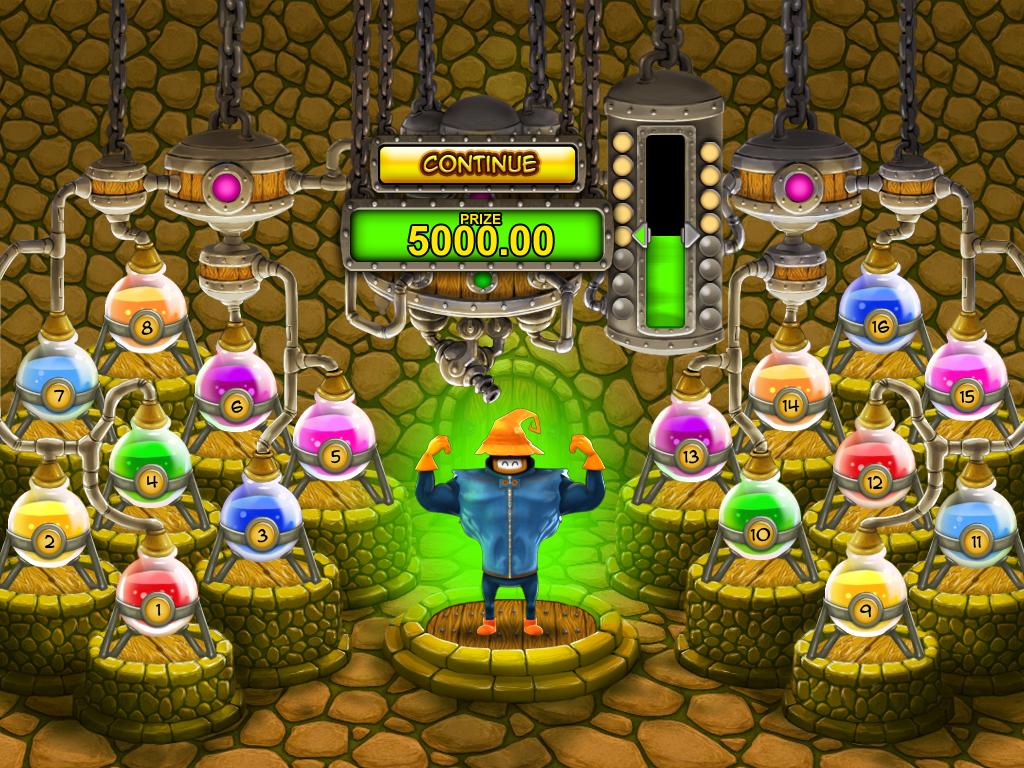 En helt spesiell funksjon som er lagt på Potion Factory er den som har blitt kalt nudge. Denne funksjonen gjør rett og slett at spilleren kan flytte hjul to og fire. Hjulene kan flyttes ett, to eller tre hakk, slik at man forhåpentligvis får en vinnende kombinasjon på hjulene. Bonusspillet i Potion Factory er også noe helt spesielt. Man trenger minst tre bonussymboler i en kombinasjon for at funksjonen skal bli aktivert. Man får da opp et hjul med tre ulike bonuser. Man kan enten få gratisspinn, spille et bonusspill eller få en gevinst der og da. Ved siden av resultatet man lander på vil man også finne et tall. Dette tallet tilsier om man får snurre på bonushjulet en ekstra gang. Har man tallet to eller tre ved siden av gevinsten sin, så er det bare å snurre igjen.