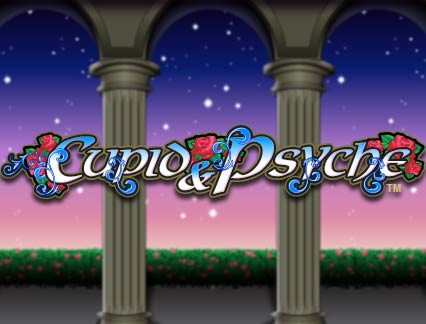 Innen gresk mytologi var Cupid & Psyche elskere, og de har inspirert en rekke forfattere, filmskapere og kunstere igjennom mange århundrer. Det er en historie som de aller fleste har hørt om på ett eller annet tidspunkt i løpet av livet, enten man kanskje husker noe om det fra skolen eller kanskje man har sett en film med den historien eller lest en bok om dette berømte paret fra grekernes storhetstid.
Spillutvikleren
De aller siste som har blitt truffet av Cupids piler er dog spillutviklerne hos Bally Technologies, og de forelsket seg selvfølgelig i dette paret med en eneste gang. Det er nemlig ingen som noensinne har vært i stand til å motstå dem. I Bally Technologies sin versjon er derimot det hele blitt laget med en aldri så liten vri; her er nemlig Cupid en rund liten baby som rir avgårde på en sky med sin pil og bue i hånden. Mens Psyche ser rett og slett ut som en gother som er på vei til en Sisters of Mercy-konsert, noe som mange kanskje synes er litt merkelig.
På spillets hjul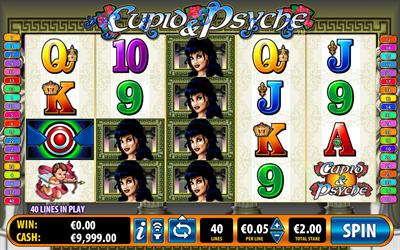 Det som Bally Techonolgies absolutt har klart å gjøre er å sørge for at temaet er vel gjennomført, og dette ser man godt igjennom hele spillet. Alt fra symboler, til fargene som er blitt brukt til spillets tittel som vises over hjulene passer perfekt til temaet. Som symboler i videosloten så vil spillere selvfølgelig kunne se slotens hovedkarakterer, den lubne Cupid med hans pil og bue – samt gother jenta Psyche. I tillegg til disse to er det blitt lagt klassiske spillekortsymboler som går fra ni til ess, og alle er blitt laget i sterke farger. I tillegg finnes det noen symboler som passer godt inn i slotens tema, som harper, Cupid & Psyche-logoen og "bonus target"-symbolet.
Oppsett
Oppsettet til sloten er ganske så standard med sine fem hjul, fire spillelinjer med symboler og 40 spillelinjer som spillere kan velge imellom. Så for spillere som velger ut denne sloten som sin underholdning så skal man nok være litt betatt av hele denne historien, og om en ikke er det så bør en se frem til spillets bonuser da disse absolutt er verdt tiden.
Stablede wilds, gratisspinn og en 25x multiplikator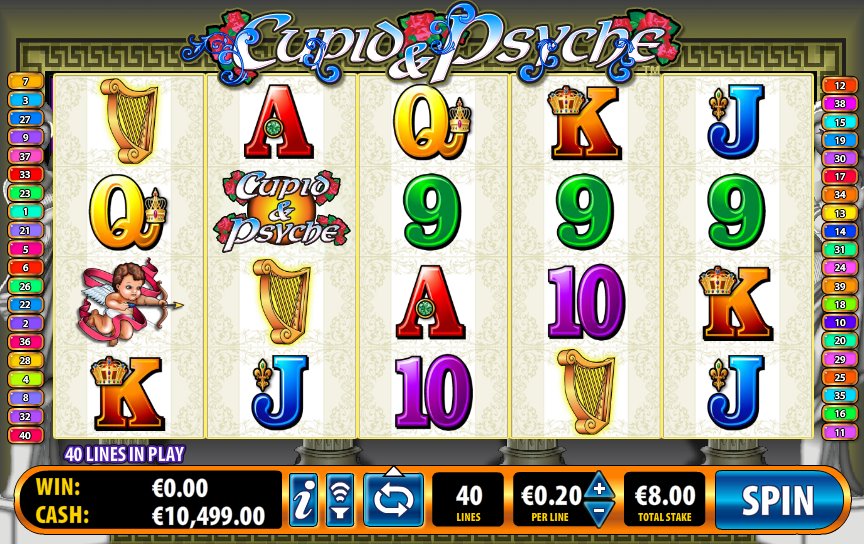 I denne slotmaskinen er det Psyche som har fått rollen som spillets wildsymbol, og denne dukker opp som en stablet wild. Hun vil erstatte alle andre symboler med unntak av gratisspinn-symbolet og "Bullseye Bonus"-symbolet. Dersom en spiller får Psyche som en del av en gevinstgivende kombinasjon, ser man hennes øyne vandre fra side til side, som om hun er på utkikk etter noe. I tillegg til dette byr spillet også på gratisspinn, og disse kan spilleren få dersom tre blå målskive-symboler dukker opp. I denne bonusrunden kan en vinne 12 gratisspinn, og en kan i tillegg motta en multiplikator på 3x. Dersom fire symboler dukker opp får man 12 gratisspinn og en multiplikator på 10x, og med fem symboler får man hele 12 gratisspinn og en 25x multiplikator. Alt dette foregår faktisk på egne gratisspinn-hjul og ikke på spillets hovedspill. I løpet av spillets gratisspinn bør spilleren være på utkikk etter de røde målskive-symbolene, da de kan bygge opp til enda større gevinster i spillet. Med fire av disse vil det femte hjulet bli et wildhjul for de resterende gratisspinnene, og antallet symboler man får påvirker hvilket hjul som blir gjort on til en stablet wild.
Sammendrag
Dette er kanskje ikke sloten som byr på aller mest 3D-grafikk eller animasjoner, men Bally har lansert mer enn nok slotmaskiner som tilbyr akkurat det til at de kunne skippe det helt i denne slotmaskinen. For spilleautomaten klarer seg absolutt uten alt det ekstra. Gratisspinnene alene er nemlig verdt et forsøk på spillet, og denne sloten passer ypperlig for spillere som foretrekker at sloten skal være av det enklere slaget. Alt i alt er absolutt denne sloten verdt noen runder, om ikke annet så blir man kanskje truffet av en av Cupids villfarne piler.