Grafikk og utseende
Når Play'N Go slipper en ny spilleautomat, vet alle erfarne spillere at en tematisk fullkommenhet venter dem. Play'N Go skaper spillene sine veldig grundig, og når de først velger ut et tema vil dette holdes fra topp til bunn. Photo Safari er et ypperlig eksempel. Dette er en av de nyere maskinene fra Play'N Go, og denne har fokus på Afrika. Rettere sagt på savannen i Afrika, stedet dit horder av erfarne turister reiser for å titte på eksotiske dyr i sine naturlige omgivelser. Halve Kenya og Tanzania er fylt med nasjonalparker – Serengeti er den mest kjente av disse. Ved hjelp av spilleautomaten Photo Safari vil altså Play'N Go gi deg et lite innblikk i hvordan det er å reise ned dit for deretter å sette ut blant de afrikanske viddene og fotografere fargerike dyr. Spilleautomaten er bygd i en blanding av 3D-grafikk og tegneserieaktige detaljer. Det virker nesten som at dette er en animasjonsfilm, ikke ulikt Løvenes Konge. Bakgrunnen er den nevnte savannen, med det fremragende fjellet Kilimanjaro på midten. Typiske trær og den evig gule bakken peker rett mot Afrika, mens den nydelig tilpassede bakgrunnsmusikken og lydeffektene setter prikken over i-en.
Symboler og utbetalinger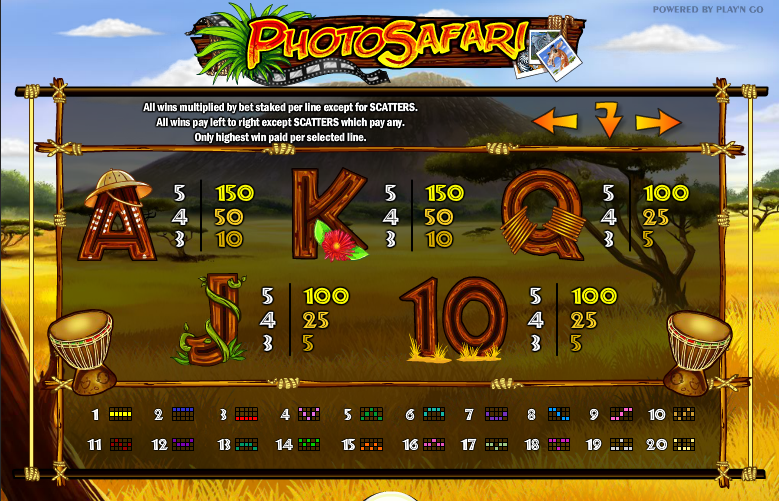 Photo Safari består av mange ulike symboler som alle er spesielt utvalgt for å frembringe atmosfæren Play'N Go ville dele. Symbolene som dukker opp oftest og spytter ut gevinster hyppigst, er kortnominasjonene fra 10 til A. Disse er vi ikke særlig glade i, men Play'N Go har tilpasset også disse til det generelle temaet – dermed ser disse symbolene veldig naturlige ut på Photo Safari. To tomler opp for grundig gjort arbeid! Kortnominasjonene dukker opp ofte, men gir sjeldent særlig store utbetalinger. Her kan du heller håpe på å vinne innsatsen din tilbake. Med 20 gevinstlinjer er det samtidig enkelt nok å treffe på en kombinasjon, samt velge et passende innsatsnivå. Velg selv hvor mange linjer du vil spille med og hvor mye hver mynt skal være verdt. Alt fra et par kroner til flere hundre per spinn er tillatt, dermed er det absolutt verdt å prøve ut Photo Safari. De ulike savannedyrene er de mest lukrative på Photo Safari. Sebraer, giraffer, elefanter og løver spinner rundt på skjermen – dyrenes konge kan gi opp til 1000 ganger innsatsen tilbake, om man treffer på fem like.
Bonusspill og spesielle funksjoner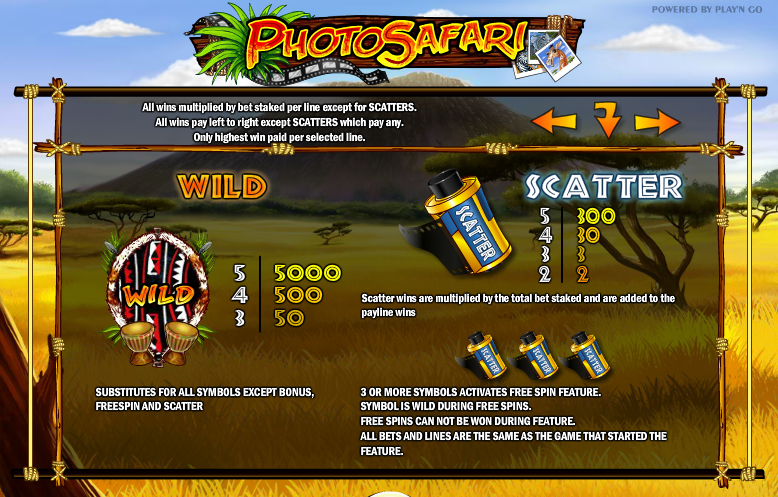 Play'N Go har sørget for at Photo Safari virkelig drar deg inn i Afrika og livet til fototurister. Er du glad i å ta bilder av naturen, er dette maskinen for deg! Wildsymbolet er i form av et tradisjonelt skjold, samt to små trommer. Dette er favorittinstrumentet til masaiene som bor rundt Serengeti. Wildsymbolet vil forvandle seg til akkurat de symbolene du behøver og hjelpe deg med å sette store kombinasjoner, men det er også et godt betalende tegn i seg selv. Treffer du på fem like wilds vil du nemlig få 5000 ganger pengene tilbake – en deilig sum som meget sikkert vil få deg til å vurdere et safari i Afrika som neste reisemål. Dukker det opp tre fotokameraer på skjermen, vil du virkelig få prøve deg ut som en safariturist. Pek kameraet mot de ulike tegnene på skjermen og se om du klarer å knipse et perfekt bilde av de ulike vakre dyrene. Jo bedre bilder, desto større gevinster!
Gratisspinn og jackpot
Selvfølgelig har Play'N Go inkludert gratisspinn og bonusspill på Photo Safari – dette er tross alt ett av deres nyeste spill. Bonusspilet har vi allerede nevnt, men det er gratisspinnene som virkelig kan gjøre deg glad. Det er de tradisjonelle fotofilmrullene som står for kostnadsfrie spinn (free spins) på Photo Safari. Tre eller flere slike symboler setter i gang en runde med gratisspinn med ekstra wildsymboler på skjermen. Det er her man virkelig kan vinne de store summene – Photo Safari har nemlig ingen progressiv jackpot. Fem like wildsymboler kan fortsatt gjøre deg rik, spesielt om du satser maksimalt, men milliondrømmen må du nok legge på is mens du ser etter savannedyr å ta bilde av.