Ned og rottene – venner for livet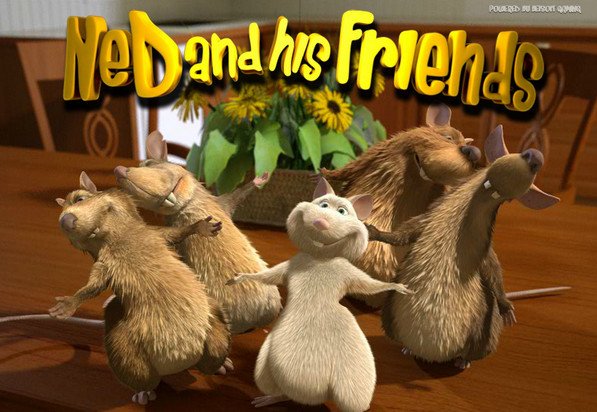 Betsoft har lansert en rekke kule spilleautomater de siste månedene, og en av dem som har fått veldig mye oppmerksomhet er Ned and the Rats. Spilleautomaten med det offisielle navnet Ned and his Friends er å finne på alle moderne nettkasinoer som tilbyr maskiner fra Betsoft Gaming. Har de ikke spilleautomater fra Betsoft på lager, bør du spørre deg selv om du faktisk vil registrere deg på et slikt nettkasino. Ned and his Friends er en tematisk spilleautomat med 3D-grafikk, og den er full av kule animasjoner og småspill som skiller den fra andre pengemaskiner. Ned, den underlige mannen med rotter som bestevenner, sitter til venstre, like nedenfor spillskjermen. Han sitter og drikker te samtidig som han følger med på dine spinn. Selve spillet tar forresten plass i hans koselige hjem, der rottene har sin faste plass ved middagsbordet. Ned and the Rats har flott grafikk og fine farger som gjør det ekstra spennende å ta noen runder. Ned er forresten helt animert, og noen ganger vil han gå ut av rommet, for deretter å komme tilbake noen spinn senere. Bakgrunnsmusikken er også verdt å merke seg – hver gang man spinner hjulene vil rottene begynne å synge. Syngende rotter, ja Betsoft har veldig god fantasi. Lydeffektene, de små animasjonene, de vakre symbolene, de utallige detaljene i hjemmet til Ned – denne spilleautomaten skiller seg virkelig ut fra mengden. Med 30 gevinstlinjer er det enkelt å følge med på skjermen uten å bli forvirret, mens symbolene er enkle å gjøre seg kjent med. Dørsymbolet er det minst betalende i spillet, men det er dette som får Ned til å gå inn og ut av huset. De ulike rottene spytter ut forskjellige gevinster – den lille hvite rotta gir helt opp til 300 mynter per gevinstlinje. Huseieren selv står for den største enkeltgevinsten i Ned and his Friends med 500 mynter for en kombinasjon av fem like symboler.
Klikkbonus og gratisspinn på Ned and his Friends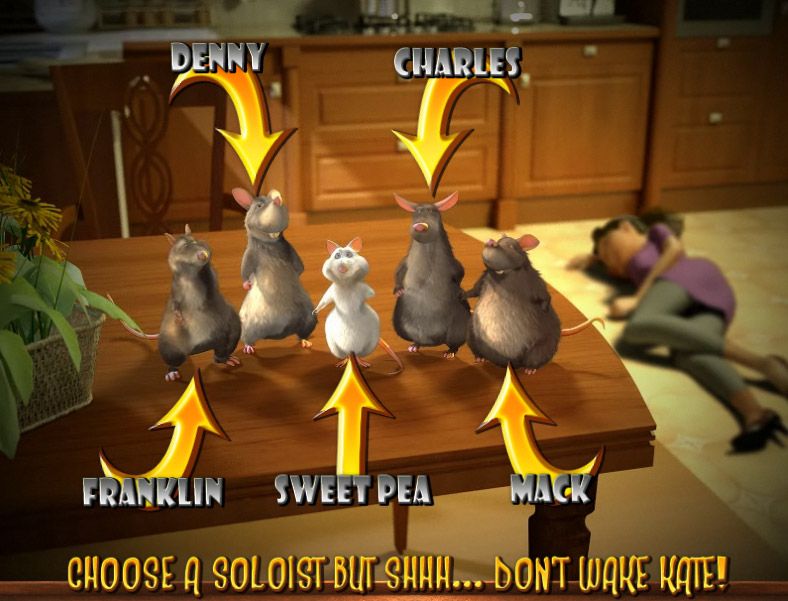 Som vanlig på spilleautomater fra Betsoft, har man flere ulike bonusspill å glede seg til når man setter i gang. Ned and his Friends har både en klikkbonus, et bonusspill og mange runder med gratisspinn som kasinospillere kan kose seg med. Klikkbonusen kommer opp oftest – denne aktiveres av tre symboler med rottehalen som stikker ut av et hull i veggen. Her velger du rett og slett hvilken hale som ser best ut, så vil du straks få en liten bonus når en tilfeldig rotte hopper ut av hullet. Runden med gratisspinn aktiveres når tre eller flere symboler med alle tre rottene dukker opp på skjermen. Et tilfeldig antall gratisspinn vil settes i gang, og de syngende rottene vil hoppe frem på området nedenunder spillskjermen. Her vil de sette i gang sin positive sang, mens hjulene spinner av gårde i ekstra høy fart, helt gratis. Det beste med gratisspinn på Ned and the Rats er at man kan vinne flere spinn underveis – så lenge flere symboler med de tre rottene dukker opp, vil flere gratisspinn tjenes inn. Det betyr at man kan spinne hjulene veldig lenge uten å betale for dem. Gevinstene er dog dine, og de kan du beholde så fort gratisspinnene på Ned and his Friends er over.
Morsomt bonusspill på Ned and the Rats
Bonusspillet på denne kule spilleautomaten fra Betsoft Gaming har et morsomt navn – Ratty Rat Doo-Wop. Tre symboler med Neds kjæreste setter i gang denne bonusen. Når hun kommer inn døra og ser Neds noe underlige venner, mister hun bevisstheten. Nå ligger hun på gulvet, og rottene står forundret på bordet. Her får du velge hvilken rotte du vil skal synge en flott sang, mens kjæresten til Ned ligger og sover. Velger du riktig rotte, vil du få høre en positiv, livsglad sang mens gevinstene ruller inn på spillkontoen. Ned and the Rats er en veldig kul spilleautomat som garantert vil få deg i godt humør. Med hyppige utbetalinger og kule funksjoner er dette en maskin for alle og enhver.