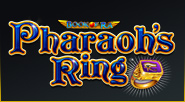 Novomatic heter spillselskapet som står bak utviklingen av spilleautomaten Pharaoh's Ring. Novomatic har en del ulike spill ute på markedet, og blant dem finner man flere gode spilleautomater. De viser at de følger godt med på hva som finnes på markedet fra før av, og hva de kan gjøre for at akkurat deres spill skiller seg ut. Når det kommer til spilleautomatene, så velger de ofte unike temaer, som de da presenterer på en veldig god måte. I tillegg setter de inn noen flotte spesialfunksjoner, og de er da med på å gjøre spillingen enda litt mer spennende for spillerne. Pharaoh's Ring er enda et godt eksempel på en spilleautomat fra Novomatic. Det er et godt presentert tema på spilleskjermen, og spilleautomaten er virkelig satt opp slik at spilleren enkelt skal komme i gang.
Spilleskjermen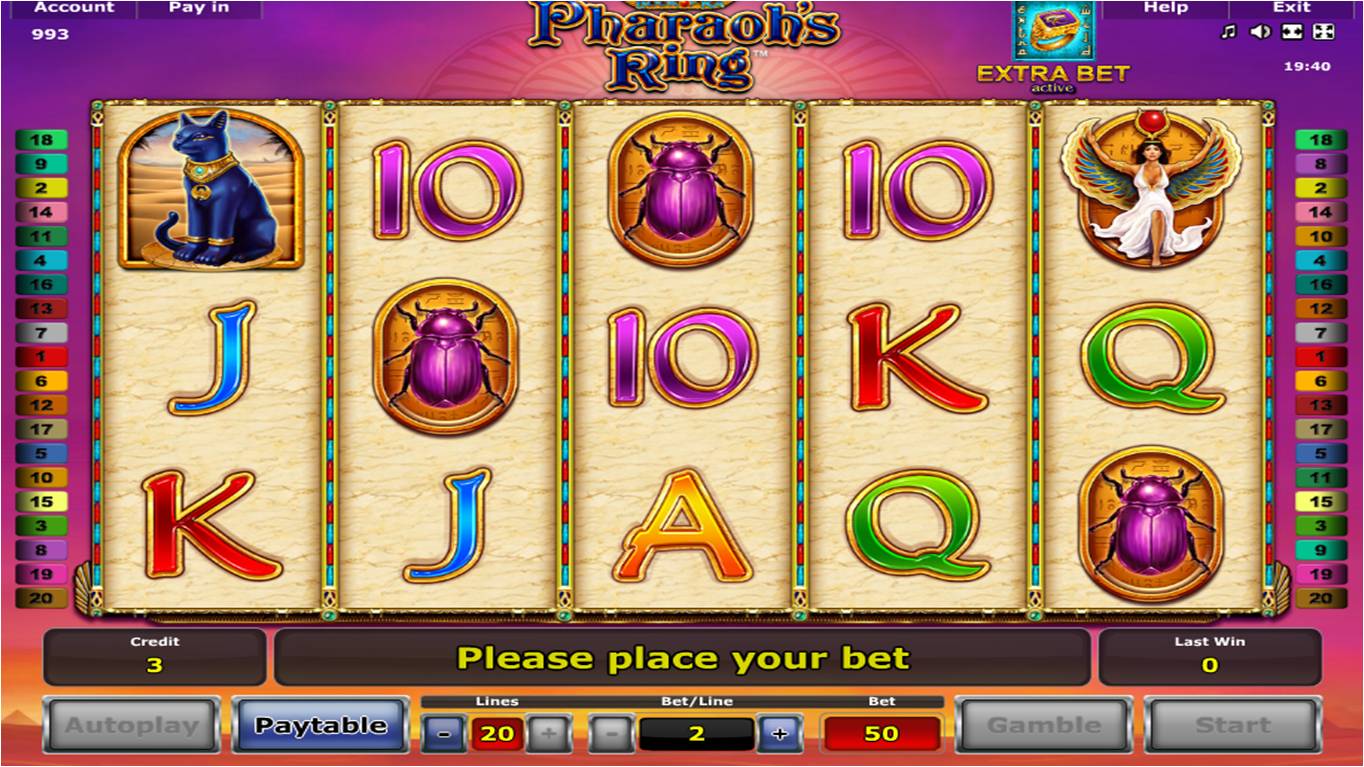 Spilleskjermen i Pharaoh's Ring består av mange flotte farger og det er tydelig brukt en grafikk som er av høy kvalitet. Bakgrunnsbildet viser en virkelig flott solnedgang og helt nederst på spilleskjermen kan man skimte et flott egyptisk landskap. Øverst på spilleskjermen har man spilleautomatens logo. Den er formet i blå bokstaver som har en gullinje som omriss. Midt på spilleskjermen har man spilleautomatens hjul. De er rammet inn med en gullinje, som også har flere forskjellige farger på seg. Det er også samme linje som deler hjulene fra hverandre. Bakgrunnen på selve hjulene er satt i en beige farge, og på den finner man symbolene. Symbolene kommer i to forskjellige former. Det er først og fremst brukt bokstaver og tall som er hentet fra en vanlig kortstokk. De er alle i forskjellige farger, og en gullinje er plassert rundt. De andre symbolene er i form av bilder eller elementer som passer til tema. Man ser blant annet en bok, en gullring med en flott lilla stein, en lilla bille, og en vakker kvinne kledd i hvitt. Alt på spilleskjermen går i samme fargenyanser og det er en tydelig sammenheng mellom det hele.
Oppsettet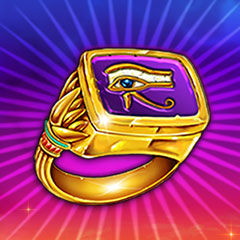 Oppsettet man finner i Pharaoh's Ring er veldig tradisjonell og den består av fem hjul og tre rader med symboler og til sammen er det lagt inn 20 innsatslinjer. Nederst på spilleskjermen finner man et oppsett med knapper, og blant disse er det satt inn to justeringsknapper. Den ene knappen brukes for å justere innsatslinjene i spilleautomaten. Spilleren bestemmer med andre ord selv hvor mange innsatslinjer som skal være aktivert. Den andre justeringsknappen er for at spilleren skal kunne justere innsatsen som skal legges på hver aktive innsatslinje. Innsatsen starter på to og kan da justeres oppover. I tillegg til justeringsknappene finner man også en hjelpeknapp som man kan velge å bruke. Hjelpeknappen er en autoplayknapp og den vil gjøre at spilleautomaten går av seg selv et bestemt antall runder. Den grønne startknappen er den som setter i gang spilleautomaten på vanlig måte.
Spesialfunksjoner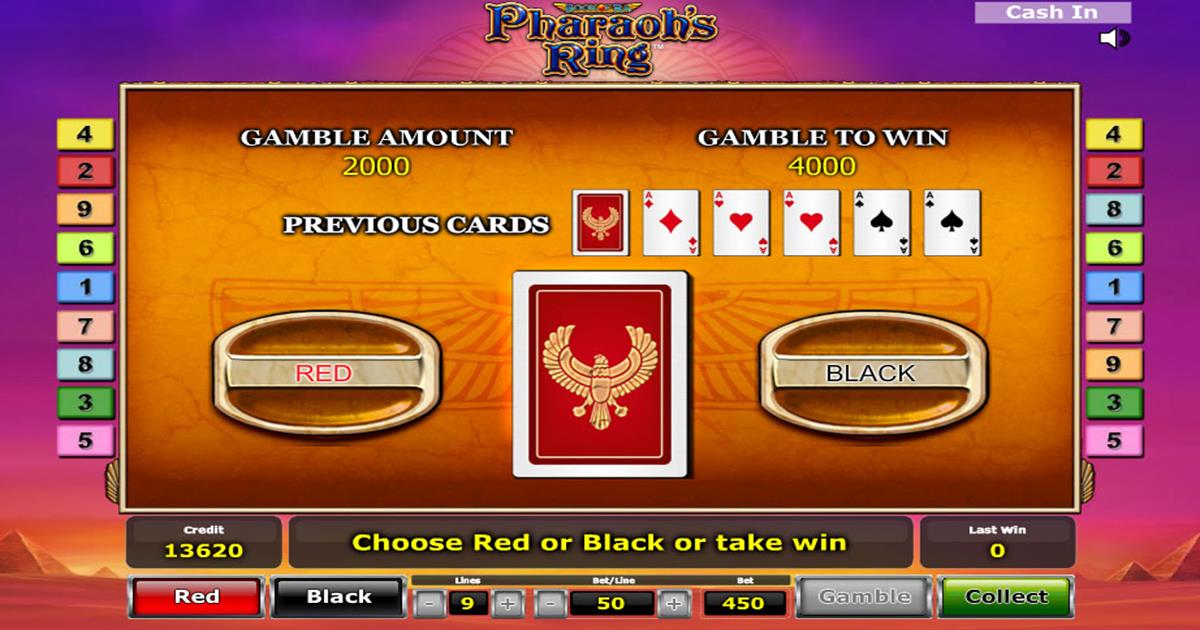 Det er mange symboler på spilleautomatens hjul. Noen av disse er vanlige symboler mens andre er spesialsymboler. De forskjellige symbolene har alle en egen verdi, men spesialsymbolene vil da ha en unik funksjon når de dukker opp på hjulene. Det ene av spesialsymbolene kommer i form av en bok og den fungerer som spilleautomatens scatter. Scattersymbolet dukker da opp spredt over hjulene og når man har minst tre stykker synlige på samme tid, vil man få aktivert spesialfunksjonen. Spesialfunksjonen går ut på at man får tildelt et antall gratisspinn. På det meste kan man få 10 gratisspinn og underveis i disse rundene kan det dukke opp et helt spesielt symbol. Det spesielle symbolet vil dukke opp som ekspanderende og vil da kunne dekke et helt hjul. Den vil da utgjøre en ganske god kontantgevinst. Det finnes også et wildsymbol lagt inn i spilleautomaten. Wildsymbolet vil fungere som en joker når den dukker opp på hjulene. Som joker kan den erstatte alle andre vanlige symboler på hjulene og derfor øker den sjanse for gevinstgivende kombinasjoner.