Desert Treasure er en spilleautomat fra Playtech, og i dette spillet blir spillerne selvsagt tatt med på skattejakt i ørkenen. Spillet er herlig enkelt, og gir en god gammeldags spillfølelse. Lydeffektene minner også om klassiske spill, og det bidrar til stemningen. Det finnes to versjoner av dette spillet. Den nyeste versjonen heter Desert Treasure II, men de to spillene har mye til felles. Symbolene og bonusspillet ligner på hverandre. Mange foretrekker likevel det klassiske spillet, nettopp fordi det er både klassisk og nostalgisk, og det er dette spillet denne artikkelen handler om.
Slik spiller man
Desert Treasure har fem hjul og tre rader, samt et bakgrunnsbilde som viser et ørkenlandskap. Det er 20 gevinstlinjer i dette spillet, men det er også mulig å spille med færre linjer. Man må bare huske at det ikke er mulig å vinne noe på de inaktive linjene. Derfor kan det være smartere å aktivere alle linjene og heller redusere myntverdien for å spare penger. Myntverdien per linje starter på 0,01 euro, så det er mulig å spille både med liten og større innsats. Mange liker å satse litt ekstra, og da passer dette spillet fint, ettersom man kan satse inntil 10 mynter per linje. Gevinstrekker må være på en aktiv linje for å gi utbetaling, og symbolene må være på rad, uten andre symboler innimellom. Vinnerrekkene må dessuten starte helt til venstre på skjermen, altså på det venstre hjulet.
Symboler og gevinster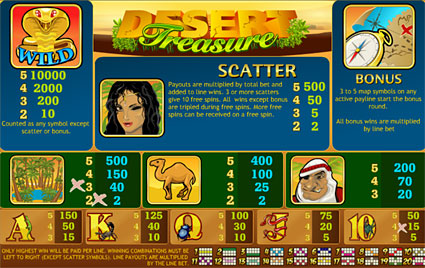 Symbolene i spillet er en blanding av unike symboler og kortsymboler. Kortsymbolene er dekorert med ulike ørkendyr som gekkoer, biller og slanger. Det er kortsymboler fra 10 til ess, og de deler ut fra 50 til 150 mynter for fem like. Kortsymbolene deler bare ut gevinst for tre eller flere like. Det samme gjelder for symbolet av ørkenbanditten. Han gir 200 mynter for fem like. Kamelen og oasen gir også gevinst for to like på rad. Fem kameler gir 400 mynter i gevinst og fem oaser gir 500 mynter i gevinst.
Wildsymbolet viser en kobra. Dette symbolet kan både erstatte andre symboler og det kan danne egne vinnerkombinasjoner. Fem wildsymboler på rad gir 10  000 mynter i gevinst, som er toppgevinsten i spillet.
Spesialsymboler
Scattersymbolet viser en vakker kvinne. Dette symbolet gir gevinst selv om de like symbolene ikke er på samme gevinstlinje, og man trenger bare to kvinner på skjermen for å få en gevinst. Med tre eller flere scattere vinner man også 10 gratisspinn. Gevinstene er tredoblet under gratisspinnene. Unntaket er bonusgevinster, som er de samme som i grunnspillet.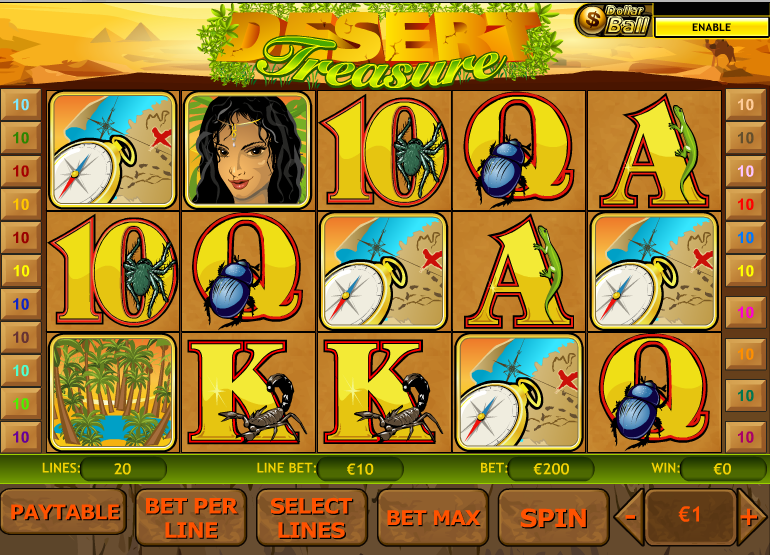 Bonusgevinstene blir delt ut av bonussymbolet, som er et kart og kompass. Med tre eller flere slike symboler kommer man til bonusrunden. I bonusrunden blir spillerne tatt med til en oase. Der står skurken med skattene sine, og spillerne får velge et visst antall gjenstander som belønning for å ha funnet den skjulte oasen. Hvor mange gjenstander man får velge kan variere.
Ekstraspill
Desert Treasure tilbyr også et ekstraspill som heter Dollar Ball. Det koster 1 euro ekstra per spinn å aktivere dette spillet, og man skal ganske enkelt velge et tall. Dersom det valgte tallet blir trukket ut, vinner man. Det er fint mulig å spille uten å aktivere ekstraspillet. Dette er bare et tilleggstilbud til spillere som vil ha ekstra mye moro og spenning når de spiller.
Konklusjon
Desert Treasure er en herlig spilleautomat med nostalgisk følelse. Det finnes en nyere versjon av spillet, men den originale klassikeren har en egen sjarm. Spillet har 20 gevinstlinjer, men antallet linjer er valgfritt. Det er mulig å vinne gratisspinn med tredoble gevinster, og man kan også komme til bonusspillet, der det gjelder å velge mellom ulike gjenstander. I tillegg kan man prøve seg på ekstraspillet, som minner litt om bingo eller lotto. Man skal velge et tall, og en kule blir trukket for hvert spinn. Dette tilleggsspillet koster litt ekstra penger, men man kan vinne ganske store beløp i ekstraspillet.