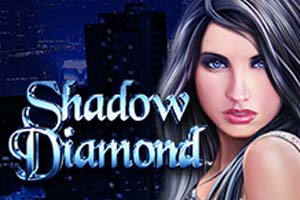 Shadow Diamond er en utrolig flott og skinnende spilleautomat. Den leveres av spilleverandøren Bally, som er både kjent for spilleautomater på nettkasinoer og på landbaserte kasinoer. De har satset fullt ut på nettkasinoer de siste årene, og Shadow Diamond har nå blitt et flott tilskudd til listen. Temaet som er satt inn kan kalles for unikt, og igjen så får Bally brukt sin kreativitet. Når det kommer til presentasjonen av temaet så er det også utrolig bra. Det er en klar fokus mot temaet, og spilleskjermen er også satt opp deretter. Oppsettet som er satt inn er lett å forstå, og det er enkelt for alle slags spillere å komme i gang med spillingen.
Temaet
Temaet i Shadow Diamond ser ut til å være Bally sin tolkning på det gode liv. Det er veldig mange som forbinder høye summer med spilleautomater, da helst som gevinster. Høye summer penger vil ofte utgjøre en stor forskjell i folks liv, og det er de færreste som hadde sagt nei takk til det. I Shadow Diamond har Bally hentet ut de flotteste og vakreste diamantene, og de er satt inn som del av temaet. Det er også satt inn to hovedkarakterer som en annen del av temaet, og det ser ut til at de er forlovet.
Spilleskjermen
Når man først ser på spilleskjermen så får man se mange flotte diamanter og juveler. Det er stort sett det som preger hjulene. Rundt selve spilleskjermen er det satt inn en flott ramme, som består av små lyseblå diamanter. Den samme rammen er også plassert rundt oppsettet med hjul. Bakgrunnen som er brukt i Shadow Diamond kan kun sees på øverste del av skjermen. Det er mange skyskrapere som står tett i tett, og de aller fleste av vinduene er lyst opp med lys. Logoen for spilleautomaten er satt mot denne bakgrunnen, og bokstavene er i samme farge som de nevnte rammene. Til høyre for logoen finner man et veldig fint bilde av den kvinnelige karakteren i temaet. Hjulene er som nevnt rammet inn, og de er satt inn med en mørkeblå bakgrunn. Noen av symbolene dekker hele området, men det er også noen symboler som kun er en liten diamant mot den mørkeblå bakgrunnen. Symbolene er virkelig flotte å se på, og man tror nesten at man kan se diamantene skinne innimellom.
Spilleautomatens oppsett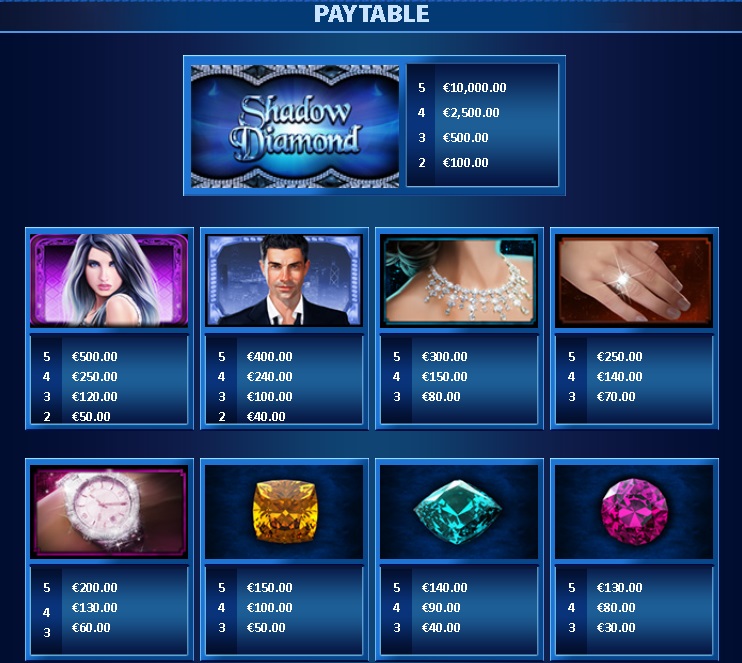 Shadow Diamond blir spilt med fem hjul og fire rader. Med et slikt oppsett har man 20 posisjoner på spilleskjermen, og det er de som er dekket med symboler. Som en del av oppsettet er det også lagt inn et antall innsatslinjer. Som med resten av oppsettet, så er innsatslinjene faste. Det betyr at spilleren ikke får justert på noe av det. Innsatslinjene er satt inn med en oppmerking, som kan sees på enden av det første og siste hjulet.
Det spilleren skal fokusere på i Shadow Diamond er å tilpasse innsatsen. Man finner to pilknapper på nederste del av skjermen, og de brukes til å justere innsatsen opp eller ned. En oversikt over den totale innsatsen vil man finne på høyre side. Når spilleren har funnet et ønsket nivå, er det bare å trykke på spinn. Om man ønsker å spille med automatiske runder, så kan det gjøres med knappen som har to piler på seg.
Bonuser
En veldig unik bonus i Shadow Diamond er det at man finner stablede symboler. Bonusen er ikke bare låst til ett symbol, men den kan faktisk fungere på samtlige. Bonusen gjør at symbolene kan dukke opp i flertall, slik at man ender opp med ett eller flere hjul som er dekket av samme symbol. Det sier seg selv at denne bonusen kommer til å øke vinnersjansene. Det er også den stablede bonusen som kan aktivere gratisspinn i Shadow Diamond. Hjul to, tre og fire må faktisk være dekket med samme symbol for at gratisspinn skal deles ut.