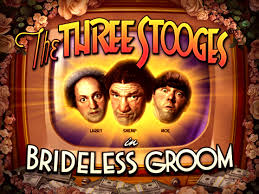 RealTime Gaming har endelig sluppet ut enda en spilleautomat i serien de har laget med The Three Stooges som tema. Denne spilleautomaten ble sluppet ut på markedet i februar 2015, og den har allerede rukket å imponere. Grafikken er tydelig løftet opp noen hakk i forhold til de tidligere utgivelsene. Temaet er veldig godt presentert på spilleskjermen, og det er mange herlige symboler å se. Oppsettet er godt kjent for mange spillere, og det er tydelig fokusert på brukervennlighet i forhold til justeringer. Det kan også dukke opp flere gode overraskelser i spilleautomaten, i form av noen gode spesialfunksjoner.
Oppsettet og innsatser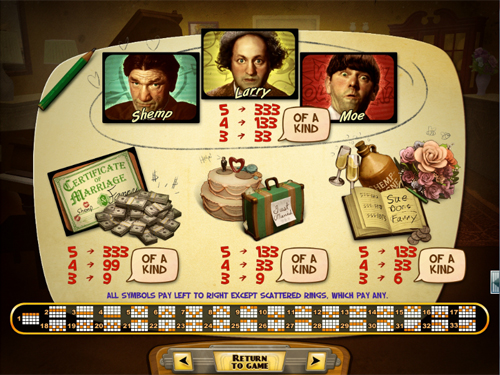 Oppsettet i The Three Stooges: Brideless Groom består av fem hjul og fire rader. Det er lagt inn et litt uvanlig tall med innsatslinjer. Det er faktisk 33 stykker totalt. De kan justeres av spilleren, ved og at man tar i bruk riktig justeringsknapp nederst på spilleskjermen. Det er en annen justeringsknapp der også. Den er satt inn for at spilleren skal få justert innsatsen det skal spilles med i en spillerunde. Spilleren må bestemme en innsats før en spillerunde kan settes i gang. Hvis spilleren ikke er fornøyd med innsatsen i første runde, er det alltid mulig å gå tilbake for å gjøre en gjenjustering. For de spillerne som syntes at spillerundene går litt for sakte, kan man ta i bruk speedknappen. Den vil gjøre at spillerundene går litt raskere enn vanlig. Ønsker en spiller å bestemme på forhånd at det skal spilles mange runder, kan man trykke på autoplayknappen. Den lar spilleren bestemme hvor mange automatisk runder det skal settes i spilleautomaten.
Temaet
The Three Stooges er først og fremst kjente som en gruppe som gjorde ulike komedieopptredener. De var aller mest kjent i løpet av 1920 tallet, men historien deres levere videre fortsatt. Det er trolig ikke mange som hadde gjettet på at de ville dukke opp som tema i en spilleautomat, men RealTime Gaming valgte å satse på det. De har jo tross alt laget en hel serie hvor det er The Three Stooges som er satt i fokus. Temaet er utrolig godt presentert, blant annet gjennom symbolene som er lagt på hjulene. Der får man se de tre karakterene som til sammen utgjorde The Three Stooges. Det er også lagt inn flere elementer som mange forbinder med opptredenene til komikergruppen.
Spesialfunksjoner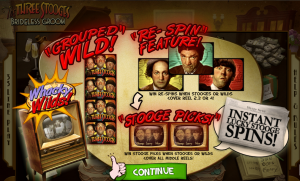 Spesialfunksjonene i The Three Stooges: Brideless Groom er virkelig noe å se frem til. De tre forskjellige karakterene kan alle aktivere hver sin funksjon, i tillegg til at de kan aktivere enda en funksjon ved at de tre kombineres. Hver av karakterene kan dukke opp som stablet symboler på de tre midterste hjulene i oppsettet. Når det skjer vil spilleren få tildelt et antall respinn. Respinn fungerer slik at det ene hjulet blir låst fast, mens de resterende får noen ekstra spinn. Det kan resultere i flere gevinster enn det som hadde dukket opp i utgangspunktet. Hvis man ender opp med å få hvert av karakterene som stablede symboler på de tre midterste hjulene, vil det aktivere en ekstra spesiell bonus. Bonusen går ut på at spilleren får velge mellom forskjellige tv-skjermer. Bak hver tv-skjerm vil det skjule seg gratisspinn, multiplikatorer og det som har blitt kalt whacky wilds. Whacky wilds er en funksjon som vil automatisk gjøre at symbolene av de tre karakterene fungerer som wildsymboler. Det er dermed større sjanser for å få wildsymboler på hjulene, og med dem vil sjansen for vinnende kombinasjoner også øke. Når det kommer til antall gratisspinn, er maksimumsgrensen satt til 33 stykker. Det er helt tilfeldig hvor mange spilleren faktisk får. Multiplikatorene på en spillerunde vil også variere.
Konklusjon
The Three Stooges: Brideless Groom er en flott utgivelse fra RealTime Gaming. Spillerne har mye å se frem til når hjulene begynner å spinne. Spesialfunksjonene er godt laget, og gir spillerne mange gode muligheter til å vinne gevinster.