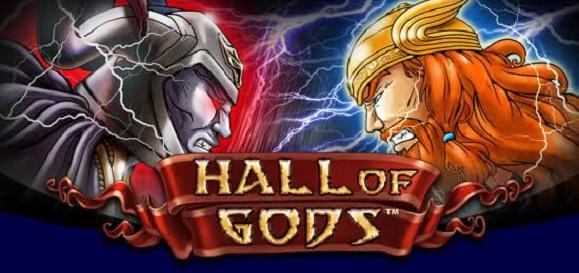 Hall of Gods er en spilleautomat på nett fra NetEnt med fem hjul og 20 gevinstlinjer. Tematisk henter Hall of Gods inspirasjon fra norrøn mytologi, så dersom du er en fan av Tor, Loke og alle de andre norrøne gudene er dette spilleautomaten for deg! Tematikken er svært gjennomført, og spillet har utrolig god grafikk. Du kan teste ut Hall of Gods som gratis spill på nett, så du kan sjekke ut om dette er spilleautomaten for deg. Finner du et godt casino som tilbyr free spins no deposit kan du spinne i vei med de gamle gudene.
Velkommen til Valhall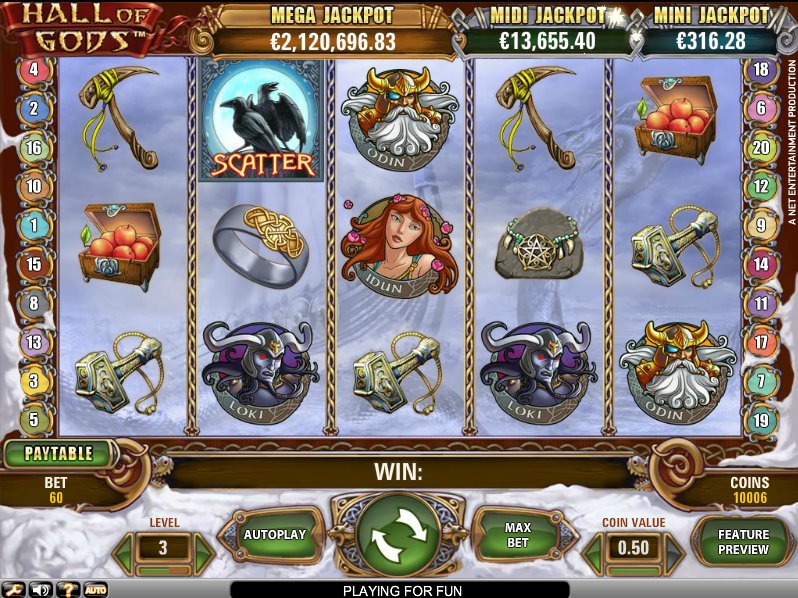 Som nevnt har Hall of Gods et svært lekkert utseende. Bakgrunnen er et detaljert vikingskip som møter på Midgardsormen. Fargen på bakgrunnen er en dus blåfarge, effekten er som om vikingene seiler gjennom tåke. Lydeffekten bidrar til den noe mystiske følelsen, man kan høre en slags svak lyd av sjøsprøyt og hav. Ellers har ikke Hall of Gods mye musikk hele tiden, og det er temmelig behagelig. Selve rammen er i tre, med en del utskjæringer, for eksempel på spinnknappen. Også disse dekorasjonene passer med resten av stilen, da de er gjenkjennelige fra vikingtida. Det er også litt snø, noe som er naturlig for et vikingspill. Den duse blåfargen og snøen gir et kjølig inntrykk, men dette skaper en kontrast til de fargerike og varme symbolene.
I Hall of Gods er symbolene virkelig stilige. Fem symboler har høy verdi. Øverst troner Odin, og det er jo korrekt, Odin er den høyeste guden i norrøn mytologi. Odin er portrettert som en staut gud med gullhjelm, og han mangler ett øye. Dette viser at spillutviklerne kjenner sin mytologi. Deretter følger Tor, Odins sønn og folkets gud, den blonde og vakre Frøya, Loke og Idunn. Loke virker kanskje litt overdreven, han er jo riktignok luringguden, men her ser han skikkelig ond ut. Sjekk han ut selv. Også symbolene med mindre verdi er riktig vakre – en vikingring, Tors hammer, et vikingkjede, en rituell hammer og en kiste med Idunns epler.
Bonusmuligheter i Hall of Gods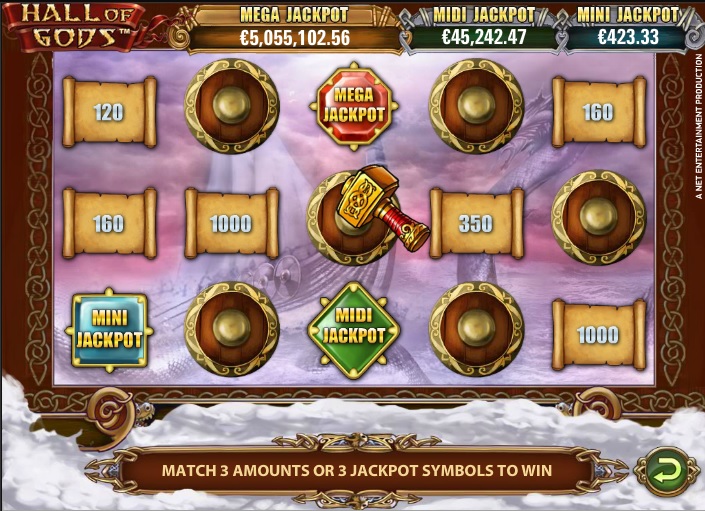 Hall of Gods har mange bonusmuligheter. Det er to vakre ravner som er scattersymboler i Hall of Gods. Hugin og Munin vil gi deg free spins! Odins fugler «Tanken» og «Minnet» er generøse. Dersom de dukker opp hvor som helst på hjulene, trigges din bonus. Dersom du får 3 ravnsymboler, får du 10 gratis spinn, dersom du får 4 får du 15, og dersom du får 5 får du hele 20 gratis spinn! Bonussymbolet er Tors hammer som slår mot et skjold. Dersom du får tre hammere aktiveres bonusspillet og du kan vinne jackpot. Hvor mye du vinner på jackpot kommer an på hvor mye du spiller for. Wildsymbolet er selveste Midgardsormen. Og i Hall of Gods er Lokes barn riktig formidabel. Dette symbolet kan som vanlig erstatte de andre symbolene, unntatt bonus- og scattersymboler.
Funksjonalitet
Det er enkelt å spille Hall of Gods. Du kan velge autospinn, her har du valget mellom 10, 25, 50 og 75 spinn. Det finnes også en knapp for maks innsats. Hall of Gods har en god og detaljrik utbetalingstabell, her finner du all den informasjonen du trenger. Her finner du beskrivelser av alle bonusfunksjonene og du kan finne den eksakte verdien på alle symbolene. Denne spilleautomaten har gevinstlinjene på siden av rammen, dette er en veldig praktisk funksjon som gjør det enkelt for deg som spiller.
Alt i alt
Hall of Gods er et utrolig gjennomført spill med en fantastisk tematikk og mange bonusmuligheter. Finn et gratis casino uten innskudd slik at du kan sjekke ut denne morsomme spilleautomaten. Er du på farta, test den ut på et mobil casino som tilbyr gratis casino penger uten innskudd. Du finner Hall of Gods på norske nettcasino, så da har du norsk kundeservice tilgjengelig dersom du skulle trenge hjelp, men Hall of Gods er i utgangspunktet et spill med god funksjonalitet slik at det enkelt å spille.