Ut i ørkenen med Ali Baba og de 40 røverne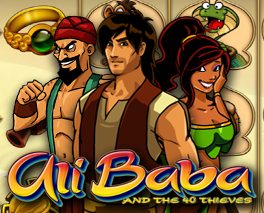 Alibaba er en ny spilleautomat fra Leander Games, en svensk spillutvikler som har pøst på med kule maskiner den siste tiden. Hver eneste av deres seneste lanseringer har blitt en hit, mest på grunn av de kule temaene og den grundige jobben de gjør med sine spilleautomater. Alibaba handler om akkurat det du tenkte på når du hørte navnet. Sandørken, arabiske prinsesser, banditter, kameler og gull i haugevis. Dette er en moderne spilleautomat, altså er den skapt med bruk av moderne teknologi og 3D-detaljer, men den er tegnet i eventyrlig stil med smålig animerte symboler som ligner på en tegneserie. Området rundt spillskjermen er en gul ørken med et par palmer, et sverd med gullskaft og et grått fjell som ser ut til å skjule store dører – det er nok der Ali Baba har gjemt skattene sine. Symbolene består av ulike smykker, kniver, arabiske instrument, kameler og aper samt tre hovedkarakterer. Røveren med det røde hodeskjerfet gir opp til 800 mynter tilbake om man treffer fem like, mens den unge mannen gir hele 2500 mynter i gevinst. Så har man den vakre arabiske prinsessen i grønn kjole. Hun er et såkalt utvidende wild, altså vil hun ta over et helt gevinsthjul når hun dukker opp på skjermen og begynne å danse mens gevinstene ruller inn. Med et helt gevinsthjul dekt av wildsymboler er man nærmest garantert en god gevinst. Alle symboler på Alibaba er animerte, altså er det morsomt å følge med på hvert spinn. Med 20 gevinstlinjer og brede innsatsmuligheter er det all grunn til å prøve ut denne nye spilleautomaten fra Leander Games, uansett om man liker eventyret om Ali Baba eller ei. Utbetalingsraten er samtidig høy nok til at variasjonene på spillkontoen forblir minimale.
Bonusfunksjoner på Alibaba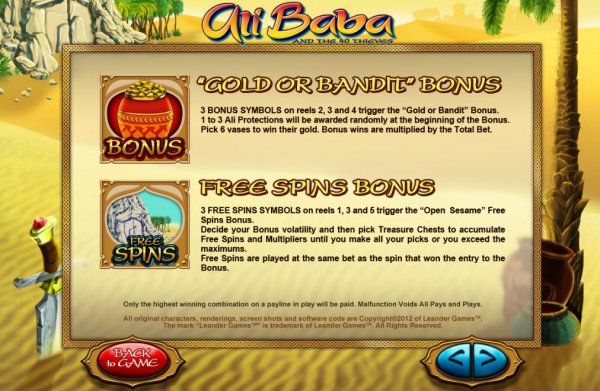 Som de fleste andre spilleautomater fra Leander Games, har Alibaba flere av de velkjente funksjonene en moderne spillmaskin bør ha, samt et par bonusspill som gjør den en fryd å prøve ut. Som nevnt har den kun 20 gevinstlinjer, altså er det lett å følge med på hvert spinn og lære seg de ulike kombinasjonene utenat. En ting som overrasket er scattersymbolet, i form av en krukke med diamanter og gullmynter. Det er vanligvis scatteren som utløser rundene med gratisspinn, men her er den en helt vanlig gevinst som så vidt merkes på lommeboken med mindre man setter fem like. Fordelen med scatteren er at den ikke må være på samme gevinstlinje for at gevinsten skal utbetales. Ellers er den dog helt ubrukelig. Ali Baba kan dog skryte av to andre bonuser som er alt annet en kjedelige. Den første er en såkalt klikkbonus, altså må man klikke seg frem til gevinstene. Et dusin arabiske krukker står på rad og rekke foran deg. Hvilken skal du velge? Hvilke skjuler skattene, og hvilke inneholder en ekkel ape som plystrer på røveren? Velger du feil, vil den arabiske prinsen redde deg én gang. Neste gang bør du velge varsomt. Som de fleste andre spilleautomater fra Leander Games har Alibaba også gratisspinn å skryte av. Disse utløses av symbolet med ordene Free Spins og den grå fjellveggen i bakgrunnen med de halvveis skjulte dørene. Når du treffer på tre eller flere av disse, vil du bli tatt med inn i hulen til Ali Baba. Velg en av tre dører – hver av disse skjuler gratisspinn, men du må velge selv hvor mange runder kostnadsfrie spinn du ønsker å få, og hvilke ekstrafunksjoner som skal aktiveres sammen med disse.
Alt i alt
Alibaba og de 40 røverne har nettopp blitt til en spilleautomat. En godt betalende en som sådan. Utbetalingsraten er høy til tross for de 20 gevinstlinjene – dette fordi innsatsmulighetene er såpass brede at selv de minste kombinasjonene kan bety saftige gevinster. Med utvidende wildsymboler, to bonusspill og en scatter-funksjon som spytter ut middelmådige gevinster med jevne mellomrom er dette en moderne, tematisk spilleautomat vi absolutt kan anbefale. De tre ulike typene gratisspinn vil sikkert tiltrekke seg oppmerksomhet fra de spillerne som liker å ta kontroll, mens de kule, animerte symbolene vil løfte på humøret ditt.