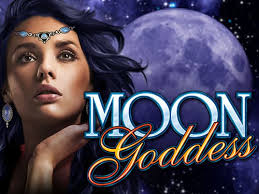 Spilleverandøren Bally er ikke bare kjent for sine spilleautomater på nett, men også for sine mange spilleautomater som er tilgjengelig på landbaserte kasinoer. De startet aller først opp med landbaserte spilleautomater, men de siste årene har de virkelig stått på innen nettbaserte spilleautomater. Deres utvalg av spilleautomater vokser stadig, og på listen finner man blant annet Moon Goddess. Moon Goddess har vært tilgjengelig på landbaserte kasinoer en stund, men nå er den også tilgjengelig hos nettkasinoer som tilbyr spilleautomater fra Bally. Det er en utrolig flott spilleautomat, som har et spennende og magisk tema. Det er også flere gode bonuser å finne i spillet. Det er mer enn nok å glede seg til, og det eneste man må gjøre for å komme i gang er å sette en innsats og trykke på spinn.
Temaet
Det er gresk mytologi som i hovedsak har gitt inspirasjon til dette temaet. Gresk mytologi har mye spennende å by på, og det er selvfølgelig mange guder som dukker opp. I Moon Goddess er det en månegudinne som er mest i fokus. Månen er noe spennende i seg selv, og den bringer en slags ro til spilleautomaten. Temaet er utrolig godt presentert, og man kan kjenne at man drømmer seg bort i den fantasifulle verdenen.
Spilleskjermen
Det er kun ett sted man får inntrykk av temaet og det er gjennom spilleskjermen. Spilleskjermen i Moon Goddess er utrolig bra satt opp. Hvis man starter på toppen, får man først og fremst se logoen. Logoen er formet med noen forskjellige bokstaver, og de er farget både i lyseblått og i gull. Til venstre for logoen ser man gudinnen som er satt i fokus i temaet. Hun ser oppover mot himmelen og bilde av henne er veldig klart. Bakgrunnen som er satt inn bak logoen og gudinnen er et flott bilde av en stjernehimmel. Det som dekker resten av spilleskjermen er hjulene. Hjulene er satt inn med en utrolig flott bakgrunn, som varierer gjennom mange ulike blå nyanser. Symbolene er fordelt utover hjulene. De er en god blanding av bildesymboler og av kortsymboler. Kortsymbolene er hentet ut fra en kortstokk, og det er kun de høyeste verdiene som er tatt med. Bildesymbolene er rettet mot gresk mytologi, og alle bildene er utrolig flotte. Den gode grafikken som Bally har brukt preger også spilleskjermen, og den er med på å få frem alle detaljene.
Spilleautomatens oppsett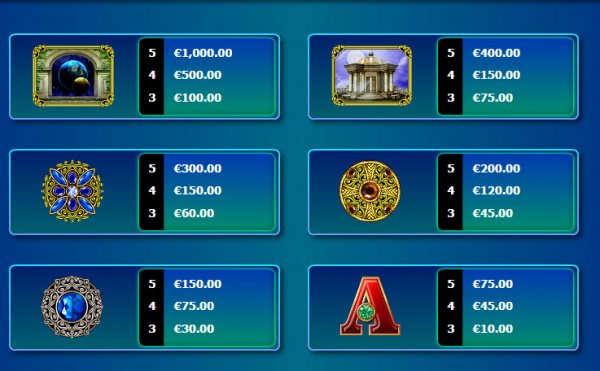 Oppsettet i Moon Goddess er klassisk, og er det mest brukte innen spilleautomater i dag. Den er satt sammen av fem hjul og tre rader, og det er over disse at man finner symbolene. Det vil aldri være mer enn 15 symboler synlig på hjulene på en gang. Symbolene byttes dermed ut kun når hjulene spinnes. Som en del av oppsettet så er det også satt inn 30 innsatslinjer. De er også en fast del av oppsettet, og spilleren kan ikke spille med et lavere antall.
Det spilleren kan velge er innsatsen det skal spilles med. I Moon Goddess blir innsatsen fordelt på innsatslinjene. Den settes med to pilknapper, som man finner nederst på skjermen. Spilleren kan velge å justere innsatsen enten opp eller ned, og det er mulig å gå tilbake å gjøre flere justeringer mellom hver spillerunde. Spilleren har noen andre knapper som kan brukes, men de er valgfrie. De er rett og slett bare satt inn for å gi spilleren en enda enklere opplevelse når man spiller.
Bonuser
Det er tre ulike bonuser å glede seg til i Moon Goddess. Det er lagt inn to forskjellige wildsymboler, og i tillegg finner man også et scattersymbol. Wildsymbolene fungerer på samme måte, i alle fall når det kommer til funksjonen med å erstatte de andre vanlige symbolene i spilleautomaten. Det som skiller de to wildsymbolene fra hverandre er at den ene er vanlig wild, mens den andre er ekspanderende wild. Et ekspanderende symbol kan ende opp med å dekke et helt hjul. Scattersymbolene kan dukke opp på det andre, tredje og fjerde hjulet, og spilleren vil få en av to gevinster. Enten så blir det utdelt en kontantgevinst eller så vil spilleren få opp til 15 gratisspinn.