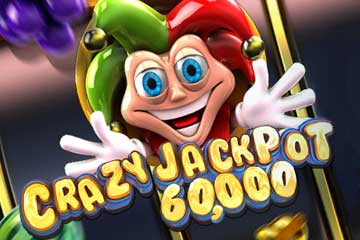 Betsoft Gaming står bak den enarmede banditten Crazy Jackpot 60, 000 og de har virkelig fått til å ta klassiske enarmede banditter til et helt annet nivå. Enarmede banditter kan for mange være et kjedelig spill, for man finner kanskje ikke like mye action i spillet, ikke like bra grafikk og ikke like mange innsatslinjer å spille på. Betsoft Gaming har derimot klart å gjøre om på dette her, for Crazy Jackpot 60,000 er helt klart et spennende spill å prøve ut. Man finner også en utrolig god grafikk på spilleskjermen og de klassiske symbolene er løftet til et helt nytt nivå. I tillegg så har man noen spesialsymboler, noe som er ganske uvanlig når det kommer til enarmede banditter. Betsoft Gaming har rett og slett snudd om på det klassiske og klart å lage en ganske moderne enarmet banditt.
Spillets symboler
Symbolene i spillet er plassert på spillets hjul og de er først og fremst tydelig inspirert av klassiske symboler. Man finner symboler i form av druer, sitroner, gull bjeller, vannmeloner, kirsebær, stjerner og jokere. De er tydelig designet om til å passe mer inn i en nymotens enarmet banditt men i bunn og grunn er de helt like de man fant i tidligere spill. Det som er mest originalt med disse symbolene er at de faktisk har noen unike funksjoner, noe som er veldig uvanlig i enarmede banditter. I spillet så finner man noe som heter «crazy reels» og det er et oppsett på to ekstra hjul som er plassert på spilleskjermen. Disse hjulene blir aktivert hver gang man får en gevinst på det vanlige hjuloppsettet og så fort den begynner å spinne så har man gode gevinster i vente. «Crazy reels» kan blant annet aktivere en multiplikatorfunksjon i spillet som kan ende opp med å gange gevinsten man har fått med fem. Dette er kun med det ene hjulet i «crazy reels». Får man aktivert det andre hjulet så kan man få en multiplikator på ganger 10. Jokeren i spillet har en helt sentral rolle da den i kombinasjon med «crazy reels» kan ende opp med å lage en større multiplikator. Får man en joker på crazy reel nummer en så får man en multiplikator på 10 og får man en på crazy reel nummer to så får man en multiplikator på 20. Dette kan utgjøre ganske store kontantgevinster.
Oppsettet i spillet
Oppsettet som man finner i Crazy Jackpot 60,000 er ganske originalt. Man må ha i baktankene at det ikke er en videoslot man spiller på men en enarmet banditt. Det som er originalt med oppsettet er at man har to hjuloppsett og ikke bare en. Hovedoppsettet er på tre hjul og totalt så har man 27 innsatslinjer. Det andre hjuloppsettet er på to hjul og ingen innsatslinjer. Innsatsen man skal legge i spillet skal legges slik man er vant til i andre spill. Innsatslinjene i spillet er faste men spilleren skal selv justere hvor mye man skal satse per spillerunde. Innsatsen legges per mynt og hver mynt i spillet kan ha en verdi på mellom 0,02 og opp til 1. Dette tilsier at man kan til sammen spille med 25 i kreditt i en spillerunde.
Spillets grafikk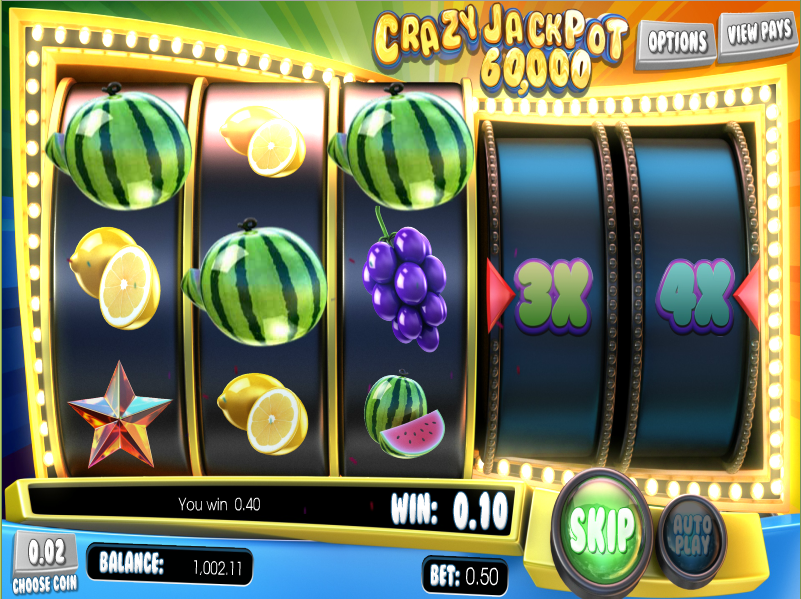 Grafikken i en enarmet banditt er ikke den som pleier å imponere aller mest men i Crazy Jackpot 60, 000 så har virkelig Betsoft Gaming gjort en innsats. Foran seg på spilleskjermen så ser man først og fremst de to ulike hjuloppsettene. Rammen rundt hjulene er laget i en gullramme som er pyntet opp med masse lyspærer. Øverst i høyre hjørne så har man spillets logo, til sammen med noen informasjonsknapper. Symbolene spinner rundt på hjulene og de er alle i en flott grafikk. Nederst på spilleskjermen så finner man spillets knapper og de er satt opp på en veldig ryddig og ordentlig måte, og de ser bra ut med resten av spilleskjermen.