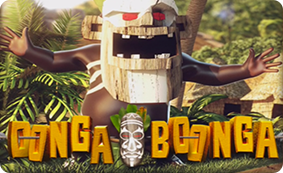 Det er noen spilltitler som skiller seg ut mer enn andre og Oonga Boonga er en av dem. Sheriff Gaming, som er spillutviklerselskapet som står bak, har virkelig valgt et utrolig morsomt navn på denne spilleautomaten og det er nok mange som kommer til å bite seg tak i navnet. Selv om navnet høres merkelig ut så vil man se at det passer godt med spillets tema så fort man faktisk begynner å spille. Tema er satt til jungelen, hvor man finner en veldig merkelig figur. Det er litt usikkert på hva denne figuren er, men har er i alle fall pyntet opp med en stor maske over ansiktet og har store palmeblader som pynter opp hodet hans og masken. Denne figuren er Oonga Boonga selv, og figuren er en slags høvding som hersker over en egen, liten del av den store jungelen.
Spillets oppsett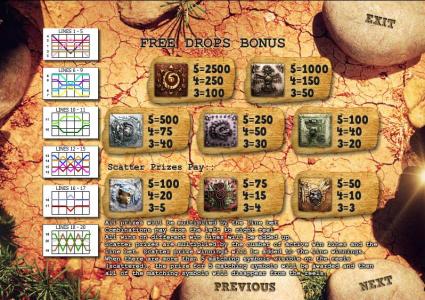 For de som har spilt spilleautomaten Gonzo's Quest, kan man sammenligne spilloppsettet med det spillet. Symbolene er først og fremst satt opp på en helt unik måte. Det er ikke slik at man har spinnende symboler på hjulene, men man har heller symboler som faller ned fra toppen av spilleskjermen etter hvert som det blir plass på hjulene. Annet enn det så har man fem hjul og tre rader med symboler. Innsatslinjene i spillet er faste og har et antall på totalt 20 stykker. Det vil si at for hver spillerunde man spiller så har man 20 aktive innsatslinjer. Myntverdien og antall mynter er det spilleren må justere innen man spinner i gang hjulene. Innsatsen settes da per innsatslinje og innsatsen kan justeres for hver spillerunde. Totalt i en spillerunde så kan man ligge på en innsats mellom 0,20 euro og opp mot 100 euro. Det er et stort spenn i innsatsen, slik at spillet skal kunne spilles av de aller fleste spillere.
Grafikk og lyd i spillet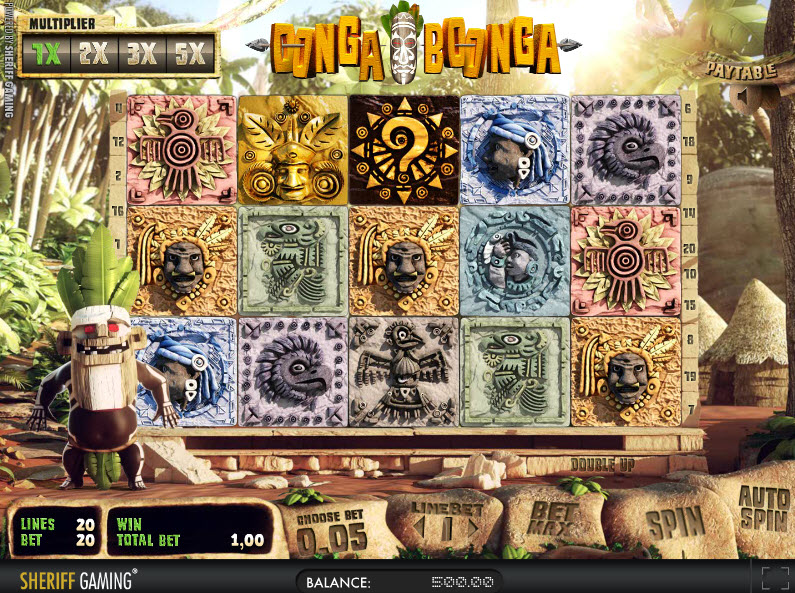 Grafikken i Oonga Boonga er utrolig bra. Det er en mengde 3D effekter lagt på spillet, i tillegg til at man finner en mengde animasjoner. Det er noe som skaper litt mer liv på spilleskjermen og som gjør det ekstra morsomt å faktisk spille. Bakgrunnsbildet som er lagt på spilleskjermen viser den flotte jungelen som Oonga Boonga hersker over. Det er masse grønne og frodige vekster, da spesielt palmetrær. Solen skinner og det ser ut til at denne jungelen er et flott sted å være. På venstre side av spilleskjermen så finner man Oonga Boonga selv og han er der for å passe på at alt går bra underveis i spillingen. På toppen av spilleskjermen så er spillets logo plassert og i midten av de to ordene så har man bilde av ansiktet til Oonga Boonga. Nederst på spilleskjermen finner man spillets knapper, som er formet som steiner og passer perfekt inn i resten av spilleskjermen. Symbolene som spinner rundt på spillets hjul er alle formet som ulike steiner som har ulike inngraveringer på seg. De er også formet i ulike farger.
Spesialfunksjoner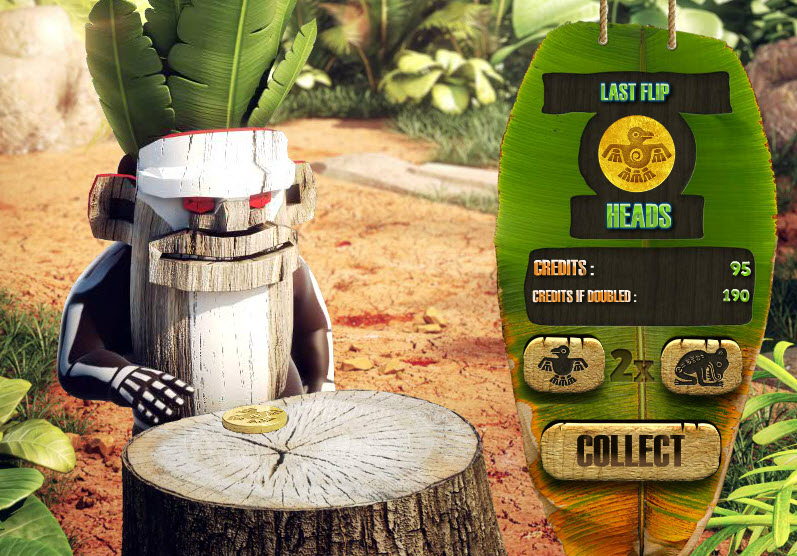 Gratisspinnene i spillet blir aktivert av et gudebilde i gull. Man trenger minst tre slike symboler på hjulene for å aktivere gratisspinnene og når man får det så vil man få 10 gratisspinn. Disse gratisspinnene vil sørge for et helt nytt oppsett av symboler på hjulene, i tillegg til at det vil bli aktivert en multiplikatorfunksjon. multiplikatorfunksjonen i Oonga Boonga kan ligge på mellom ganger to og ganger fem. Dette kan øke gevinstene man får en god del og gjøre at man sitter igjen med en riktig god gevinst til slutt. Det er hele tiden mulig å reaktivere flere gratisspinn. På slutten av hver spillerunde i Oonga Boonga så har man en gamblefunksjon som man kan benytte seg av. Det er en funksjon som lar en prøve å øke gevinsten man allerede har fått, faktisk så kan man prøve å doble den. Denne funksjonen kan brukes opp til 10 ganger.