Drager er populære som aldri før, ikke bare blant barn. Drager dukker opp i bøker, spill, eventyr og i TV-serier. Dragene i dette spillet er ikke av den mest skremmende sorten, men de kan derimot belønne spillerne med noen fine gevinster. Dragon Drop er laget av NextGen Gaming. Automaten har 5 hjul og 25 gevinstlinjer. Symbolene er tegneserieaktige og litt humoristiske, og bidrar til en god og lett stemning. Men selv om dragene som sitter øverst på hjulene er runde og godlynte, er de ville jokere som kan falle ned på hjulene når som helst, derav spillets navn.
Symboler
Symbolene i spillet er skattekister, slott, en vakt med en gaffel som våpen, en sau og kortsymboler fra 9 til ess. Dragesymbolene dukker bare opp på hjul 2, 3 og 4. De erstatter alle symboler unntatt de spredte symbolene. Gevinster med drager blir fordoblet. Det spredte symbolet er drageeggene. De har påskriften Scatter.
Innsatser og gevinster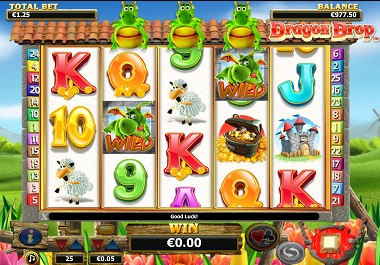 Innsatsen kan varieres både ved å stille inn myntverdien og antall linjer man vil aktivere. Man kan aktivere fra 1-25 linjer, men man får bare gevinst for vinnerrekker som dukker opp på aktive linjer, derfor lønner det seg vanligvis å aktivere flest mulig linjer. Dersom man har et lavt spillbudsjett, kan man heller velge en lavere myntverdi, slik at man har råd til å aktivere alle linjene. Myntverdien kan stilles fra 0,10 NOK til 20,00 NOK, så man kan virkelig variere innsatsen.
Skattekisten er det mest verdifulle symbolet, og man får 5000 mynter for fem like. Skattekisten gir også gevinst for to like, mens de andre symbolene bare gir gevinst for tre eller flere like. Slottet gir 500 mynter for fem like, vakter og sauer gir 250 mynter for fem like. Kortsymbolene fra 9 til ess deler ut mindre gevinster. Ess og konge gir 200 mynter for fem like, dame og knekt gir 150 mynter for tre like, tiere og niere gir 100 mynter for tre like. Utbetalingstabellen gir en fullstendig oversikt over de ulike symbolene, og gevinstene de gir.
De spredte symbolene gir også egne utbetalinger dersom man får minst to av dem hvor som helst på skjermen. Disse utbetalingene blir multiplisert med totalinnsatsen, og man får 2x innsatsen for to like, 5x innsatsen for tre like, 20x innsatsen for fire like og 100x innsatsen for fem spredte symboler.
Ekstrainnslag
Dragene som sitter øverst på hjul 2, 3 og 4 faller ned tilfeldig, og endrer et symbol til et dragesymbol. Gevinstene blir utbetalt etter at dragen har erstattet symbolet den lander på, og alle vinnerrekker som inneholder et dragesymbol gir dobbel gevinst.
Gratisspinn og gamblingspill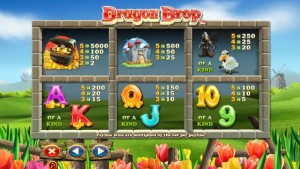 Tre eller flere spredte symboler gir 8 gratisspinn med doble utbetalinger. Gratisspillene spilles med den myntverdien og det antallet linjer man spilte med da man vant dem. Drager som faller ned under gratisspinnene blir jokere som holder seg på samme plass resten av gratisspinnene. Gratisspinnene kan ikke gjenutløses.
Dragon Drop har et klassisk og velkjent gamblingspill, der man skal gjette kortfarge eller korttype. Dersom man velger å gjette på om kortet er rødt eller svart, kan man doble gevinsten. Dersom man velger å gjette om kortet er spar, hjerter, kløver eller ruter, kan man firedoble gevinsten. Men dersom man gjetter feil, taper man gevinsten, derfor lønner det seg å bare gamble om smågevinster. Gamblingspillet kan aktiveres etter hver gevinst, men man kan også velge å beholde gevinsten uten å gamble om den.
Oppsummering
Dragon Drop er underholdende og morsomt. Stemningen i spillet er god, og de komiske symbolene gjør det ekstra morsomt å spille. Man kan vinne gratisspinn og ekstra jokere, og man har muligheten til å gamble om gevinstene dersom man vil. Innsatsen kan varieres mye. Det er mange myntverdier å velge blant, og man kan også velge hvor mange linjer man vil aktivere, men man vinner bare dersom vinnerrekkene kommer på en aktiv linje.