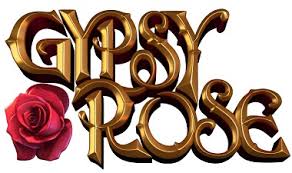 BetSoft har utviklet spilleautomaten Gypsy Rose. Spillet ble lansert i juni 2014, og er både fargerik og mystisk. Jokersymbolene kommer fram fra en krystallkule, og dette er en spennende nyhet som kan prøves hos flere norske nettkasinoer. Betsoft har laget flere 3D-automater, og denne er veldig godt laget. Temaet er magi og mystikk, og man møter en vakker jente, som også sitter ved siden av hjulene når man spiller.
Symboler
Som i de fleste spilleautomater, skal man prøve å få minst tre på rad for å få utbetalt gevinst. Automaten har 5 hjul og 30 gevinstlinjer. Betsoft har lansert et par middels gode automater i det siste, men nå har de laget et godt spill. Blant symbolene finner man kråker, krystallkuler, flasker med magiske drikker, og kortsymboler. Den vakre Rose dukker også opp.
Innsatser og gevinster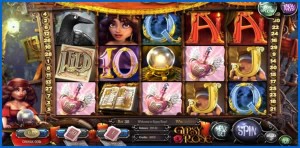 Innsatsen kan varieres ved å velge myntverdi, antall mynter og antall gevinstlinjer man vil aktivere. Myntverdien kan stilles fra 0,02 til 1,00, og man kan satse fra 1 til 5 mynter. Man kan aktivere bare én linje, eller man kan aktivere bare noen få. Som hovedregel gjelder det å aktivere flest mulig linjer, for man vinner bare på linjer som er aktive. Dersom man får tre eller flere like på en linje som ikke er aktivert, får man altså ikke utbetalt denne gevinsten. Det kan jo være en skuffelse, derfor er det bedre å spille med alle linjene aktive, og heller velge en lavere myntverdi. Det er mange mulige innstillinger, slik at man kan tilpasse innsatsen etter eget ønske og eget budsjett.
Man må få minst tre like av et symbol for å få gevinst, og alle rekkene må starte ytterst til venstre, på det første hjulet. Gevinstene er fra 25 mynter til 1500 mynter. Den største gevinsten man kan vinne er en jackpot på 336 000 mynter. Myntene man vinner har samme verdi som innsatsmyntene, så jackpotens pengeverdi vil altså avhenge av myntverdien man spiller med. Man
finner en komplett oversikt over alle symbolene og gevinstene på spillets utbetalingstabell.
Jokere og gamblingspill
Det er mange jokersymboler i spillet. Jokersymbolene dukker opp på det første og siste hjulet. Noen jokerkombinasjoner deler også ut ekstra jokere. Krystallkulen skjuler også mange spennende hemmeligheter som blir avslørt i løpet av spillet. Spillet har altså flere overraskelser å by på.
Gypsy Rose har et gamblingspill, der man kan prøve å doble gevinstene sine. Gamblingspillet går ganske enkelt ut på å gjette mynt eller kron. Så kaster Rose mynten, og man finner ut om man vinner eller ikke. Dersom man gjetter riktig, kan man gjette videre inntil 5 ganger, men dersom man gjetter feil, taper man gevinsten. Derfor bør man tenke seg litt om før man gambler, og bare gamble om gevinster man har råd til å tape.
Bonuser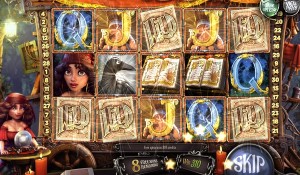 Kjærlighetseleksiren deler ut gratisspinn dersom man får minst to slike symboler, med krystallkulen mellom. Man kan vinne inntil 12 gratisspinn. Kråkebonusen utløses når man får to kråker, med en krystallkule mellom. Da forvandles kråkene til jokersymboler som fryses fast mens man får et gratis omspinn.
To tryllebøker med en krystallkule mellom, gir en bonusgevinst, og man kan vinne inntil 20x innsatsen. Dersom man får to jokersymboler på samme rad, kan man vinne enda flere jokersymboler.
Oppsummering
Gyspy Rose er en spilleautomat som passer for spillere med små eller middels budsjett. Automaten er vellaget og har fin grafikk, og den store bonusen er på 336 000 mynter. Selvsagt er det liten sjanse for å vinne jackpoten, men man kan vinne smågevinster. Spillet har mange bonusinnslag, og man kan vinne gratisspinn. Alt i alt er dette en fin og spennende spilleautomat.