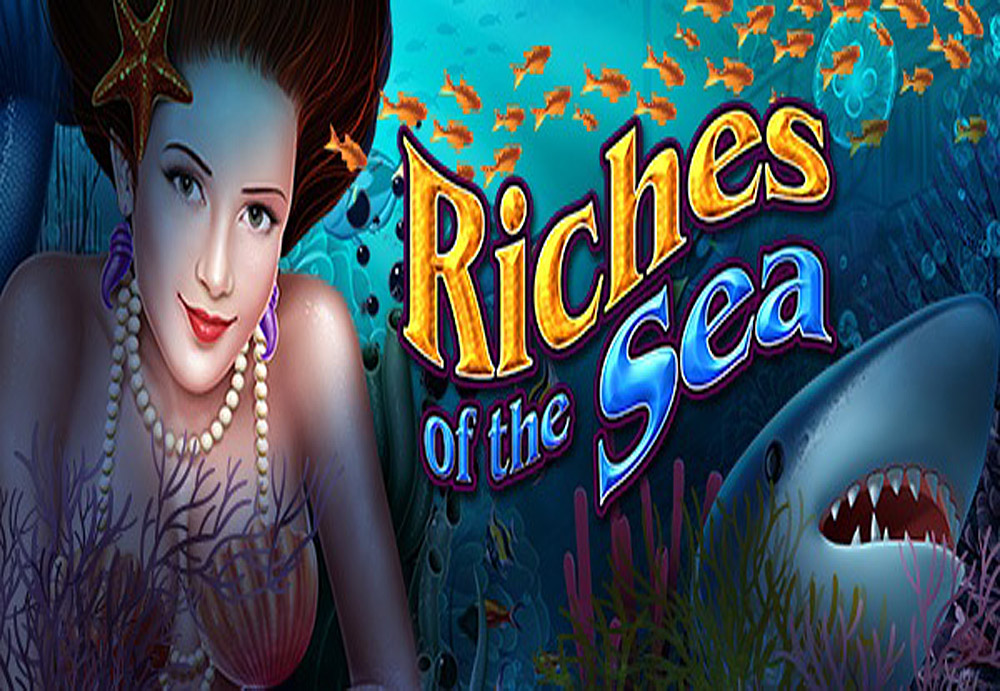 Microgaming har i Riches of the Sea tatt for seg det fantastiske livet som finnes under vann. Det er ikke hver dag man har mulighet til å forske på alt det livet som finnes under vann uten å måtte risikere å møte på haier for eksempel. I Riches of the Sea så er altså dette mulig for alt foregår jo inne i en videoslot. Utformingen på spillet er utrolig bra og man får virkelig med seg den roen som man finner i livet under vann. Det er en flott videoslot som Microgaming tydelig har jobbet en god del med så det er bare å glede seg til når man setter i gang og spiller Riches of the Sea.
Innsats i spillet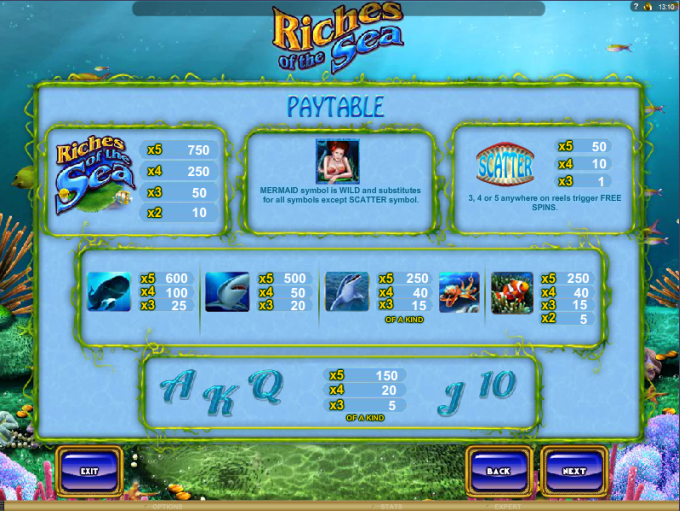 I det man setter i gang Riches of the Sea så skal man aller først tilpasse innsatsene i spillet. I Riches of the Sea så har man knapper plassert nederst på spilleskjermen som er laget slik at tilpasningen skal være enkel for spilleren. I Riches of the Sea så finner man en knapp for innsatslinjene, en knapp for myntverdien og en knapp for antall mynter per innsatslinje. Det første man tilpasser er innsatslinjene og man kan på det meste ha 20 aktive innsatslinjer. Det neste man tilpasser er da myntverdien og til sist så setter man antall mynter per innsatslinje. Hvis man velger å spille med alle innsatslinjene aktivert så vil man ha en innsats på mellom 0,20 euro og opp til 50 euro i en spillerunde. Autospillfunksjonen som er lagt på spillet er der for at man skal kunne la spillet gå av seg selv et visst antall runder. På det meste så kan spillet gå av seg selv i 100 runder.
Spillets grafikk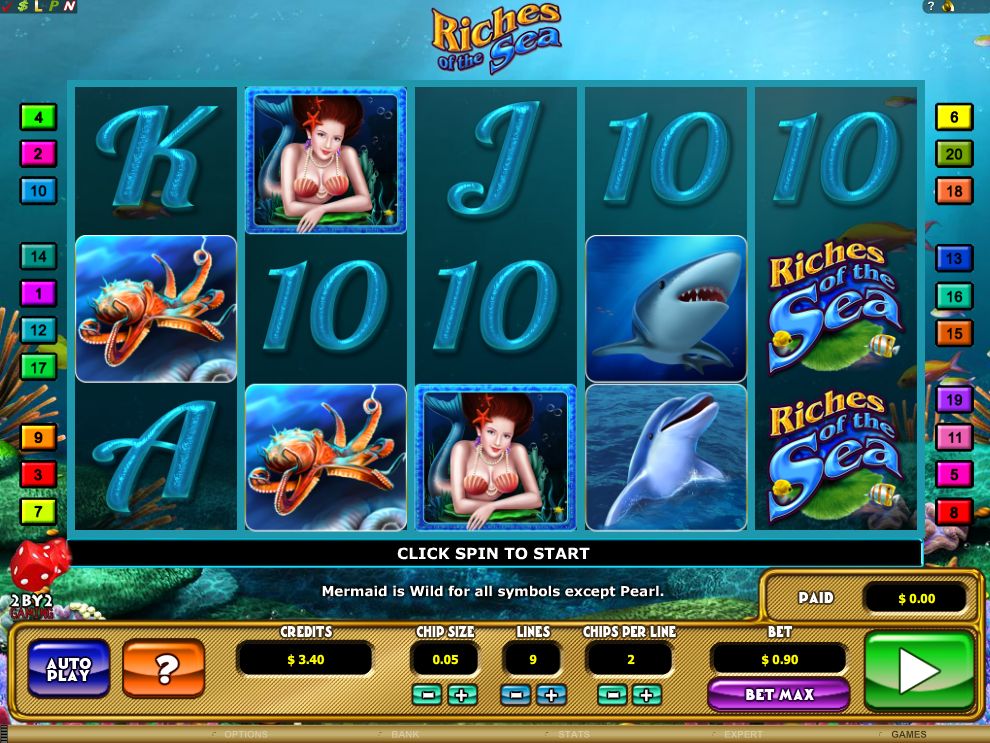 Det er havet som gjelder når det kommer til Riches of the Sea og det
har Microgaming passet på at virkelig kommer frem. Grafikken viser flotte bilder og detaljer som man forbinder med livet under havet og det er lagt inn noen virkelig klare farger. Bakgrunnsbildet som man finner på spilleskjermen er i en flott blåfarge og man kan skimte flotte koraller som stikker opp på hver side av spilleskjermen. På toppen av spilleskjermen så har man spillets logo, som er formet i fine gule og blå bokstaver og er formet i en bølgeform. Nederst på spilleskjermen har man spillets knapper, som er satt opp på en egen liten del av skjermen. Mellom spillets logo og spillets knapper så har man naturligvis spillets hjul. Hjulene er delt opp ved at det er laget et lite mellomrom mellom hvert av de fem hjulene. De er laget slik at bakgrunnsbildet skinner gjennom, noe som gir en flott effekt. Symbolene som er plassert på hjulene er tilpasset tema på en flott måte. Det er bilder som er i form av ulike fisker eller andre dyr som man vinner under vannoverflaten. Symbolene som er hentet fra en vanlig kortstokk er formet i enkle blokkbokstaver i en flott blåfarge.
Spesialfunksjoner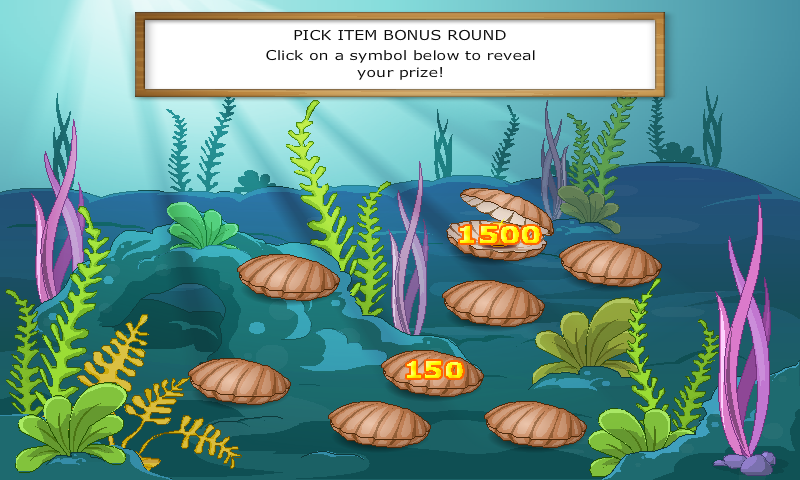 Scattersymbolene i spillet er de symbolene som kan aktivere gratisspinnene. Man trenger tre eller flere scattere på hjulene og antall gratisspinn vil variere ut i fra hvor mange scattere man faktisk får. På det meste så kan man få 16 gratisspinn. Underveis i gratisspinnene så vil alle symbolene som er hentet fra en kortstokk bli plukket bort fra hjulene, slik at man faktisk kun har de symbolene som betaler ut høyest på hjulene. Dette er så klart med på å øke vinnersjansene i tillegg til størrelsen på gevinstene man eventuelt får. Symbolet som er i form av en havfrue, som også er spillets wildsymbol, vil få en da høyere verdi underveis i gratisspinnene. Faktisk så høy at hvis man får en kombinasjon på tre stykker på hjulene mens man spiller gratisspinnene, så vil gevinsten man får bli ganget med 27. Det kan gi en ganske fin kontantgevinst som er fin å få med seg i spillet.