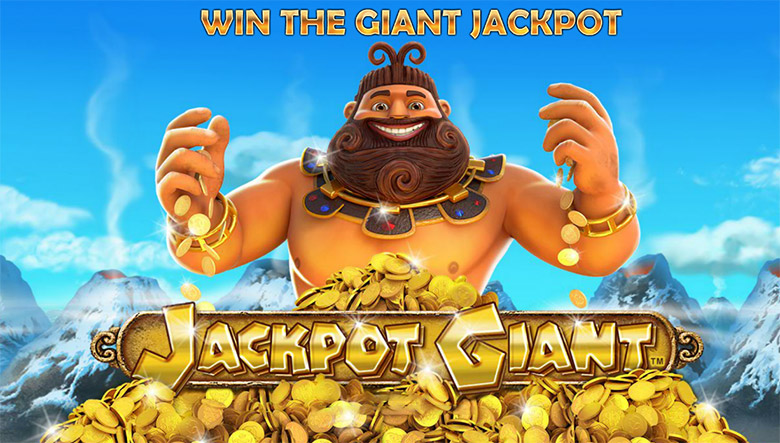 Det er utrolig imponerende hvor kreative spillutviklere kan være. Det finnes tross alt hundrevis av ulike spilleautomater tilgjengelig allerede, men likevel sørger spillutviklerne for at de kommer opp med helt nye temaer. Jackpot Giant er uten tvil en av disse og det er spillutviklerne hos Playtech som skal ha oppmerksomheten og ikke minst rosen for denne. Dette er en spilleautomat som handler om kjemper. Derfor har spillet blitt plassert ute i naturen, det er tross alt der kjempene bor. Playtech har skapt et vakkert design med like vakker grafikk som vises både i spillets bakgrunn og på symbolene. Spillet ble lansert i april i 2015 og det er derfor fortsatt en god del kasinospillere som ikke har fått testet den helt enda. Det er derimot ingen grunn til at noen skal vente noe lenger, da Jackpot Giant vil falle i smak hos absolutt alle typer kasinospillere.
Spillets design, grafikk og oppsett
Noe av det som virkelig imponerer med Jackpot Giant er den flotte og fargerike grafikken som spillet har fått. Himmelen som spillerne vil kunne se bak hjulsettet er en klar, blå farge med noen få skyer spredd utover. I det fjerne vil spillerne kunne se noen flotte snødekkete fjell i tillegg til en vulkan som det oser røyk fra. Det er tydelig at dette er et landskap hvor kjempene bor på for forholdene mellom steinene og trærne er langt fra normale. Både trærne og steinene ser nemlig bittesmå ut dersom man sammenligner med størrelsen på kjempene. Alt har virkelig blitt gjennomført fra begynnelse til slutt og det er tydelig at Playtech tar stolthet i sine design. På spillets fem hjul har det blitt laget tre rader fylt opp med symboler og deretter blitt plassert 50 spillelinjer.
Bonusrunder og ekstrafunksjoner
Det finnes mer enn nok av underholdning i Jackpot Giant, og det er ikke bare snakk om de vanlige spesialsymbolene. Her finnes det nemlig en utrolig spennende bonusrunde hvor spillerne får et personlig møte med kjempene. De to spesialsymbolene som finnes i Jackpot Giant er wildsymboler og scattersymboler. Scattersymbolene vil kunne gi spillerne opp til 500 mynter for den beste kombinasjonen, mens wildsymboler vil gi hele 50 000 mynter for den samme kombinasjonen. Dette er derimot kun om spillerne ikke spiller med maks bet aktivert. Dersom spillerne benytter seg av maks bet, vil spillets jackpot bli utbetalt i stedet. I tillegg til disse to spesialsymbolene, kan spillerne se frem til The Giant-bonusrunden. For at denne bonusrunden skal bli aktivert, må det dukke opp et bonussymbol på både det første og det siste hjulet. I denne bonusrunden er det vulkanene som bestemmer hvor stor gevinst spillerne skal få.
Symboler og spesialsymboler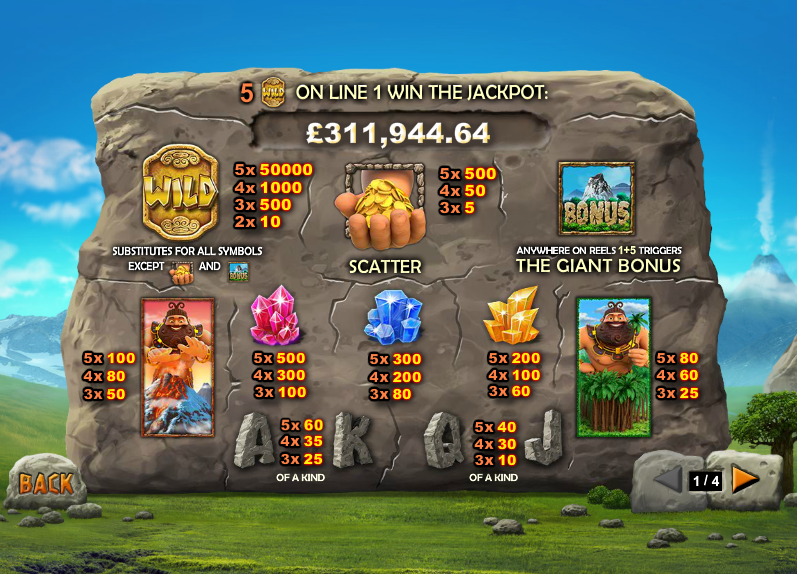 Det er kanskje mange kasinospillere som har sett seg lei av spillekortsymbolene som ofte dukker opp i spilleautomater. Det er derimot helt greit at de er med dersom spillutviklerne har jobbet med designet og sørget for at de passer inn i spillets tema. Det har Playtech gjort i Jackpot Giant da både J, Q, K og A har blitt laget i store flotte steiner. I tillegg til disse symbolene vil spillerne kunne se kjempen selv sammen med noen utrolig vakre diamanter og juveler i fantastiske farger. Kjempen kan til og med dukke opp stablet og dermed dekke to posisjoner på hjulene. Da vil spillerne kunne se at kjemper varmer sine hender på vulkanens topp, eller går gjennom jungelen. Deretter finnes scattere og wilds. Den førstnevnte vil utbetale gevinster opp til 500 mynter, mens wildsymbolet gir utrolige 50 000 mynter for fem stykker.
Oppsummering
Jackpot Giant er en utrolig underholdende spilleautomat som vil falle i smak hos alle slags kasinospillere verden over. Spillet er både fargerikt, inneholder en rekke spennende ekstrafunksjoner og kan by på noen virkelig store gevinster. Her er det uten tvil wildsymbolet som imponerer mest når det kommer til størrelsen på gevinstene, hele 50 000 mynter. Det er tydelig at spillutviklerne hos Playtech har gjort en flott jobb nok en gang.