Knights and Maidens er en virkelig magisk spilleautomat. Det er noe helt unikt med stemning som oppstår når man spiller, og den fenger alle. Spillutvikleren bak denne herligheten er 888 Slots. De har virkelig klart å skape noe unikt å levere ut på markedet. Det er ikke bare et unikt og godt presentert tema. Det er også en flott spilleskjerm som er satt inn. De har valgt å bruker et gjenkjennelige oppsett, slik at spilleautomaten er mest brukervennlig også. Om spillerne ønsker å ha noe å se frem til i en spilleautomat, er det også mer enn nok av det i Knights and Maidens. Spilleautomaten er satt opp med flere flotte bonuser. Leter man etter noe nytt og spennende å prøve ut på spillmarkedet, er det Knights and Maidens som er veien å gå.
Temaet
Knights and Maidens leveres med et fantasifullt tema. Fantasi er ikke noe som fenger alle, men har man først prøvd ut Knights and Maidens, vil man trolig ha endret mening. Stemningen i denne fantasifulle spilleautomaten er utrolig spesielle. Det er som om man blir fraktet med til en helt ny verden, hvor virkelig alt kan skje. Det er flere klassiske fantasifigurer som er tatt med, og de er med på å tilføye det som trengs i en magisk verden. I Knights and Maidens bør man gjøre seg klar for å kjenne på magien.
Spilleskjermen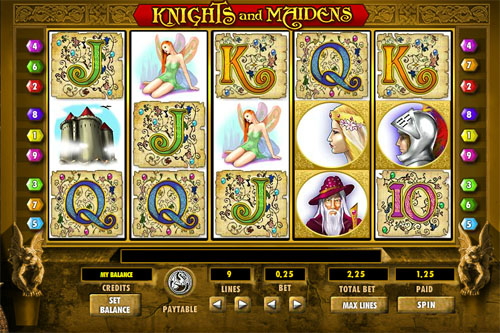 Det første som må sies om spilleskjermen er at det er ingenting å klage på. Grafikken som er tatt i bruk er av topp kvalitet, og den får frem akkurat det som trengs på en spilleskjerm. Det er utrolig mange flotte karakterer som dukker opp på spilleskjermen, og med en dårlig grafikk hadde de ikke blitt like imponerende. 888 Slots har gjort et godt valg der.
Noen av detaljene som er å se på spilleskjermen er to steinfigurer som er plassert nederst til venstre og til høyre. De er formet som noen fantasiskapninger, som sitter på huk og venter, eller kanskje de holder vakt. Når man ser på bakgrunnen og rammen rundt hjulene, ser man en slags steinvegg. Øverst kan man se at steinen har blitt inngravert med et flott mønster. Midt på den delen av steinen, ser man også logoen for spilleautomaten. Rett under logoen finner man hjulene, som er dekket med forskjellige symboler. Kortsymbolene som er tatt med, er dekorert med flotte fargerike detaljer, og selve bokstavene og tallene er formet i en litt gammeldags stil. Bildesymbolene får frem alle de forskjellige fantasikarakterene. Blant annet kan det dukke opp en drage, en fe, en trollmann, en heks og en ugle. De ulike karakterene er satt opp mot en hvit bakgrunn.
Oppsett og innsats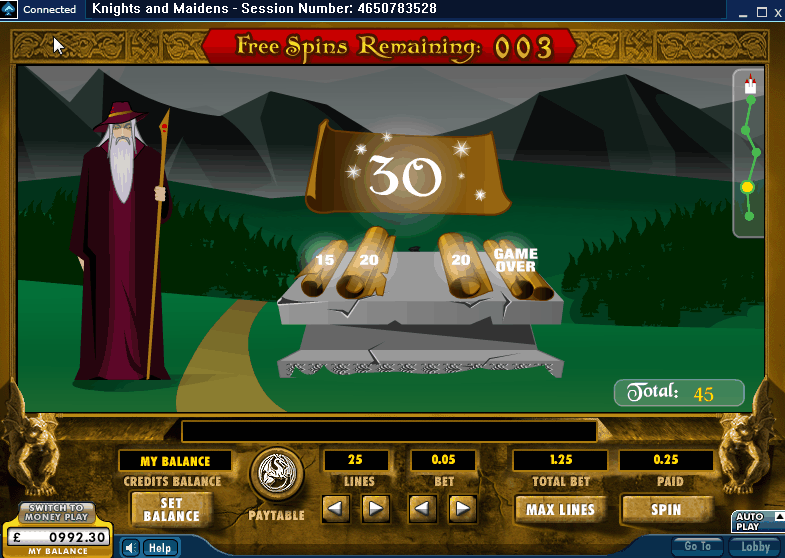 Oppsettet i Knights and Maidens er brukervennlig, for 888 Slots har brukt den som sees mest i spilleautomater. Det er tilsammen 15 posisjoner i oppsettet, som er fordelt utover fem hjul og tre rader. Det er også lagt inn 25 innsatslinjer, som man kan se er oppmerket på høyre og venstre side. Innsatslinjene er en av tingene som spilleren har mulighet til å justere på.
Innsatslinjene kan settes ned i antall, en om gangen. Når spilleren har gjort det, er det på tide å bestemme innsatsen per innsatslinje. Det gjøres med Bet-knappen. Ønsker spilleren å se en oversikt over innsatsen og gevinster fra noen spillerunden, så kan det gjøres ved å bruke paytable-knappen. For de spillerne som liker å la spilleautomaten gå av seg selv, er det lagt inn en autospillknapp. Enklere enn dette kan det ikke bli, og det er virkelig ingen sak å sette i gang Knights and Maidens.
Bonuser
Lagt inn i Knights and Maidens finner man et spennende bonusspill, en funksjon som deler ut gratisspinn til spilleren, og selvfølgelig er det også lagt inn et wildsymbol. Wildsymbolet har en funksjon i seg selv, som øker vinnersjansene for spilleren. De andre bonusene skal aktiveres, med tilhørende spesialsymboler som dukker opp på hjulene.