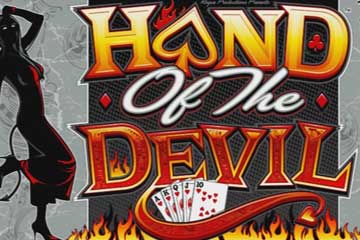 Hand of the Devil er en djevelsk spilleautomat, bokstavelig talt. Det er Bally som er spilleverandøren som står bak utgivelsen. Spilleautomaten leveres med et tema som er godt og blandet. Presentasjonen av det hele er veldig bra, og Bally har gått inn for å skape noe originalt. Oppsettet som leveres med temaet er gjenkjennelig for alle som har spilt på spilleautomater tidligere. For de som er nye på markedet, så er det likevel utrolig enkelt å komme i gang. Bally har nemlig satt alt opp på en ryddig og oversiktlig måte, slik at alle spillere skal kunne finne frem. Så fort man har kommet seg gjennom oppsettet og fått satt innsatsene, så er man faktisk klar til å spille.
Spilleautomatens oppsett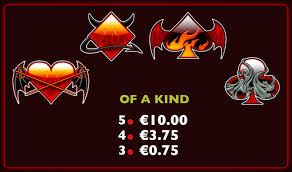 Hand of the Devil er satt opp med fem hjul og tre rader. Det er et oppsettet som stort sett alltid blir brukt i spilleautomater, og oppsettet er også fastsatt. Det er altså ikke mulig for spilleren å gjøre noen reguleringer der. Det er også lagt inn et antall faste innsatslinjer. Innsatslinjene er merket opp ved det første og siste hjulet i oppsettet, og det finnes tilsammen 30 stykker. Det er på innsatslinjene at spilleren skal fordele sin innsats. Innsatsen settes per innsatslinje, men nederst på skjermen vil man kunne se en oversikt over den fullstendige innsatsen som man spiller med. Innsatsen settes ved å bruke de to pilknappene som er satt inn, og de vil ikke kunne overstige de forhåndsbestemte grensene for innsatsen.
Det er noen andre knapper som er lagt inn også. De er alle plassert på nederste del av skjermen, og de gir spilleren enkel tilgang til ulike ting. Blant annet kan en spiller veldig enkelt spille mange runder etter hverandre. Det er også enkelt å tilpasse lyden i spillet, og ikke minst kan man også lese litt om hvordan spilleautomaten fungerer.
Temaet
Underverdenen og djevelen går på en måte i ett. Det er mange som tenker at det finnes en slags underverden, og det er en verden som gjerne forbindes med en litt mer rampete side av livet. Bally har hentet noe av inspirasjonen sin der, i tillegg til at de også har latt seg inspirere av poker. En merkelig sammensetning, men det fungerer, og det vil man merke så fort man begynner å spille.
Spilleskjermen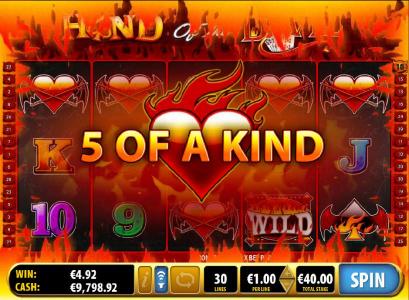 Spilleskjermen er preget av mye rødt og sort, og det er selvfølgelig på grunn av temaet som er valgt. Som bakgrunn ser man bare en mengde med røde flammer som stikker frem overalt. Logoen som er satt inn er utrolig flott, og Bally har lagt inn mange flotte detaljer på bokstavene. Under logoen finner man oppsettet med hjul. Hvert enkelt hjul er rammet inn med en smal rød ramme. Bakgrunnen på hjulene er mørke grått, og de fargerike symbolene blir derfor veldig tydelige. Symbolene som er satt inn er veldig spesielle. Først og fremst er det brukt flere kortsymboler. De er hentet fra en kortstokk, og det er kun de med høyest verdi som er tatt i bruk. Kortsymbolene er satt inn i flere ulike fargenyanser. De andre symbolene er også inspirert av en kortstokk. Det er nemlig hjerter, spar, kløver og ruter som er blitt brukt. De er derimot pyntet opp litt, slik at de sklir rett inn i den djevelske delen av temaet. Noen av symbolene har fått horn, mens andre har fått vinger og hale. Hele spilleskjermen henger veldig godt sammen, både når det kommer til fargene og også i detaljene.
Bonuser
Når man teller over bonusene vil man komme frem til at man i hovedsak har tre stykker. Det er en bonusfunksjon som kan brukes, det er et wildsymbol som kan dukke opp, og det er gratisspinn som kan vinnes. Bonusfunksjonen er en ekstra funksjon som lar spilleren satse litt ekstra, for å få tilgang til bonusene. Wildsymbolet er spilleautomatens joker, og det er tydelig merket med teksten WILD. Scattersymbolet kan aktivere gratisspinn.