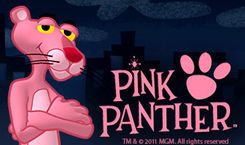 Den rosa panteren har kommet i to utgaver gjennom årene. Mange kjenner den klassiske tegneserien, men mange kjenner også til den litt klønete inspektør Clouseau. I dette spillet fra Playtech møter vi begge to, og spilleautomaten Pink Panther er det perfekte spillet for alle som elsker ekstrainnslag og bonusspill. Her er det en hel drøss av dem!
Mer om spillet
Pink Panther har fem hjul med fire rader. Dette gir 20 symboler på spillskjermen. Myntverdien går fra 0,01 euro til 100 euro, og spillerne velger selv hvor mange linjer de vil aktivere. Man kan aktivere inntil 40 linjer, og jo flere linjer som er i spill, desto flere vinnersjanser har man. Selvsagt koster det litt mer når man aktiverer alle linjene, men kanskje det er verdt det, ettersom utbetalingsprosenten er høyest når alle linjene er i spill. Storspillere kan til og med satse inntil 10 mynter på hver aktive linje. Automaten har autospinn og gamble-spill. Gamble-spillet kan ikke aktiveres under autospinnene, men når man spiller et og et spinn, kan man velge å gamble om gevinstene man får. I gamble-spillet kan man både øke gevinsten og man kan tape gevinsten, derfor må man hele tiden vurdere om det er verdt risikoen.
Gevinster
Symbolene i spillet inkluderer mannen fra tegneserien om den rosa panteren. Han gir gevinst for minst to like på rad. Det samme gjelder for inspektør Clouseau. Andre symboler som dukker opp er bomber, malingsspann, fotspor etter den rosa panteren og lupen til inspektøren. Logoen er også et symbol, og logosymbolene trenger ikke å være på samme gevinstlinje for å gi gevinst. Dette er et scattersymbol, som teller med uansett hvor på skjermen symbolene er. Smågevinstene deles ut av kortsymboler. Den rosa panteren er jokersymbolet i spillet.
Spennende ekstrainnslag
Det som gjør denne automaten så spennende, er alle ekstrainnslagene. Spillet har intet mindre enn fem ekstrainnslag, og alle disse innslagene blir utløst helt tilfeldig. Det er altså umulig å si når de dukker opp. Pink Pow er et av innslagene. Når dette symbolet dukker opp, blir 2 til 6 tilfeldige symboler forvandlet til jokersymboler. Ekstra mange jokere betyr selvsagt ekstra mange vinnersjanser!
Gratisspinn blir delt ut i et innslag som heter Crack the Safe. I dette innslaget dukker ti pengeskap opp på skjermen. Pengeskapene kan inneholde både gratisspinn, multiplikatorer og utvidende jokersymboler, men de kan også inneholde dynamitt. Dersom spillerne finner dynamitt, vinner de 2 gratisspinn, men samtidig er innslaget slutt. Hvis spillerne finner et annet symbol, kan de fortsette å klikke og velge helt til de finner dynamitten.
Maling og skattejakt
I innslaget Color Pink skal den rosa panteren male en vegg. Ved siden av ham står mannen fra tegneserien, og de er uenige om veggen skal være rosa eller blå. Når innslaget starter, maler de tall i rosa og blått. De rosa tallenes verdi blir lagt sammen, og ganget med totalinnsatsen til spillerne. Deretter får spillerne tilbud om å motta denne gevinsten. Dersom spillerne takker nei til gevinsten, blir det malt nye tall på veggen, og man tilbys en ny gevinst. Det er mulig å spille inntil tre runder, men det er ikke sikkert bonusen blir større for hver runde. Etter den tredje runden er man nødt til å ta den bonusen man får, selv om tilbudet kanskje var bedre i en tidligere runde.
Wheel of Pink er et lykkehjul. Hjulet er dekket av ulike multiplikatorer, og når hjulet stanser, blir multiplikatoren ganget med totalinnsatsen man spiller med. Det femte ekstrainnslaget handler om inspektør Clouseau. Han er på leting etter en diamant. Spillerne skal hjelpe ham gjennom fem ulike nivåer, og blir belønnet etter hvor vellykket letingen er.
Oppsummering
Pink Panther er en spilleautomat som bugner av ekstrainnslag. Spillet har også et jackpotspill. De fem ekstrainnslagene blir utløst helt tilfeldig, og man vet aldri når det skjer noe nytt. Det er nettopp dette som gjør spillet spennende og veldig underholdende. Man kan spille med inntil 40 gevinstlinjer.