Genesis Gaming er en noe ukjent spillutvikler som jobber for den mye større Microgaming, en verdenskjent spillutvikler med veldig lang historie og et godt rykte. Siden Microgaming har vokst til gigantiske størrelser, hjelper de nå mindre produsenter med å jobbe seg oppover.
Magisk spilleautomat fra Genesis Gaming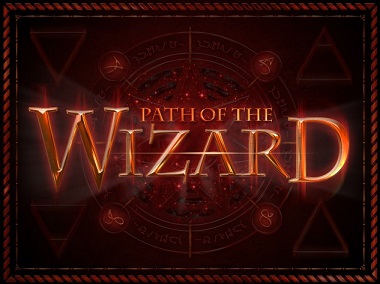 Path of the Wizard må være blant de vakreste spilleautomatene vi har sett fra Genesis. Den er fantastisk flott å se på, uansett om man liker temaet eller ei. Utrolig godt fargevalg, nydelige nyanser og gode skygger preger denne nye spilleautomaten. Dette er en av de nyere spilleautomatene fra Genesis, og man kan virkelig se hvor langt de har kommet på veldig kort tid. Hele spillskjermen er nydelig animert, med spennende flammer og en flott logotype rett over symbolene. Alle symboler er animerte, til og med kortsymbolene. Helt ærlig, folkens, dette må være de fineste kortsymbolene vi har sett noensinne. Det er ikke noe spesielt med selve symbolene, men måten de forsvinner inn i intet når man setter en kombinasjon kan ikke beskrives som noe annet enn fabelaktig. Bakgrunnsmusikken er noe mystisk, noe som passer inn i helheten. Path of the Wizard handler nemlig om trollmenn – trollmenn i alle ulike former og farger. Mystiske trollmenn som er på vei mot store høyder. Kortsymbolene har vi allerede nevnt, disse er flotte å se på men gir ikke særlig høye gevinster. De fire andre vanlige symbolene kan derimot spytte ut saftige utbetalinger. Her finner man en trollmann i rustning, en blå drage, en liten alv og en mektig, mørk trollmann med et rødt lys i hånden. Den sistnevnte gir opp til 2500 mynter fra en kombinasjon på fem like – en god del høyere enn hva andre spilleautomater fra Genesis spytter ut.
Wildsymboler og andre funksjoner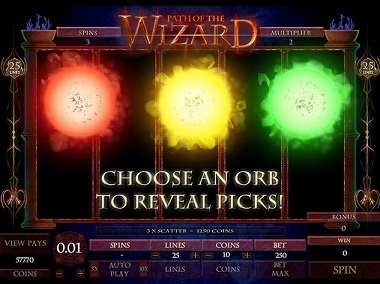 Path of the Wizard er en spennende, actionfylt spilleautomat med fantastisk grafikk og grundige detaljer. Det virker som at Genesis Gaming har brukt utrolig lang tid på å utvikle denne spilleautomaten. Wildsymbolet kommer i form av en magisk boks med et strekt lys – denne dukker opp veldig ofte på skjermen og forvandler seg til alle andre symboler etter ditt behov, slik at kombinasjonene blir større og gevinstene høyere. Path of the Wizard har ingen ordentlige bonusspill, altså interaktive spill der du som spiller må foreta visse handlinger. Derimot kommer gratisspinn veldig hyppig, og runden med kostnadsfrie spinn kan bli din snarvei til rikdommen. Gratisspinn utløses av tre eller flere symboler med logotypen til denne spilleautomaten. Så fort disse logotypene dukker opp, vil tre sterke lys komme flygende inn. Ett gult, ett rødt og ett grønt lys er det første du blir nødt til å velge mellom. Hver av disse skjuler et tall, og dette tallet er veldig viktig. Den neste skjermen du blir tatt med til er nemlig fylt med skjulte symboler. Jo høyere tall du plukker ut, desto flere klikk får du gjøre. Hvert klikk skjuler et antall gratisspinn og en multiplikator. Her kan du samle inn titalls gratisspinn og en høy multiplikator som vil mangedoble alle gevinster du drar inn. Så er det endelig klart for gratisspinn – mens hjulene spinner kan du lene deg tilbake og se gevinstene rulle inn på rad og rekke. Det mest lukrative med dette er at du kan vinne enda flere gratisspinn underveis, noe som høyner vinnersjansene betraktelig og kan gjøre deg til millionær om du spiller med maksimale innsatser.
Best i test
Path of the Wizard er den heftigste spilleautomaten fra Genesis vi har prøvd ut hittil. Den er full av små og store detaljer, den er grundig lagd med fine animasjoner og spennende funksjoner. Den har titalls gratisspinn på lager og en høy innebygd jackpot som kan gjøre deg rik på et blunk. Nei, den har ingen progressiv jackpot og nei, den har ikke et interaktivt bonusspill. På den andre siden er den vakker, gjennomtenkt og actionfylt. Trollmenn er alltid kult å følge med på, og Path of the Wizard er en tematisk spilleautomat vi gjerne vil gi to tomler opp. Finn den på ett av de utallige nettkasinoene Microgaming samarbeider med, og ta noen spinn – slik vil du forstå nøyaktig hvorfor vi ble så begeistret.