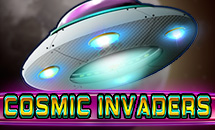 Her har 2 By 2 Gaming kommet med en slot som har fått navnet Cosmic Invaders. Dette er en slotmaskin som har fått et ganske klassisk oppsett med fem snurrende hjul og 30 spillelinjer som spillerne kan velge mellom. Spill som kommer fra dette Chicagobaserte spillselskapet som man kanskje kjenner dem bett for er Wild Birthday Blast, Riches of the Seas, Mandarin Fortune og Secrets of the Tomb.
Tema, grafikk og symboler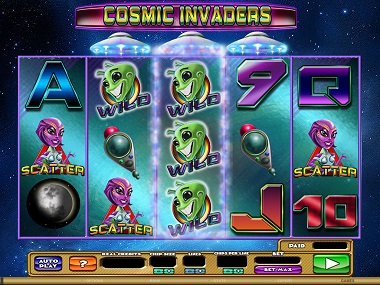 Denne gangen har de altså valgt seg ut et tema som baserer seg ute i verdensrommet, sammen med aliens. Det virker nesten som om dette har blitt noe som enhver spillutvikler må gå gjennom dersom de vil være en del av "normen". Cosmic Invaders vil sørge for at spillere får komme ansikt til ansikt med intergalaktiske besøkende, samtidig som sloten kan by på både wildsymboler, gratisspinn, bonusfunksjoner og scattere. Med andre ord kan denne videosloten absolutt by på en rekke forskjellige varianter som gjør at spilleren kan stikke av med en flott gevinst. Temaet i Cosmic Invaders er jo som sagt verdensrommet, noe som grafikken i spillet absolutt viser på en flott måte. Når spillerne spiller på denne slotmaskinen skal man derfor ikke bli overrasket dersom en kommer i kontakt med en UFO, merkelige kommunikasjonsutstyr og til og med aliens. Dersom spillerne ønsker å gå for de virkelig store gevinstene i dette spillet, er den aller beste måten dette skjer på at man kommer seg inn i Spaceship-funksjonen.
Innsats og justeringer
Noe som spillerne som regel setter stor pris på når de spiller på en videoslot, er at det i størst mulig grad er mulig å justere innsatsalternativene etter ønske. I Cosmic Invaders kan spilleren justere på både myntverdien, antall spillelinjer man ønsker skal være aktive og selvfølgelig også antall mynter som skal satses per spillelinje. Den aller laveste innsatsen som er mulig i spillet er helt nede på 0,30 $, og den aller høyeste innsatsen man kan legge ned er på 75 $. Så finnes det jo selvfølgelig en hel rekke alternativer mellom de to mulighetene. Dette gjør jo absolutt at slotmaskinen passer for en hel rekke ulike spillere, enten man ønsker et spill med minimale innsatser bare for underholdningens skyld, eller man er en high roller som ønsker høye innsatser i håp om de store gevinstene.
Brukergrensesnitt
2 By 2 har også sørget for at brukervennligheten er tilstede i denne sloten, så etter at spillere har valgt sine spillelinjer og mynter de ønsker skal satses, behøver man bare klikke på spinnknappen. Man finner selvfølgelig også en knapp med «max bet»-funksjonen som har blitt lagt til,dersom noen spillere ønsker dette.
Symboler i Cosmic Invaders
Når det kommer til spillets symboler så finnes det en hel rekke ulike symboler som passer inn i slotmaskinens tema, blant annet UFOer, romvesener og andre merkelige symboler som helt tydelig kommer fra verdensrommet. Så finnes det selvfølgelig i tillegg til disse også standard spillekortsymboler fra 10 og opp til ess.
Bonusrunder og gratisspinn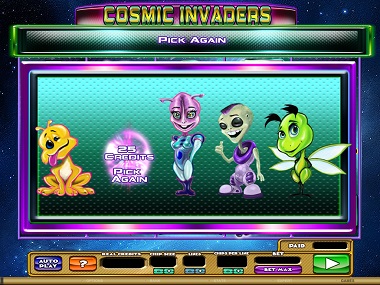 Cosmic Invaders kan virkelig by på spennende spesialfunksjoner i løpet av spillet. Det finnes en som har fått navnet "Alien Picking Bonus", og denne blir trigget av UFO-symboler på det første og det femte hjulet. Når det kommer til selve beløpet man kan vinne, så kommer dette helt an på hvor mange av disse romvesenene spilleren har fått muligheten til å plukke ut før runden begynner. Spilleren vil måtte plukke ut en alien fra fem ulike alternativer dersom de skal ha en mulighet til å vinne flotte gevinster. Noe som spillerne bør huske på er at denne runden kan avsluttes når som helst, så de bør sørge for at de plukker ut så mange aliens som mulig før dette skjer. I tillegg har spillet en Cosmic gratisspinnrunde, og denne, i motsetning til den første, tillater spillere muligheten til å vinne åtte gratisspinn, selv om det ikke hører med noen reaktiverings alternativ. Denne funksjonen kan spillere aktivere gjennom det kvinnelige aliensymbolet, hvor tre av dem vil tillate spillere en gruppe på seks gratisspinn, fire vil gi sju gratisspinn og fem vil gi spillere åtte gratisspinn.