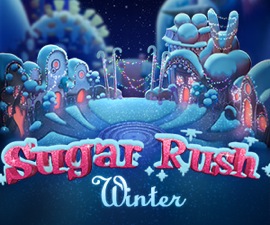 Sugar Rush Winter er en spilleautomat som kommer fra spillutviklerselskapet Topgame. Topgame står bak mange populære spilleautomater og de viser stadig at de klarer å opprettholde en god standard på det de spiller ut på markedet. I Sugar Rush Winter har de også fokusert på et litt spesielt tema, noe som gjør at spilleautomaten vil skille seg ut på markedet. Det er helt klart en god ting og spillerne vil ofte prøve en spilleautomat som er litt annerledes enn alle de andre. Tema som er satt i Sugar Rush Winter er fokusert på godteri og søtsaker, men også vinter. Det er nesten en litt førjulsstemning på spilleskjermen, og det er jo noe som de aller fleste forbinder med noe positivt. Det er et koselig og fargerikt tema i Sugar Rush Winter, og det er trolig mange spillere som kommer til å ville prøve ut noen runder. I tillegg til det flotte tema har man også flere gode spesialfunksjoner, som er med på å gjøre spillingen enda litt mer underholdende.
Grafikk og spilleskjermen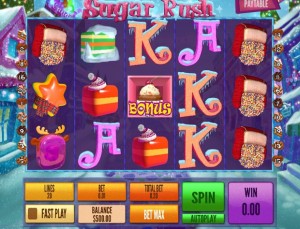 Spilleskjermen i Sugar Rush Winter er utrolig flott og fargerik og det er en god grafikk som har blitt lagt over det hele. Øverst på spilleskjermen har man spilleautomatens logo, som er formet i rosa bokstaver og det er drysset litt snø på toppen. Bakgrunnsbildet er satt til å ligne på en koselig liten by på vinterstid. Det er snø i gatene og på hustakene og det er helt klart vinterstemning. Flere av husene er også pyntet opp med koselig lys, og det er trolig rett før julen ringes inn. Nederst på spilleskjermen har man spilleautomatens knapper, og de er satt opp veldig enkelt, og med de samme fargene som man finner på resten av spilleskjermen. Spillets hjul og symboler er plassert midt på spilleskjermen. Hjulene har fått en lilla bakgrunn, men bakgrunnsbildet skinner fortsatt litt gjennom. Symbolene man finner på hjulene er i to forskjellige former. Noen av dem er i form av ulike bilder mens noen av dem er i form av de høyeste symbolene fra en vanlig kortstokk. Symbolene som er i form av bilder viser ulike slags søtsaker, noe som er en stor del av spilleautomatens tema.
Spesialfunksjoner i spilleautomaten
Sugar Rush Winter har flere spesialfunksjoner å by på og de blir da aktivert med forskjellige spesialsymboler. Det er totalt tre spesialsymboler i spilleautomaten og de aktiverer da hver sin spesialfunksjon. Først og fremst har man et wildsymbol, og det er i form av en pepperkakemann. Wildsymbolet fungerer som spilleautomatens joker og det kan derfor erstatte alle andre vanlige symboler på hjulene. I tillegg har det en ganske høy verdi, da det betaler ut 1000 mynter ved en kombinasjon på fem stykker. Det andre spesialsymbolet er scattersymbolet og det er det symbolet som kan aktivere gratisspinnrundene i spilleautomaten. Man trenger minst tre scattere spredt på hjulene for at funksjonen skal bli aktivert. I tillegg til å få gratisspinnrunder, vil man også få tildelt en multiplikator på rundene. Det siste spesialsymbolet er bonussymbolet og det er det symbolet som aktiverer bonusspillet i Sugar Rush Winter. Bonusspillet er utrolig enkelt. Spilleren skal hjelpe ulike kaker med å få oppfylt sine drømmer, og klarer man det, vil man få tildelt forskjellige kontantgevinster.
Hvordan komme i gang med spillingen
For å komme i gang med spillingen så må spilleren aller først gå gjennom de ulike justeringene. Spilleren i Sugar Rush Winter kan først og fremst justere på antall aktive innsatslinjer. Det er totalt lagt inn 20 stykker, men det er opp til spilleren hvor mange det faktisk skal spilles med. I tillegg til innsatslinjene, så må spilleren justere myntverdien det skal spilles med. Myntverdien starter på 0,01 i kreditt og går opp til 5 i kreditt. De ulike justeringene har hver sin knapp nederst på spilleskjermen. Når man er klar til å sette i gang spilleautomaten, kan man velge et av de to grønne knappene.