Columbus Deluxe er en spilleautomat fra spillutvikleren Novomatic. Ikke overraskende handler spillet om Christopher Columbus, mannen som oppdaget Amerika. Dette spillet er laget for å ligne på klassiske spilleautomater, og det har typiske spilleautomatlyder. I bakgrunnen ser man et sjøkart, og hjulene er rammet inn av tre. Man trenger verken å være historieinteressert eller ha lang erfaring som spiller for å sette seg inn i dette spillet. Automaten er velegnet for nybegynnere.
Spillets detaljer

Det er bare 10 gevinstlinjer i dette spillet, og det betyr at automaten er ganske oversiktlig. Symbolene er tydelige, og det er lett å stille inn alt med knappene under hjulene. Automaten har fem hjul med tre symbolrader, og selv om det er 10 gevinstlinjer, kan spillerne velge å deaktivere enkelte av linjene, dersom de ønsker det. Men det blir ikke utbetalt gevinst for vinnerkombinasjoner som kommer på inaktive linjer.
Myntverdien kan også innstilles etter ønske, og den laveste myntverdien er på bare 0,01 euro, mens den største myntverdien er på 10 euro. Myntverdien angir innsatsen per linje, og ganges med antall linjer for å gi totalinnsatsen per spinn. Lydeffektene er relativt enkle, men det spilles noen effekter og melodier når man vinner noe.
Symboler og gevinster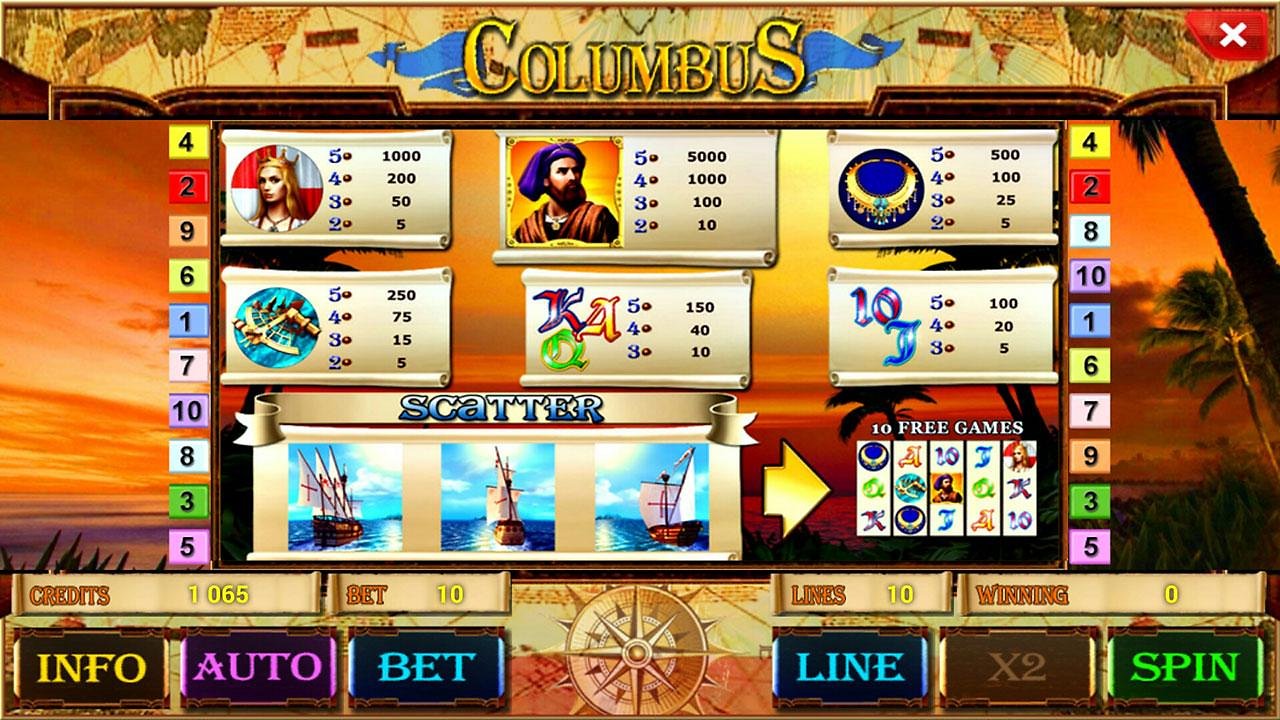 Gevinsttabellen i dette spillet er dynamisk, det vil si at den viser hvor mye man kan vinne med den myntverdien som er innstilt. Når myntverdien endres, endres også beløpene man kan vinne. i dette spillet er det to typer symboler, noen er unike for spillet, mens andre er kortsymboler. Kortsymbolene krever at det er tre like på rad før man får gevinst, men man trenger bare to på rad for å få gevinst med de unike symbolene. Det nest mest verdifulle symbolet viser en vakker kvinne, antakelig den spanske dronningen, som støttet Columbus økonomisk på reisen hans mot Amerika. Symbolet av Columbus gir de aller høyeste gevinstene. De unike symbolene i spillet blir animert når de danner vinnerrekker. Columbus fungerer også som joker, og kan ta plassen til andre symboler, i tillegg til at symbolet kan danne egne vinnerrekker. Jokeren kan ikke erstatte scatteren. Andre unike symboler viser et smykke og en sekstant.
Kortsymbolene går fra 10 til ess. De tre mest verdifulle kortsymbolene gir samme utbetaling. De to minst verdifulle symbolene gir litt lavere gevinster. Alle gevinstene er lett å holde orden på gjennom å besøke spillets gevinsttabell.
Gratisspinn og gambling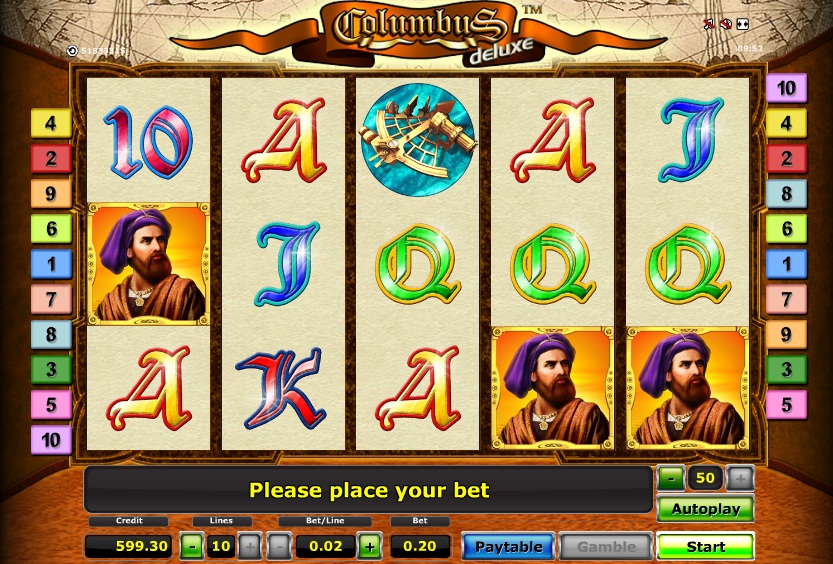 Scattersymbolet deler ut gratisspinn. I dette tilfellet er scatteren en båt, og det er tre ulike symboler av båten. med tre båter på skjermen, vinner man 10 gratisspinn. Gratisspinnene kan bli gjenutløst. Scattersymbolet finnes bare på tre av hjulene. Gratisspinn spilles automatisk, og med det linjeantallet og den myntverdien som var valgt da man vant spinnene. Gratisspinnene utløses ikke spesielt ofte, men når de kommer, blir de selvsagt satt pris på.
Dette spillet er laget for å etterligne gamle spilleautomater, derfor byr det ikke på mange ekstrainnslag. Men det er mulig å gamble om alle gevinster man vinner, og man kan stille inn inntil 50 autospinn. Gamblingspillet går ut på å gjette fargen på kortet på skjermen. Man kan bare gjette på om kortet er rødt eller svart, og hvis svaret er korrekt, blir gevinsten doblet. Spillerne kan gjette inntil 5 ganger med den samme gevinsten, men hvis svaret er feil, mister man selvsagt gevinsten. Det er helt frivillig å gamble om gevinstene. Spillerne kan også trykke på collect når de vinner noe, og dermed beholde gevinsten.
Alt i alt
Columbus Deluxe er en spilleautomat som gjenskaper en god, gammeldags automatfølelse, både gjennom lydeffektene og gjennom den forholdsvis enkle oppbyggingen. Ettersom det bare er 10 gevinstlinjer, og antallet linjer til og med kan reduseres, passer denne automaten fint for nybegynnere. Myntverdiene er tilpasset både småspillere og spillere som ønsker å satse stort. Det er mulig å satse fra 0,01 til 100 euro per spinn, alt etter myntverdi og antall aktive linjer. Her burde altså de fleste bli fornøyde.