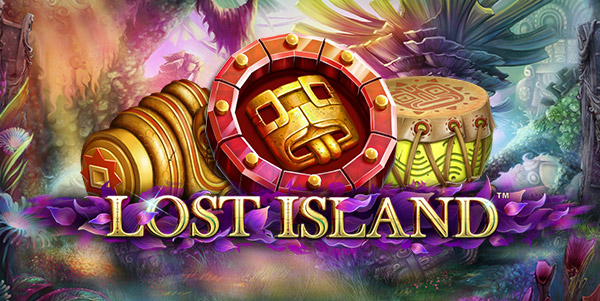 Lost Island er en slotmaskin som spillutviklerne hos Net Entertainment står bak og det er et av deres aller siste lanseringer. Den ble lansert for kort tid siden og gjorde sin store debut på de aller fleste Net Entertainment kasinoer til spillernes store glede. På alle disse ulike kasinoene har spillerne kunnet teste ut spillet helt gratis før de brukte sine egne penger på spillet. Det er en utrolig flott mulighet, da man først og fremst får blitt kjent med spillet og helt uten at man må bruke en eneste krone. Når man føler man er klar kan man deretter gjøre et innskudd og snurre i gang hjulene med ekte penger og da vinne ekte gevinster i tillegg. Denne spilleautomaten vil ta med spillerne på en eventyrlig og vill tur da man skal ut på en mystisk øy som har blitt fylt opp med skatter og en rekke mystiske hemmeligheter. Spillerne vil i Lost Island får en flott mulighet til å få sin egen del av alle disse skattene. Det eneste de må gjøre er rett og slett plassere sine ønskede innsatser på hjulene og snurre hjulene i gang. Deretter kan moroa settes i gang og dersom man er en av de heldige, vil spillets gevinster dukke opp.
Spillets oppsett, grafikk og innsatsalternativ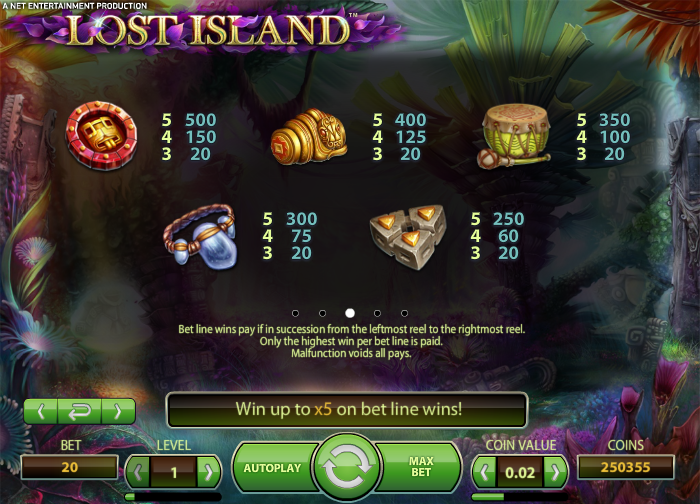 På akkurat samme måte som mange andre lanseringer fra Net Entertainment, lar Lost Island spillerne gjøre de aller fleste justeringene helt selv. Spillerne kan nemlig justere på både antall mynter som skal satses per spillelinje, i tillegg til hva slags myntverdi som skal spilles med. Myntverdien kan spillerne justere mellom 0,01$ og oppover til 0,50$. Det kan kanskje virke litt komplisert når man skal kalkulere hvor mye kreditt som faktisk skal bli satset da verdiene kun blir vist i mynter. Om spillerne vil få en bedre oversikt over dette kan man bare ta en kikk nederst på skjermen. Der vil man kunne se en annen skjerm hvor det er oversikt over alle de relevante verdiene som spillerne behøver. Over disse hjulene vil spillerne kunne se en multiplikatoroversikt som vil igjen kunne reflektere i både blodtrykket og adrenalin-kicket som spillerne vil oppleve i kroppen sin.
Symboler og bonusrunder i Lost Island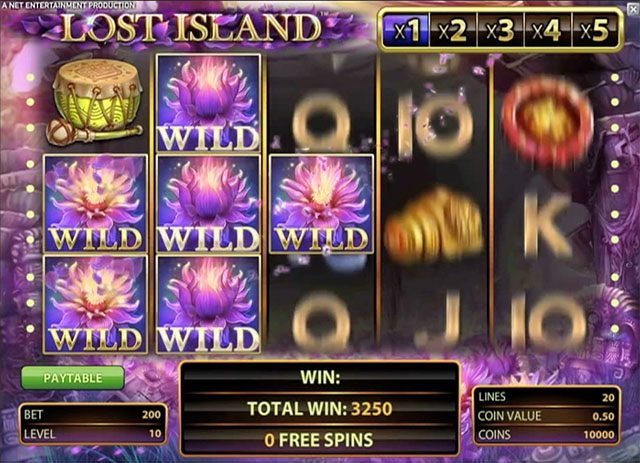 Lost Island sine symboler er selvfølgelig alle blitt representert av ulike gjenstander som designerne har jobbet utrolig mye med. Dette gjelder faktisk all grafikken i spillet, det har blitt gjennomført på en utrolig flott måte med mange detaljer og flotte farger. Designerne har sørget for at symbolene som skal dukke opp på spillets fem hjul skal kunne passe inn i spillets tema, noe de absolutt har fått til. Det finnes både spillets hovedsymboler i tillegg til noen spesialsymboler som spillerne absolutt vil sette stor pris på. En slotmaskin er tross alt ikke en ekte slotmaskin uten spesialsymboler og ekstrafunksjoner. I Lost Island finnes det to ulike spesialsymboler som spillerne kan glede seg til. Superstjerne symbolet i spillet er wildsymbolet. Hver gang spillerne får denne opp på hjulene vil multiplikatornivået gå opp et hakk, og dersom spillerne får to wildsymboler i tillegg til en vinnende kombinasjon blir det doblet. Dersom spillerne får tre wilds vil gevinstene bli tredoblet og det fortsatt sånn videre opp til maksimalt 5x. Allerede da kan spillerne ende opp med noen utrolig imponerende vinnende kombinasjoner bare i hovedspillet. Moroa stopper heller ikke der, for Lost Island har enda litt mer den kan by på. Det finnes nemlig noen eksklusive gratisspinn som blir aktivert dersom tre eller flere scattere dukker opp på hjulene. Spillerne kan ikke bare vinne opp til utrolige 30 gratisspinn, men enda flere gevinster takket være det ene wildsymbolet som forblir på det midterste hjulet gjennom bonusrunden. Som om alt dette ikke allerede var nok, kan enda flere wilds dukke opp på hjulene. Da er det ikke snakk om noen vanlige wilds, de kan nemlig dukke opp stablet, noe som selvfølgelig vil resultere i enda flere flotte gevinster.