Om spillet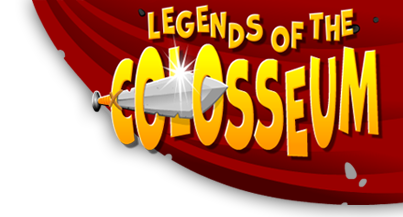 Legends of the Colosseum må sies å være en spilleautomat som virkelig tilbyr spillere full pakke. Det er spillutviklerselskapet Paf som står bak utviklingen, og de har også tidligere hatt noen store suksesser innen spilleautomater, men også noen ikke så imponerende utviklinger. Legens of the Colosseum må sies å være en av de beste spilleautomatene som har kommet fra Paf hittil. Det som gjør spillet enda mer attraktivt er at man kun finner Legends of the Colosseum på Paf's egen nettside. Spillutviklerselskapet har nemlig all eierrett til spilleautomaten og det er kun hos Paf man vil ha mulighet til å spille det. Den totale pakken man får i Legends of the Colosseum fungerer utrolig bra og spillet har egentlig alt det man kan ønske seg i en automat.
Grafikk og lyd i spillet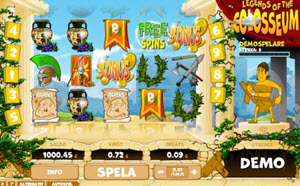 Man skal la det være opp til grafikken å fortelle hva spillets tema er, og det gjør den virkelig i Legends of the Colosseum. Tittelen i seg selv forteller jo litt om hva spillet handler om, men det er grafikken som virkelig setter det til liv. Allerede før man settet i gang spillet får man et oppdrag, og det er nemlig at man skal velge sin egen gladiator. Først skal man velge kjønn og så skal man velge hvilken folkegruppe man skal tilhøre. Når det er gjort får man komme videre i spillet. Det er en flott introduksjon til spillet og man blir med en gang en del av spillets tema. Bakgrunnen i spillet er utformet i flotte og klare farger og man kan skimte en vakker blå himmel. Over bakgrunnen finner man det som rammer inn hjulene i spillet og det er nemlig formet som en del av Colosseum. På høyre side av spilleskjermen kan man se sin egen gladiator og figuren er animert på en utrolig god måte. Nederst på spilleskjermen finner man spillets knapper, som er formet slik at de går i ett med bakgrunnen og rammen. Over gladiatoren finner man spillets logo. Symbolene som spinner rundt på hjulene er alle formet med flotte farger og er i ulike symboler som man forbinder med temaet. Lydbildet som er lagt på spillet fungerer utrolig godt til temaet. Under hovedspillet har man en vakker bakgrunnsmusikk, men så fort man kommer seg inn i bonusspillet er det en skikkelig kamplåt som settes i gang.
Innsats og oppsett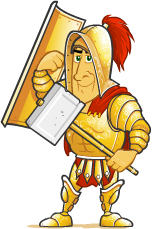 I en spilleautomat vil man alltid finne ulike innsatsmuligheter. Som oftest kan de reguleres ved å bruke knapper som er plassert nederst på spilleskjermen, og slik er det også her. Innsatsene i spillet er satt opp slik at alle innsatslinjene er faste og kan derfor ikke reguleres. Man må altså spille på alle ni linjene som fordeles over fem hjul og tre rader. Det betyr at det eneste man trenger å tenke på før man begynner å spille er hvor mye man ønsker å satse per innsatslinje. Laveste mulige innsats i spillet er 0,09 euro, mens høyeste mulige innsats ligger på 9 euro. Det er med andre ord et spill som passer utmerket til de som ikke ønsker å satse altfor høyt.
Spesialfunksjoner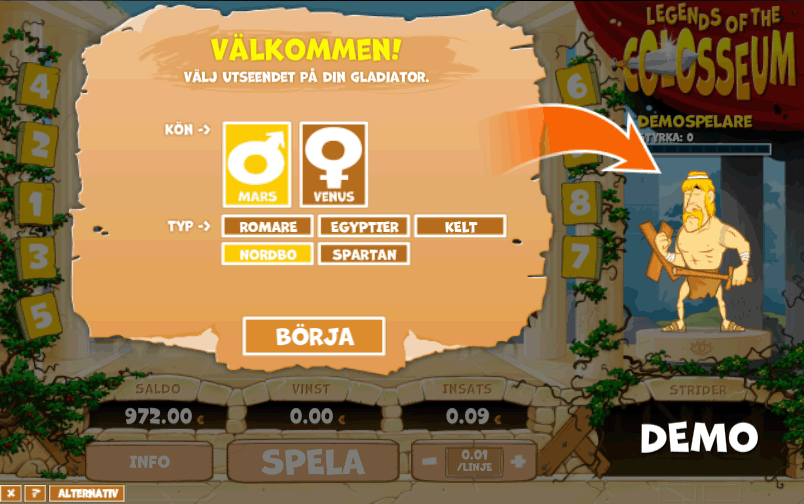 Gratisspinnrundene i spillet blir aktivert av et bestemt symbol. Antall gratisspinnrunder bestemmes av hvor mange symboler man får på hjulene, men også litt av tilfeldighetene. Når man for eksempel har fått fire gratisspinnsymboler på hjulene skal man trykke på dem for å se hvor mange gratisspinnrunder man får tildelt. På det meste kan man få 150 gratisspinnrunder. Bonusspillet blir aktivert av to eller flere bonussymboler. Bonusspillet foregår i en annen spilleskjerm og i bonusspillet skal man ut i kamp. Man skal selv velge sin motstander, og jo tøffere motstander man velger, desto mer har man mulighet til å vinne. På slutten av kampen får man tildelt en kontantgevinst i tillegg til noen poeng. Poengene man får tildelt kan man bruke i neste bonusspill for å kunne velge en enda tøffere motstander.