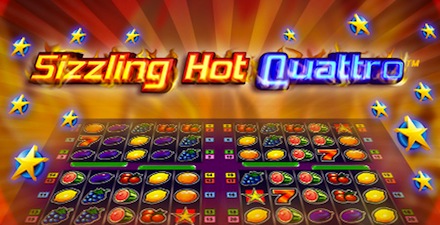 Markedet for spilleautomater og videoautomater vokser hver eneste dag og det er en sjelden gang man virkelig kommer over noe som er helt unikt. Det kan være at man finner et unikt tema inniblant alle de ulike spilleautomatene, men det er ikke ofte man kommer over et så originalt oppsett som man finner i Sizzling Hot Quattro. Novomatic, som er spillutviklerselskapet som står bak, har virkelig skapt noe unikt i denne spilleautomaten. Det er oppsettet i spillet som skiller seg mest ut og som er med på å skille Sizzling Hot Quattro ut fra mengden. I tillegg til det helt spesielle oppsettet har man god grafikk. Man finner også en mengde ulike symboler, som alle har forskjellig verdi på hjulene. Sizzling Hot Quattro er en spilleautomat som mange kommer til å ha glede av å prøve.
Oppsettet i spillet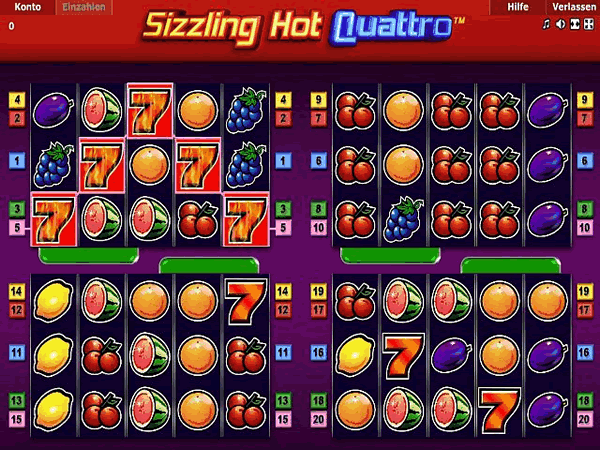 Kommer man over en vanlig spilleautomat vil man gjerne se et oppsett med hjul og rader som er plassert midt på spilleskjermen. Det Novomatic har gjort i Sizzling Hot Quattro er at de har tatt utgangspunkt i det tradisjonelle oppsettet, men har valgt å sette det opp flere ganger på en og samme spilleskjerm. Faktisk så har man fire oppsett med hjul og rader med symboler i Sizzling Hot Quattro. Det vil si at når man ser på oppsettet så har man et oppsett på fem hjul, tre rader med symboler, og fem innsatslinjer, som da er ganget med fire på spilleskjermen. Totalt på spilleskjermen har man da 20 hjul, 12 rader med symboler og totalt har man 20 innsatslinjer. Til tross for det spesielle oppsettet i spillet, finner man noen tradisjonelle justeringer man må gjøre. Først og fremst kan man velge å justere ned på antall innsatslinjer. Det som skjer da er at man kan ikke velge en og en innsatslinje, men man velger da heller å spille med et mindre oppsett, slik at man for eksempel har 15 innsatslinjer, istedenfor 20. Når det er gjort skal man helt enkelt bestemme hvor mye man skal satse per aktive innsatslinje. Når man er klar med justeringene kan man velge å bruke spinnknappen eller autoplayknappen. Autoplayknappen gjør da at spillet kan gå av seg selv et bestemt antall runder.
Symbolene i spillet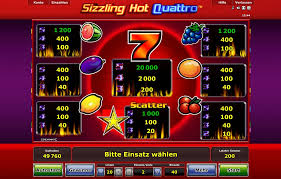 Det er naturligvis en mengde symboler som spinner rundt på spilleskjermen når man spiller Sizzling Hot Quattro. Symbolene er alle formet i tradisjonelle symboler, slik som appelsiner, sitroner, plommer, druer, vannmeloner, kirsebær og stjerner. Alle symbolene har hver sin verdi på hjulene og gir da ut forskjellige kontantgevinster ved forskjellige vinnende kombinasjoner. To av de symbolene med høyest verdi på hjulene er symbolet av vannmelonen og symbolet av druene. Får man en maks kombinasjon med ett av disse to symbolene vil man få en gevinst på 10 000 mynter. Jo flere av de fire oppsettene man velger å spille med, jo høyere vil da kontantgevinsten være. Stjernesymbolet på hjulet har en verdi på 5000 mynter ved en kombinasjon på fem stykker, men spiller man med minst 15 innsatslinjer aktivert, vil det ha en verdi på 10 000 mynter. Det symbolet som har aller høyest verdi i spillet er det symbolet av et rødt syvtall. Får man en kombinasjon på fem slike symboler på hjulene vil man få hele 200 000 mynter i gevinst. Det er med andre ord mange ulike måter å vinne bra på når man spiller Sizzling Hot Quattro.
Spilleskjermen i spillet
På spilleskjermen finner man jo det unike oppsettet i spillet, men det som gjør spilleskjermen så bra er grafikken som har blitt brukt i spillet. Det er flotte og klare farger som dukker opp på spilleskjermen. Øverst på spilleskjermen finner man spillets logo, som er formet i enkle bokstaver. Under logoen har man spillets symboler. Nederst på spilleskjermen finner man spillets knapper, som alle er satt opp på en ryddig og oversiktlig måte, slik at de er enkle å bruke.