Om spillet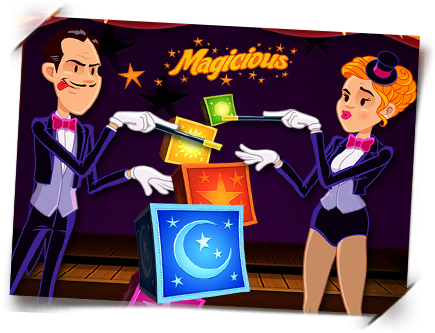 Magicious er utviklet av selskapet Thunderkick. Thunderkick er et spillutviklerselskap som jobber med å skape seg et kjent navn innen spillmarkedet, og det ser ut til at de kommer til å lykkes veldig godt med sitt forsett. Magicious har et utrolig godt valgt tema, som i tillegg er utformet på en veldig fin måte. Magicious er en spilleautomat verdt å prøve for alle spillere som setter pris på litt ekstra underholdning underveis og spesielle, morsomme funksjoner.
Spillets tema
Temaet i spillet Magicious kommer frem så fort man ser på spillets navn. Det er jo så klart magi og illusjon som er det gjennomgående temaet for dette spillet, og man har to hovedkarakterer som utfører sine triks. Disse er kvinnen Magicia og mannen Illucious – Magicious. Sammen får disse to karakterene frem en magiske stemning i Magicious med sine tryllestaver og ikke minst morsomme kostymer. Det er uten tvil et ganske unikt tema, men det ser ut til å fungere utrolig bra som en spilleautomat.
Spillets grafikk og lydbilde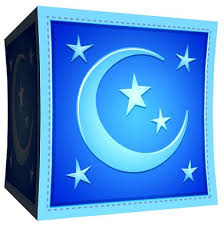 Det er utrolig viktig at grafikken i en spilleautomat er akkurat riktig. Det er jo denne som får frem spillets tema på best mulig måte, og grafikken er også det som setter standarden for hva slags spilleopplevelse man får. Thunderkick har tydelig fokusert på dette for grafikken i Magicious er gjennomgående veldig god. Den er utformet på en litt leken og morsom måte, noe som passer godt til spillets magiske tema. Når man ser på spilleskjermen vil man se at spillets bakgrunn er utformet til å ligne på en scene. Det er nok her de to magikerne holder sine magiske forestillinger. Man ser også de to hovedkarakterene som står på hver sin side av scenen, og sceneteppet er trukket opp slik at det er klart for at magien kan begynne. Når man ser på hjulene er det tydelig valgt enkle symboler som er utformet i morsomme farger og med flotte symboler. Det er ingen utrolige animasjoner eller detaljerte bilder som pynter opp hjulene. Symbolene inkluderer ulike magiske esker i tillegg til noen vakre stjerner. De to hovedkarakterene er vel og merke animerte og dette får man se hver gang man får en gevinst. Lydbildet i spillet forteller en historie i seg selv. Bakgrunnsmusikken kunne ikke ha satt bedre stemning til en magisk forestilling og underveis i spillet vil man høre ulike lydeffekter.
Oppsett og innsats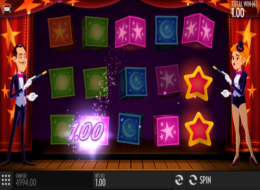 Oppsettet i Magicious er fem hjul, tre rader og totalt har man 10 innsatslinjer. Innsatslinjene i spillet er faste, noe som vil si at man ikke kan regulere om på antallet. Det som er spesielt med innsatslinjene i Magicious er at de teller fra begge sider, så hvis man regner på det har man egentlig 20 innsatslinjer, ikke 10. Når det kommer til innsatsen i spillet er det så klart spilleren som bestemmer dette. Det gjør man veldig enkelt ved å benytte seg av knappen man finner nederst på spilleskjermen. I Magicious er innsatsen veldig enkel, da det kun er innsats per spillerunde man skal justere. Man trenger ikke å tenke på hverken myntverdi eller antall mynter per innsatslinje før man setter i gang spinnene. For å gjøre innsatsen enda enklere har man ni ulike innsatsnivåer som er satt på forhånd, og man kan fint velge ett av disse. De ligger fra 0,10 og opp til 250 euro. Det er med andre ord et ganske stort spenn i innsatsnivået i Magicious, noe som gjør at spillet passer både for high rollers og low rollers.
Spesialeffekter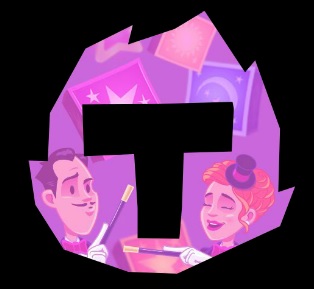 Magicious er ikke en spilleautomat fullpakket av ulike spesialeffekter. Faktisk finnes det kun én eneste spesialeffekt. Men denne kan til gjengjeld utgjøre stor forskjell på en runde. I spillet har man et wildsymbol som er formet som en rosa ball. Dette er spillets joker, men den har en annen funksjon også. Det er nemlig slik at den dukker opp som ekspanderende wild på hjulene. Det vil si at man kan ende opp med et helt hjul dekket av wildsymboler. Hvis man får et wildsymbol på hjul to, tre eller fire vil det automatisk dekket hele hjulet med wildsymboler. Etter man har fått tildelt de eventuelle gevinstene som følger med, vil hjulet som er dekket med wildsymboler bli låst som en sticky wild. De resterende hjulene vil da få et ekstra respinn, og man har da muligheten til å få enda flere gevinstgivende kombinasjoner. Når gevinstene fra de nye kombinasjonene har blitt utdelt, vil wildsymbolene på det låste hjulet forsvinne, og man starter opp igjen med en vanlig runde. En meget utfyllende spesialfunksjon, med andre ord!