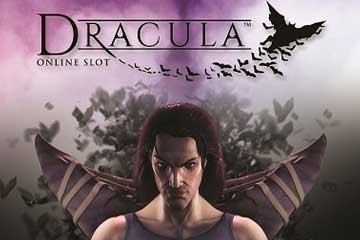 Dracula er en figur eller en karakter som de alle fleste har kjennskap til. Dette er tross alt en skapning som har blitt nevnt i både bøker, tv serier og i filmer opptil flere ganger. Det er heller ikke noe ny karakter, Dracula har blitt omtalt i mange, mange år. Nå har derimot spillutviklerne hos Net Entertainment skapt en spilleautomat som handler om Dracula. Dette er en spilleautomat som rett og slett kan forklares som en skrekkfilm forkledd som en spilleautomat. Noe som gjør Dracula til et helt unikt monster er det at han er halvt menneske og halvt demon, hvor det alle beste han vet om er å drikke blodet til vakre damer. Det er med andre ord litt av en spennende spilleautomat som Net Entertainment har lansert denne gangen, spillet ble lansert i april i 2015. Den kan selvsagt nå finnes på alle de ulike online kasinoene som tilbyr spill fra nettopp Net Entertainment.
Spillernes ulike innsatsalternativ
Spillet har fått litt av et flott design, en som sørger for at spillet skiller seg ut fra mengden. Menyen er selvsagt fortsatt på plass selv om det er dette spennende designet, spillerne må tross alt kunne justere på innsatsene sine. I denne menyen vil spillerne kunne justere på både innsatsnivået som man skal spille med og deretter hva slags myntverdi man skal benytte seg av. Antallet aktiverte spillelinjer kan man derimot ikke selv justere antallet på. Verdien på myntene vil kunne justeres mellom 0,10 og oppover til 10 mens det finnes hele 10 ulike innsatsnivåer en kan velge og vrake mellom. Dette betyr at den laveste innsatsen en kan spille med er på 2 mens den høyeste er på hele 2 000. Dracula er derfor en spilleautomat som kan tilpasse de aller fleste behov.
Spesialsymboler og ulike ekstrafunksjoner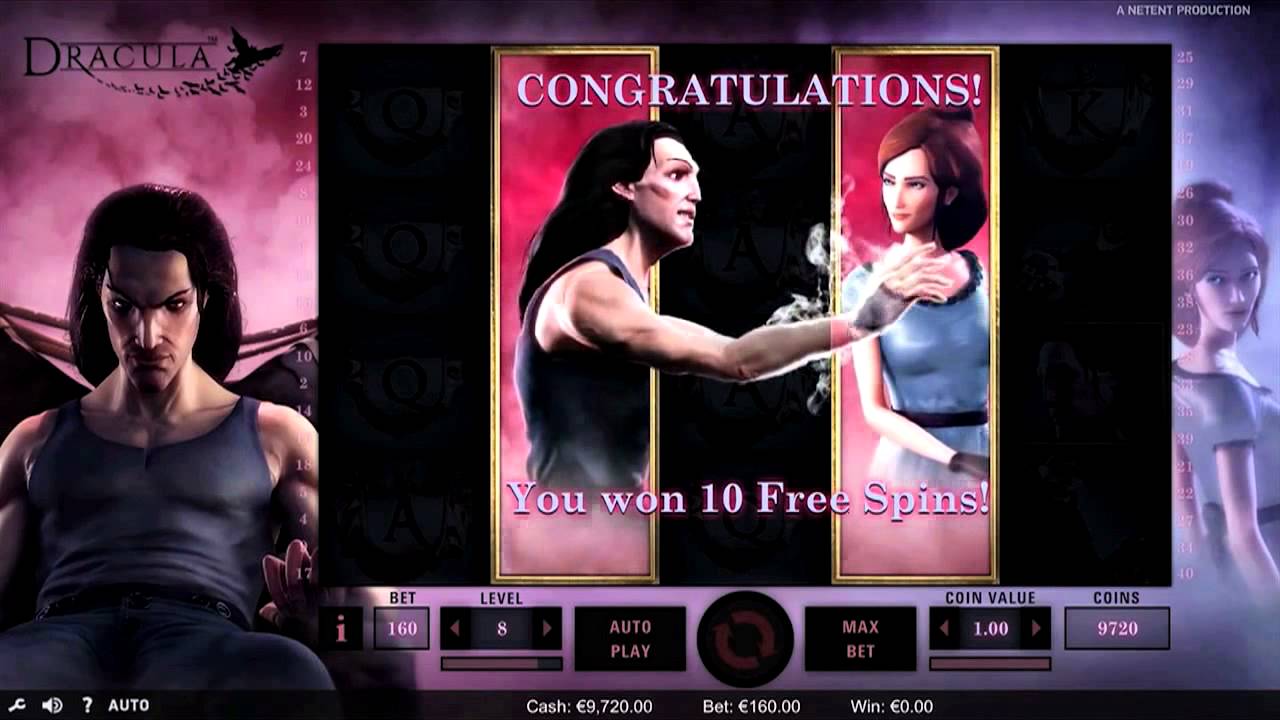 Net Entertainment har absolutt ikke holdt tilbake når det kommer til ekstrafunksjoner i dette spillet. Her finnes det både stablede symboler, wildsymboler, en gratisspinn-funksjon, stablede wildsymboler og en spennende bonusrunde. Alt dette kan gjøre at spillerne få større gevinster enn hva de kan få i løpet av hovedspillet i tillegg til at det er utrolig underholdende. Bonusspillet i Dracula vil bli aktivert helt tilfeldig under hovedspillet. Når hjulene deretter snurres i gang vil Dracula faktisk dukke opp til venstre for hjulene, deretter vil han sende avgårde en hel rekke flaggermus på spillet. Når disse til slutt lander på hjulene vil absolutt alle flaggermusene ta formen av det samme symbolet. Deretter finnes det som nevnt allerede både stablede symboler og stablede wildsymboler. Både Dracula og Lady Dracula kan nemlig dukke opp som stablede symboler og dermed dekke tre posisjoner på hjulene. Til sist er det gratisspinn-funksjonen som blir aktivert dersom scattersymbolene dukker opp, en på hjul to og en på hjul fire. Dersom dette skjer vil spillerne bli belønnet med hele 10 gratisspinn.
Grafikk og tema
Det er ikke mange som hadde gjettet på at romanen om Greven Dracula av Bram Stoker skulle bli en spilleautomat. Det har den altså blitt nå, og resultatet er rett og slett utrolig imponerende. Denne romanen har tidligere blitt gjort om til filmer en rekke ganger. I Dracula vil spillerne få møte både selve Dracula og Lady Dracula som man bare kan gå ut ifra er Lucy kjent fra romanen. Begge disse to karakterene har fått hovedroller i spillet, i tillegg til at de dukker opp på hvert sitt symbol.
Oppsummering
Dracula er et spill som har blitt laget på en utrolig flott måte. Alt fra spillets bakgrunn til symbolene på hjulene og til alle de spennende ekstrafunksjonene imponerer virkelig. Det finnes nemlig flere ulike stablede symboler i tillegg til de vanlige wildsymbolene, et bonusspill og selvsagt noen gratisspinn. Det at det også er en jackpot på hele 80 000 mynter, gjør spillet enda litt mer fristende. Net Entertainment kan uten tvil være stolte av dette flotte tilskuddet til deres portefølje.