Om spillet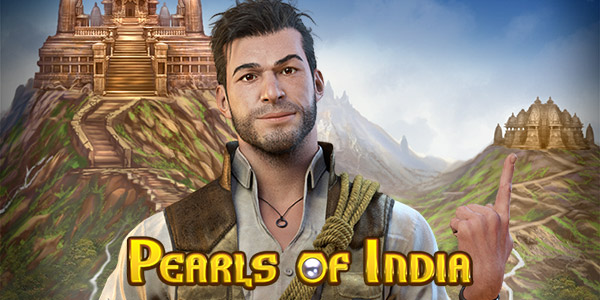 I Pearls of India møter vi igjen eventyreren Rich Wilde, som jaktet på hellige perler i spillet Aztecs Idols. Perlejakten fortsetter i Pearls of India, denne gangen med tre spennende bonusspill og en kaskadefunksjon som sammen med en multiplikator gjør at du ikke bare kan vinne flere gevinster på ett spinn, gevinsten blir høyere desto flere innsatslinjer som går inn på ett og samme spinn.
Spillets detaljer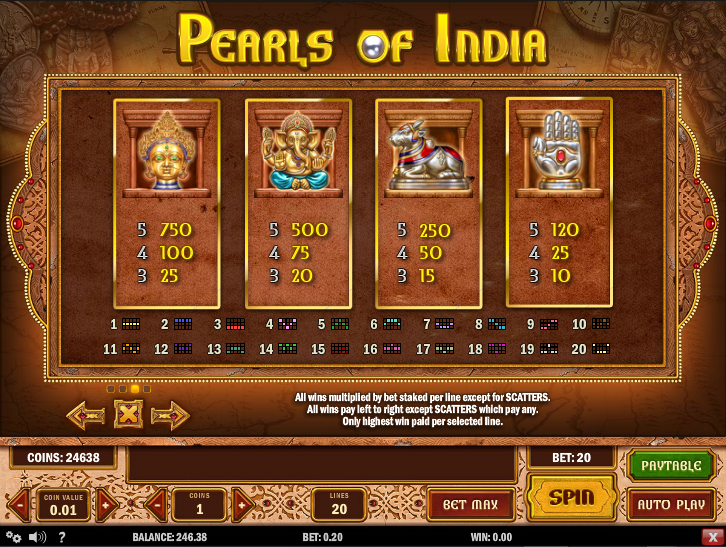 Pearls of India er et spill med mange finesser. I tillegg til de fem hjulene og tre radene med symboler står det et forgylt barometer på hver side av brettet. Mer om disse straks. Det første du må gjøre er å velge myntverdi, mellom 0.01 og 1.00. Du spiller på alle de 20 innsatslinjene hver gang, og velger om du vil satse fra en til fem mynter på hver av disse. Like symboler må ligge etter hverandre fra høyre til venstre på en eller flere innsatslinjer for å gi gevinst, og de forskjellige symbolene har ulik verdi.
Fire forskjellige forgylte statuer gir høyest gevinst. De to i gull gir henholdsvis 25 og 20 for tre like, 100 og 75 for fire like og 750 pg 500 for fem like. Sølvstatuene gir henholdsvis fra 10 til 120 mynter for tre til fem like, og 15 til 250 for tre til fem like for den mest verdifulle av disse. Like rekker med tall eller bokstaver gir mindre gevinster.
Bonusfunksjon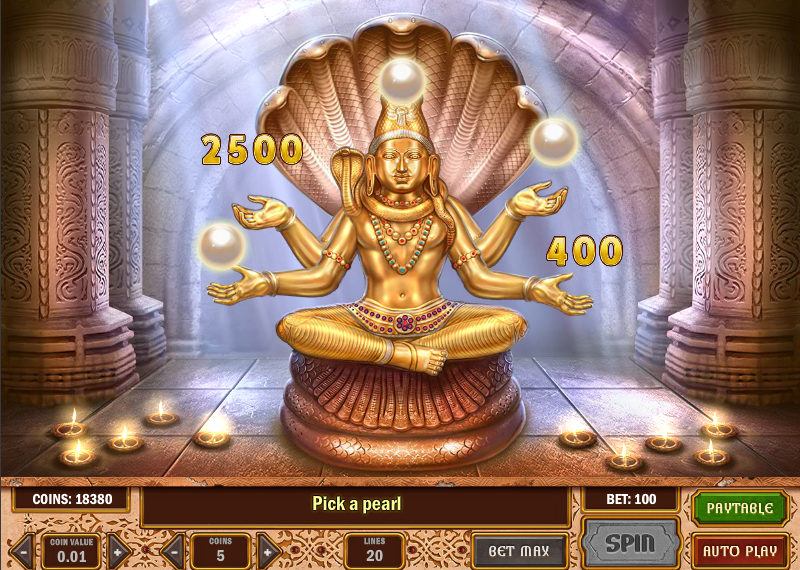 Underveis i spillet, på tilfeldige steder, dukker det opp et symbol med bilde av et storslagent palass på en fjelltopp. Disse bonussymbolene samler seg i bonusbarometeret på venstre side. Spiller du lenge nok vil du før eller senere samle 25 av disse, og ta låses bonusspillene opp. Du får et kart som lar deg velge hvilket av tre eksotiske steder du bil besøke. Hvert av disse tilsvarer et bonusspill.
Wheel of Brahma lar deg spinne et hjul som består av tre sirkler, hver med underkroppene, overkroppene og hodene til fire forskjellige statuer. Målet er å få kroppsdelene til å havne hos riktig statue, men utover å trykke på spinn er det lite du kan gjøre for å påvirke utfallet. De fire statuene gir hver fra 25 mynter for to deler som passer sammen til helt opp til 250 mynter for alle tre kroppsdeler på riktig sted.
Statue of Vishnu er en statue med flere hender, som i hver av dem holder en glødende perle. Du samler enkelt inn perlene, og får antall mynter hver av disse er verdt.
Wall of Shiva er en vegg med fem rader av fliser. På dette spillet må du ta valg underveis, og velger en flis i hver rekke, og får verdien av de perlene som gjemmer seg under, men se opp for edderkoppen som ikke gir gevinst.
Spillets gang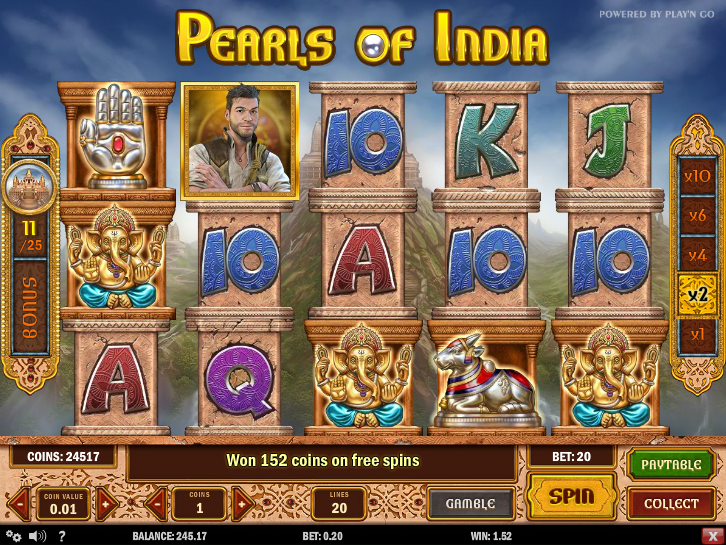 En av tingene som gjør Pearl of India så morsomt å spille er at symbolene sitter på tunge stenblokker, og når disse inngår i en vinnerrekke faller de ut av brettet og nye kommer til i en kaskadefunksjon. For hvert sett med blokker som faller ut stiger du et hakk høyere på multiplikator-barometeret til høyre, som går helt opp til 10x. Her kan du med andre ord vinne flere ganger på ett spinn, og hvert nye sett med vinnerrekker er mer verdifullt enn det foregående.
Wild-symbolet er Rich Wild, og erstatter alle symboler utenom bonus og scatter, men han er ikke det eneste mulig wildsymbolet. Får du tre scattersymbol på de tre midterste hjulene får du gratisspinn, og på disse fungerer scattersymbolet både som wild og scatter! Du har med andre ord to forskjellige wildsymbol som hjelper deg til å få vinnerrekker, samtidig som scattersymbolene samler seg i barometeret til venstre som i løpet av gratisspinn-rundene gir deg fem nye gratisspinn for hvert femte scattersymbol. Om ikke det var nok går verdiene på multiplikatoren opp for hvert nye sett med gratisspinn. Det høyeste du kan oppnå er 30 gratisspinn og maks 50x på multiplikatoren. En virkelig gavepakke til den heldige spilleren!
Konklusjon
Pearls of India krydrer spillopplevelsen med mange finesser og utrolig mange vinnersjanser.