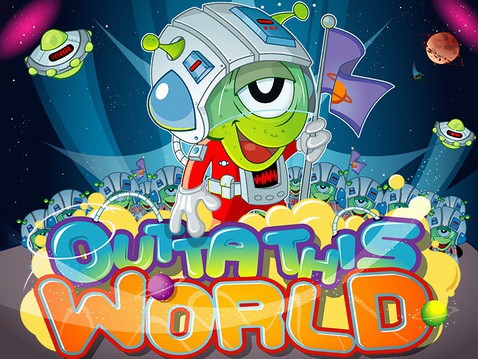 Verdensrommet er et utømmelig tema for alle som lager filmer, TV-serier og spill. I dette spillet fra Realtime Gaming kan spillerne utforske nye verdener og vinne fine gevinster.
Spillets oppbygging
Outta This World har 20 gevinstlinjer, og man kan satse fra 0,01 til 100 euro per spinn. Innsatsen justeres gjennom å velge myntverdi og antall aktive linjer. Spillet viser et ganske idyllisk verdensrom, med animerte karakterer. Musikken kombinerer futuristiske lydeffekter og jazz.
Spillet har fem hjul og hvert hjul har tre symboler. Symbolene er selvsagt hentet fra verdensrommet. Bakgrunnsbildet viser en del av verdensrommet. De viktigste knappene er plassert under hjulene, mens over hjulene ser man balansen sin, den aktuelle innsatsen man spiller med, og det man har vunnet. Over hjulene ser man også den tilfeldige jackpotten man kan vinne, og denne deles virkelig ut helt tilfeldig.
Innsatser og innstillinger
Myntverdien i spillet kan stilles fra 0,01 og opp til 5,00. Det er femten ulike myntverdier å velge blant, og det lønner seg å velge en verdi man er komfortabel med, slik at man har råd til å spille flest mulig spinn. Man kan også justere antall gevinstlinjer, men det er ikke mulig å vinne på en inaktiv linje. Da er det bedre å velge en lav myntverdi, slik at man har råd til å aktivere alle gevinstlinjene, for mange aktive gevinstlinjer betyr mange vinnersjanser. Med bare én aktiv linje og laveste myntverdi, koster spillet 0,01 euro per spinn. Med alle linjene aktivert og høyeste myntverdi, koster det 100 euro per spinn. Her kan man altså satse både mye og lite, men man må aldri spille for mer enn man har råd til å tape.
Spillet byr på både skillstopp og autospinn. Skillstopp betyr at spillerne selv kan velge når hjulene skal stanse. Dette påvirker ikke vinnersjansene, men det kan være morsomt å ha litt mer kontroll over spillet på denne måten. Autospinn passer når man vil spille ganske mange spinn. Da kan man velge antall linjer og en passende myntverdi, og deretter velge antall automatiske spinn. Autospinnene spilles helt av seg selv.
Symboler og gevinster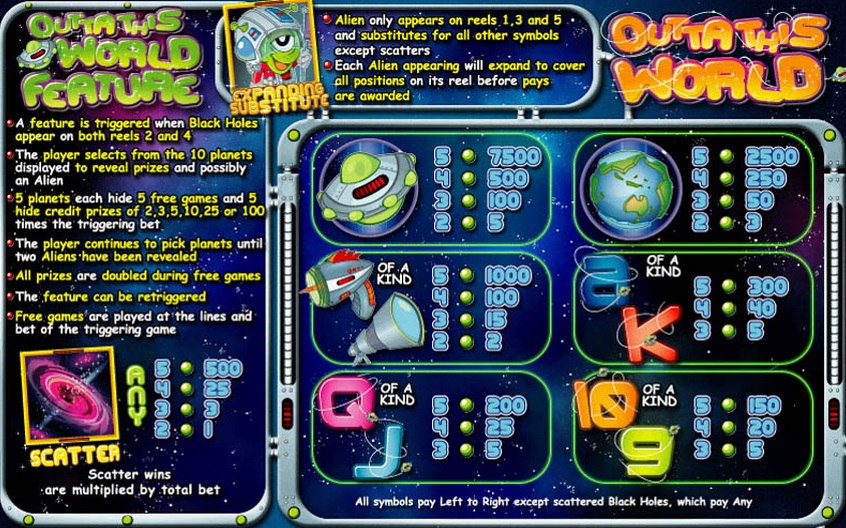 Blant symbolene finnes romskip, romstasjoner, planeter, et teleskop, et strålevåpen og et romvesen, i tillegg til kortsymboler fra 9 til ess. Romskipet er det mest verdifulle symbolet i spillet, og gir 7500 mynter for fem like. Planeten gir 2500 mynter for fem like. Romskipene, planeten og teleskopet gir til og med gevinst for bare to like, mens kortsymbolene bare gir gevinst dersom man får minst tre like. Alle gevinstene og symbolene finnes i spillets gevinsttabell, der man også får forklart hvordan de to spesialsymbolene fungerer.
Wildsymbolet er et romvesen, og scattersymbolet er et sort hull. Wildsymbolet finnes bare på hjul 1, 3 og 5. Dette symbolet kan ta plassen til andre symboler, slik at det kan fullføre eller forlenge vinnerrekker. I dette spillet er wildsymbolet til og med utvidende, og kan dekke hele hjulet. På den måten kan wildsymbolet fullføre mange vinnerkombinasjoner under samme spinn.
Scattersymbolet har som hovedoppgave å dele ut gratisspinn, men symbolet kan også gi egne gevinster. Med to scattersymboler får man 1x totalinnsatsen, og med fem scattersymboler får man hele 500x totalinnsatsen.
Gratisspinn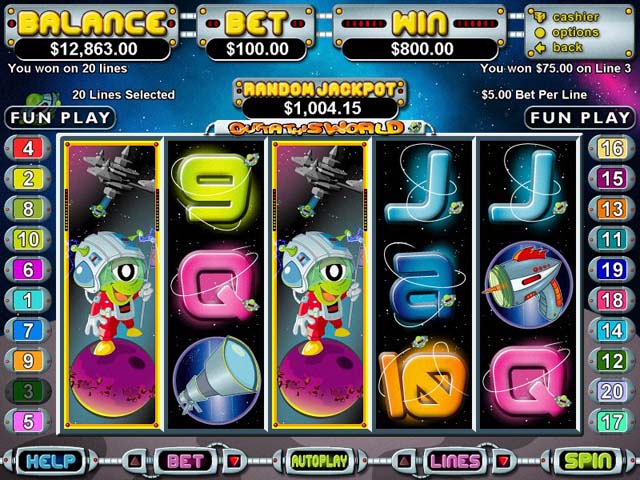 Det er gratisspinnene som er spillets hovedinnslag. Med bare to sorte hull hvor som helst på skjermen, kommer man til bonusspillet. Der skal man velge mellom ti ulike planeter. Hver planet skjuler enten gratisspinn eller en multiplikator. Dersom man avdekker to romvesener bak planetene, er runden over. Da spilles de gratisspinnene man har vunnet, og alle gevinster blir doblet under gratisspinnene. Gratisspinnene kan også gjenutløses, slik at man kan forlenge moroa.
Oppsummering
Outta This World er en fargerik og morsom spilleautomat med morsomme figurer og mange vinnersjanser. Man kan prøvespille gratis, eller satse småbeløp eller større beløp, alt etter eget ønske. Spillet er utviklet av Realtime Gaming, og byr på både gratisspinn og multiplikatorer, i tillegg til riktig store toppgevinster. Verdensrommet venter på de heltemodige spillerne.