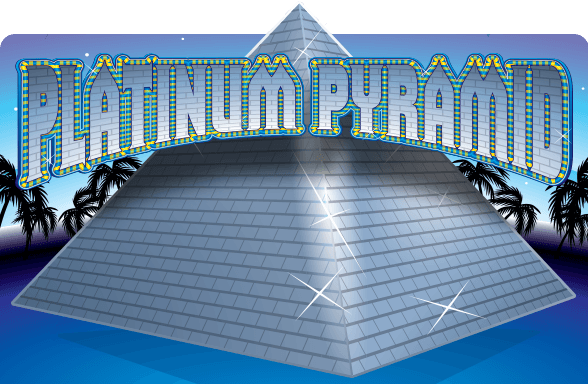 Det gamle Egypt har vært tema for mange spilleautomater, så det er ikke noe nytt. Men Platinum Pyramid byr selvsagt på sin egen variant av spillet. Platina spiller selvsagt en viktig rolle i dette spillet, og de klassiske symbolene har blitt dekorert med det edle metallet, og framstår som nye og moderne. Dette er altså en mer glitrende og glamorøs versjon av den egyptiske historien, og det gjør at spillet skiller seg ut fra mengden av egyptisk inspirerte spill.
Spillets oppbygging
Platinum Pyramid har 5 hjul og 20 linjer. Alt er stilrent, glitrende og elegant. Den vakre prestinnen har også fått ørepynt for å gjøre det ekstra glamorøst. Her er historien kledd opp i glitter og stas. Man kan velge mellom mange ulike innsatsnivå, og tilpasse spillet etter eget ønske. Det er ikke så mye glitter og stas rundt hjulene. Der er det bare en stjernehimmel og platinabokstaver med edelsteiner over hjulene. Symbolene er klare og tydelige. Hjulene har tre linjer, og spillfølelsen er god.
Antall innsatslinjer er valgfritt, men man vinner bare på aktive linjer. Innsatsen kan være fra 0,01 til 5,00 per linje. Det gir en maksimums innsats på fra 0,20 euro til 100 euro per spinn, dersom alle linjene blir aktivert. Hvis man spiller med lavere antall linjer, har man færre vinnersjanser per spinn. Derfor er det bedre å aktivere alle linjene, og velge en lav myntverdi, slik at totalinnsatsen ikke blir altfor høy, samtidig som man har flest mulig vinnersjanser. Det er surt å se en vinnerkombinasjon dukke opp på en inaktiv linje.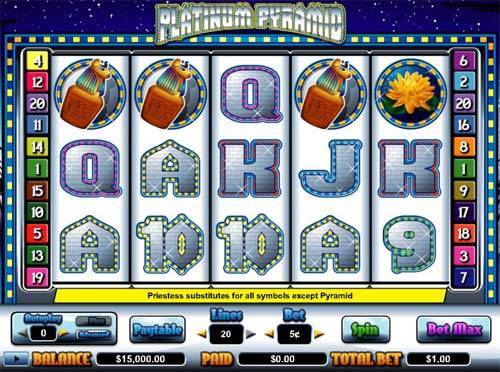 Dersom man vil spille mange spinn, kan man også velge autospinn. Da spiller automaten selv det valgte antallet spinn, mens man kan lene seg tilbake og nyte spillet. Hvis man spiller mange spinn, er det ekstra viktig at man velger en myntverdi man er komfortabel med, slik at man ikke går tom for penger før man vinner noe. Man kan også teste spillet gratis, og bare spille for moro skyld.
Symboler
Symbolene er hentet fra egyptisk historie. I spillet møter man blant annet en pyramide, en statue, en blomst, en stav, en prestinne, Horusøyet og kortsymboler. Kortsymbolene er også dekorert med platina og glitter. Den gule blomsten er det mest verdifulle av de vanlige symbolene. Horusøyet gir 1000 mynter for fem like, mens de andre unike symbolene gir 500 mynter for fem like. Kortsymbolene deler ut gevinster fra 100 mynter til 250 mynter for fem like. Alle gevinstene finnes i spillets gevinsttabell.
Prestinnen er wildsymbolet i spillet. Hun kan ta plassen til andre symboler, og hun danner også egne vinnerkombinasjoner. Med fem prestinner på en aktiv gevinstlinje, får man hele 7000x innsatsen, som er spillets toppgevinst. Prestinnen, blomsten, scatteren og horusøyet gir gevinst for bare to like, mens man trenger tre like av de andre symbolene for å få gevinst.
Scattersymbolet er en platinapyramide. Dette symbolet gir også egne gevinster, i form av 1x innsatsen for to like, 5x innsatsen for tre like, 4x innsatsen for fire like og 150x innsatsen for fem like.
Gratisspinn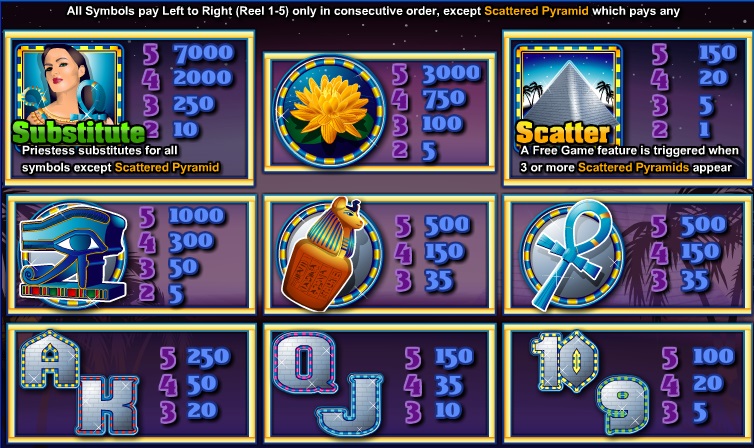 Pyramidesymbolet aktiverer gratisspinnene. Man trenger minimum tre pyramider på skjermen for å vinne gratisspinn, og det er antallet pyramider som avgjør hvor mange spinn man vinner. Med tre pyramider vinner man 5 gratisspinn, med fire pyramider vinner man 10 gratisspinn, og med fem pyramider vinner man 15 gratisspinn. Alle gratisspinngevinster blir tredoblet, og gratisspinnene kan gjenutløses ved å få minimum tre pyramider mens man spiller med gratisspinn.
Gratisspinnene spilles automatisk, og man kan ikke gjøre endringer i innsatsen før gratisspinnene spilles. De blir spilt med den myntverdien man spilte med da gratisspinnene ble vunnet.
Oppsummering
Platinum Pyramid passer både for historieelskere og for alle som bare vil ha en morsom og glitrende spilleautomat. Den egyptiske historien har fått et ansiktsløft i dette spillet, men likevel vil man finne igjen mange kjente symboler. Mange av symbolene gir gevinst for bare to like. Spillet har også wildsymboler, og gratisspinn med tredoble utbetalinger.