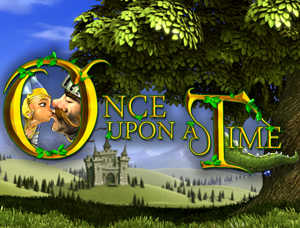 Om man er glad i klassiske eventyr så har Betsoft laget den perfekte spilleautomaten å spille. Once upon a time er en videoslot som har eventyr som tema. Det er ikke snakk om et spesifikt eventyr men heller flere elementer som alle forbindes med eventyr. Det er drager og troll med i tema, i tillegg til en vakker kvinne som sitter fast i et tårn. Hvis det høres kjent ut så er ikke det så rart for det er nemlig alle ting som forbindes med eventyr. Betsoft har virkelig skapt en fin videoslot som har et flott tema, som mange kommer til å like. De aller fleste liker vel eventyr en gang i mellom.
Oppsettet i spillet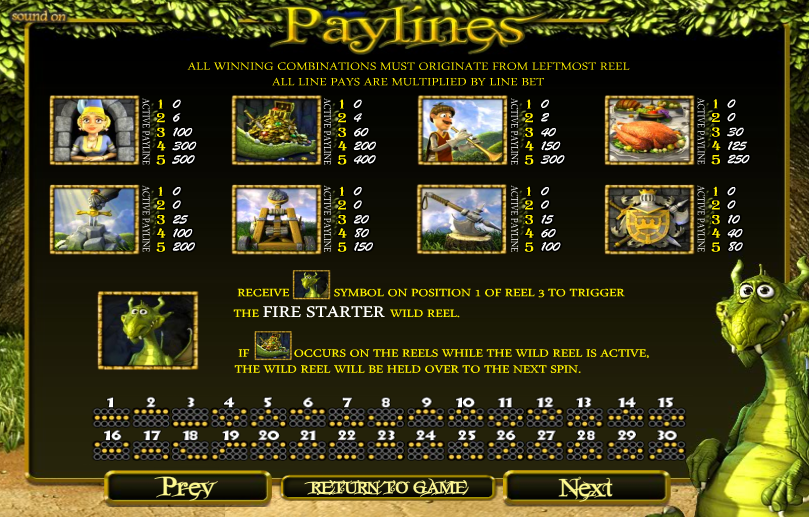 Oppsettet i Once upon a time er slik det pleier å være i de aller fleste videoslots. Man har fem hjul, tre rader med symboler og totalt finner man 30 innsatslinjer. Innsatslinjene i spillet er faste, så spilleren får ikke justert på det antallet. Det spilleren derimot kan justere er myntverdien og antall mynter per innsatslinje. Det finnes en knapp for hvert av disse justeringene. Hver mynt i spillet kan ha en verdi på mellom 0,02 euro og 0,50 euro. Når man har bestemt det, så skal man tilpasse antall mynter per innsatslinje. Det kan være mellom en og opp til fem mynter per innsatslinje. Dette vil kunne gi en så lav innsats som 0,30 euro og en så høy innsats som 150 euro i en spillerunde. Etter man har justert innsatsen så kan man velge å bruke autospillfunksjonen i spillet. Den lar spilleren sette spillet på autofunksjon i opp til 100 runder.
Grafikk og lyd i spillet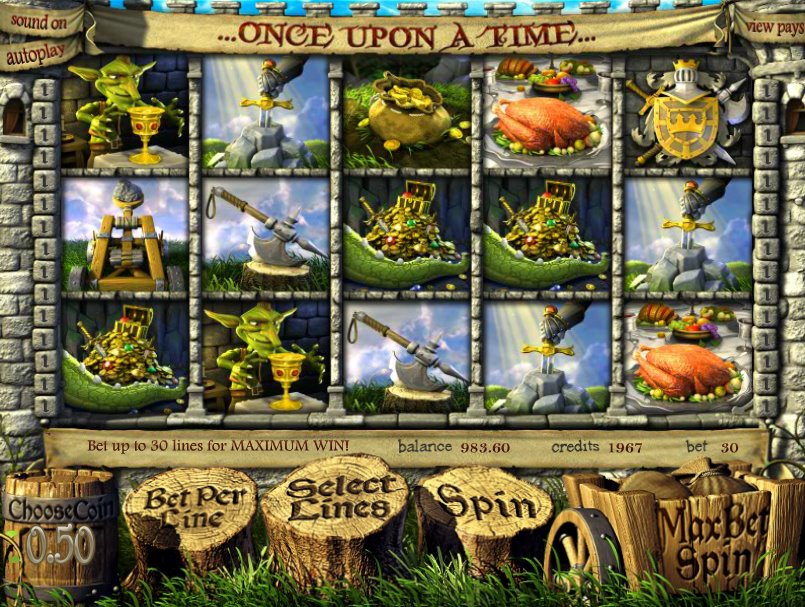 Ikke nok med at Betsoft har satt inn et bra tema i spillet, men de har også satt inn en grafikk som er av aller høyest kvalitet. Betsoft har blitt kjent for sine flotte 3D effekter i videoslots og de har lagt inn de samme effektene i Once upon a time. Det er en flott spilleskjerm man har foran seg og i tillegg til 3D effektene så har man en mengde ulike flotte animasjoner. Spilleskjermen er virkelig flott å se på. Det er ikke lagt på et bakgrunnsbilde i spillet men alt på spilleskjermen er heller laget slik at alt hører sammen. På hver side av spilleskjermen så har man et tårn med et lite vindu på toppen. Mellom disse to tårnene så er det hengt opp en banner som da har tittelen på spillet skrevet over seg. Nederst på spilleskjermen så finner man spillets knapper, som er plassert på noen trestubber i tillegg til noen trekasser. Hjulene i spillet er delt opp med samme type steiner som finnes på de to tårnene. På hjulene så finner man spillet symboler, som alle er tilpasset det flotte eventyrlige tema man har i Once upon a time. Det er drager, små troll, prinsesser, riddere og et sverd i en stein. Lydbilde man hører etter hvert som man spiller løfter spillet enda høyere, med en bakgrunnsmusikk som er full av liv.
Spesialfunksjoner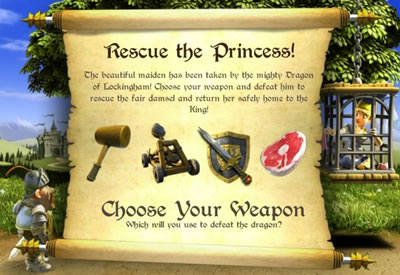 Spesialfunksjonene som er lagt på spillet har alle hvert sitt navn. Funksjonen som betaler ut kontantgevinster i spillet har fått navnet Hvordan elsket hun ridderen. Funksjonen blir aktivert hvis man får prinsesse og ridder symboler inntil hverandre på to hjul. Det må da være på enten hjul en og to eller to og tre. Når det skjer så får man en kontantgevinst. Funksjonen som heter De gale trollene er funksjonen som aktiverer gratisspinnene i spillet. Man trenger tre symboler av trollhuset for å aktivere rundene. Bonusspillet har fått navnet Gale troll og er et typisk klikk og vinn spill. Funksjonen blir aktivert av symbolet som er i form av en sekk med gull og man trenger minst tre stykker. Spillet går ut på at man har et samarbeid med trollet, og gjennom det trollet får til, så vil man få gevinster.