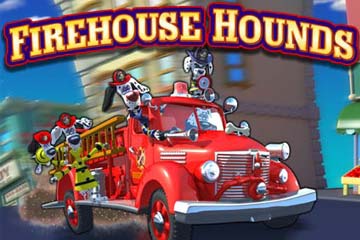 Firehouse Hounds er en herlig spilleautomat fra IGT laget for online casino. Spillet ble lansert sommeren 2015, og det er selvsagt hunder som står i sentrum. I USA er det helt vanlig at brannstasjoner har hunder som kjæledyr, men i dette spillet har hundene tatt over hele brannstasjonen. Spillet er sjarmerende og morsomt, med hunder iført hjelm og støvler. En av dem spyler til og med vann over brennende symboler.
Spillets oppbygging
Spillet består av fem hjul med tre symbolrader. Symbolene er en herlig blanding av sjutall og unike symboler. Foran hjulene står to dalmatinere med slanger, for noen symboler kan bli overopphetet. Under hjulene er innstillingene. Det er 30 linjer i spillet, men spillet har også et ekstrainnslag som koster 10 mynter. derfor koster det totalt 40 mynter per spinn. Myntverdien kan justeres slik at man finner en innsats som passer egen lommebok. Myntverdiene går fra 0,01 euro til 1 euro, altså fra 0,40 euro til 40 euro per spinn. Den teoretiske utbetalingen er på 96,06 %, og dermed kan man forvente å vinne igjen en god del av innsatsen sin. Utbetalingsprosenten er selvsagt basert på spilling over lengre perioder, slik at man både kan tape mer og vinne mer enn det oppgitte gjennomsnittet. Spillet er middels variabelt, og jackpotten er på 12 500 euro. Gevinstene kommer relativt ofte, men gratisspinnene kan være litt vanskeligere å utløse.
Symbolene i spillet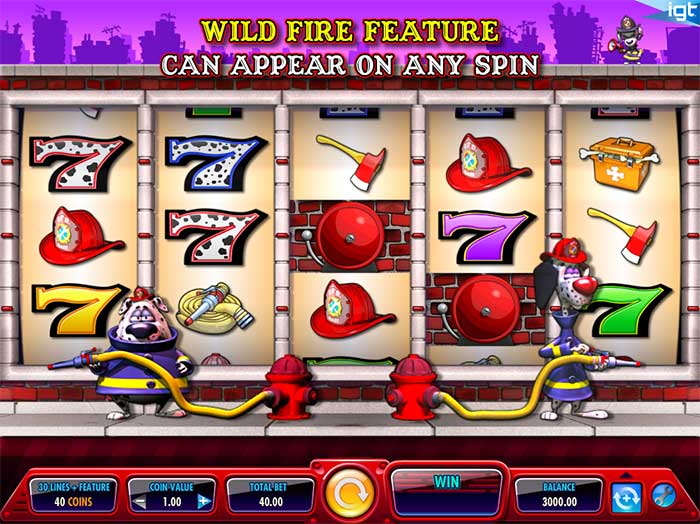 Spillet har ingen kortsymboler, slik man finner i mange andre automater på norske nettcasino. De unike symbolene inkluderer brannøkser, slanger, brannslukkere, førstehjelpsskrin, brannhydranter og hjelmer. Hjelmen gir 150 mynter for fem like. Man trenger alltid minst tre slike for å få gevinst, men vinnerrekkene kan gå i begge retninger i dette spillet. De kan altså starte både ytterst til venstre og ytterst til høyre på skjermen.
De største gevinstene i spillet blir delt ut av sjutall. Det er fem ulike sjutall, og man får gevinst for tre eller flere like sjutall på rad. Gevinsten er 200 mynter for fem gule eller fem grønne sjutall, 250 mynter for fem rosa sjutall, 300 mynter for fem blå dalmatiner-sjuere og 500 mynter for fem røde dalmatiner-sjuere. Dersom man klarer å få fem forskjellige sjutall etter hverandre på samme gevinstlinje, får man 40 mynter i gevinst. Alle gevinstene er oversiktlig listet opp i gevinsttabellen, og der finner man også en oversikt over alle linjene.
Spesialsymboler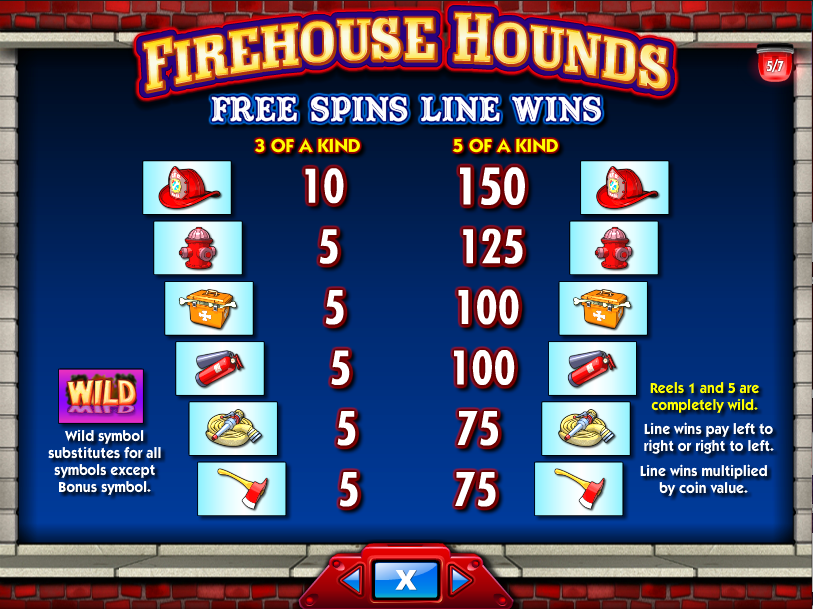 Jokeren er et symbol med ordet WILD. Dette symbolet kan erstatte alle de vanlige symbolene, men det kan ikke erstatte bonussymbolet. Jokersymbolet kan ikke lage egne vinnerrekker, men det kan fullføre andre vinnerrekker og gjøre det litt lettere å vinne.
Bonussymbolet er en brannalarm, og det dukker også opp lydeffekter når man får tre slike symboler på skjermen. Dersom dette symbolet dukker opp på hjul 1 eller 5, blir hele hjulet til et jokerhjul, og da går det skikkelig hett for seg. Det blir faktisk så hett at de to hundene må trå til med vannslangene sine. Hvis spillerne klarer å få tre bonussymboler samtidig, blir spillerne belønnet med free spins. man kan vinne 4, 5 eller 6 gratis spinn. Hvor mange spinn man vinner, blir avgjort ved at man skal velge 1 av 3 stenger. Antallet brannhunder som sklir ned stangen, viser hvor mange gratisspinn man vinner. Under gratisspinnene er både hjul 1 og hjul 5 låste jokerhjul. Man kan også vinne nye gratisspinn mens man spiller med gratisspinn, og dersom man igjen utløser gratisspinnene, vinner man også 30x innsatsen. Med to låste jokerhjul, kan gratisspinnene gi skikkelig store utbetalinger.
Oppsummering
Firehouse Hounds er et herlig hundespill med både låste jokerhjul og gratisspinn som kan utløses om igjen. Spillets symboler er en blanding av brannmannsutstyr og sjutall, og spillfølelsen er god. Dette spillet har også en relativt høy utbetalingsprosent, selv om utbetalingsprosenten kan variere litt etter hvor mye man spiller. Gratisspinnene spilles alltid med to låste jokerhjul, og da kan man vinne store gevinster. Innsatsen per spinn er 40 mynter, men det er mange ulike myntverdier å velge blant.