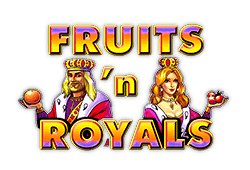 I mange sammenhenger vil mange mennesker si at det meste var bedre før. Kanskje er spilleautomater et lite unntak fra denne regelen, for det er tross alt vanskelig å mene i fullt alvor at kvaliteten på disse ikke har blitt bedre med årene. Overgangen fra analoge fysiske automater som står inne i diverse lokaler rundt omkring i landet vårt, til digitale automater på nettet har åpenbart vært en kraftig forbedring i kvalitet. Men all verdens forbedrede kvalitet har aldri vært i stand til å hindre folk i å fortsette å tenke tilbake på fortiden, om ikke annet for minnene sin skyld. Fruits and Royals fra Novomatic er en automat som kombinerer det moderne med det nostalgiske.
Grunnleggende
Novomatic er kjent for å utvikle automater som er enkle samtidig som klare rå holde oppmerksomheten til spilleren. De som mener at mange spilleautomater har gått for langt i retning av å ligne på animasjonsspill, og at en spilleautomat tross alt bare skal være en spilleautomat, har gjerne blitt veldig begeistret for deres utgivelser nettopp på grunn av dette. Fruits and Royals føyer seg inn i rekken av slike produksjoner. Her har vi fem hjul med fem premielinjer, noe som viser at de her har tatt minimalismen ut til det fulleste. I tillegg til dette kommer det et wildsymbol, et scattersymbol, gamble-funksjon, gratisspinn og bonusspill. En annen veldig nyttig funksjon er autoplay-funksjonen. Hvis du ikke har tid til å fokusere helt og holdent på spillet kan du sette på denne, så går spillet av seg selv mens du gjør andre ting. Du satser per premielinje, så antall mynter du har justert innsatsen til må multipliseres med antall premielinjer, som er fem. Innsatsen kan altså ligge mellom 40 og 1000 mynter per spinn. Hva dette utgjør i kroner og øre avhenger av hvilken verdi du vil at myntene skal ha. Husk at myntene du vinner i premie har samme verdi som myntene du brukte ved siste spinn, så premiene er alltid proporsjonale med innsatsen.
Konseptet
Dette er en herlig blanding av moderne herligheter og klassisk nostalgi. Det er fruktene som dominerer blant symbolene på skjermen: appelsin, plomme, kirsebær og sitron er blant noen av de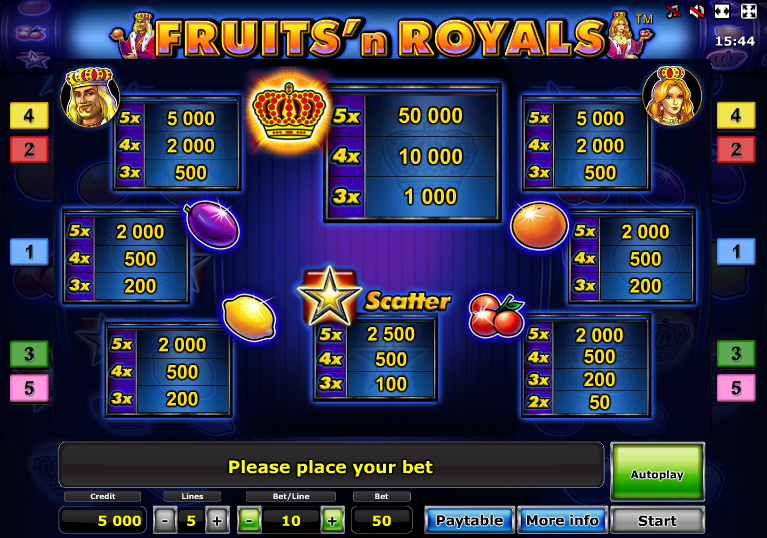 gamle kjenningene vi snubler over. Men også andre symboler finnes i overflod. En konge, en krone, en stjerne og en vakker prinsesse er blant dem. Det at det finnes wildsymbol og gratisspinn i den moderne forventningen av ordet gjør at automaten kobler det klassiske og det moderne på en morsom måte.
Effekter
Effektene er kanskje det som gjør Fruits and Royals aller mest tiltrekkende. Musikken og lydeffektene i dagens spilleautomater høres gjerne ut som om de kommer fra et vanlig spill til konsoll eller PC, eller det kan virke som en musikk som hører hjemme i en Disney-produksjon. Men i Fruits and Royals høres spilleautomaten ut slik en skikkelig spilleautomat skal høres ut, nemlig med høy og rask musikk i det hjulene spinner. Dette er det som har skjerpet sansene til automatspillere verden over i generasjoner, og det er viktig at denne tradisjonen videreføres også på nettet.
Gamble
Det er en funksjon som definitivt er noe av det mest nervepirrende spilleautomatenes verden har å by på, og Novomatic pleier å ha denne med i sine produksjoner, nemlig gamble-funksjonen. Denne går ut på at du har en valgfri mulighet til å spille kvitt eller dobbelt om premiene dine hver gang du vinner. Hvis du vil gjør dette vil du bli tatt med til en skjerm med et kort liggende med ryggen opp. Gjetter du riktig farge dobles premien din. Gjør du det en gang til firedobles den. Men hvis du tar feil en eneste gang forsvinner alt. Nervepirrende er bare fornavnet.
Konklusjon
Fruits and Royals er en innføring i hvordan spilleautomatene har utviklet seg. Her får vi se elementer fra både det klassiske og det moderne, og det er vanskelig å ikke synes dette er fascinerende mens man spiller. De gode gamle fruktsymbolene kan vekke minner i oss alle.