Om man er klar eller ikke, har alle sin nye favoritt slotmaskin kommet på en rekke ulike online kasinoer. Tittelen på denne slotmaskinen er Hoffmeister og dette er faktisk Novomatic sin andre slotmaskin som er basert på selve David Michael Hasselhoff. For de som ikke kjenner han ved det navnet eller ved navnet Hoffmeister, vet man kanskje hvem denne mannen er fra navnet Mitch eller The Hoff. Denne mannen har nemlig hatt og fått utrolig mange ulike kallenavn gjennom tidene, noe som absolutt er fortjent. Han ble nok mest kjent fra karakteren hans Mitch i Baywatch og har i ettertid dukket opp i en rekke ulike filmer, reality serier og som artist. Denne mannen er tross alt blitt utrolig kjent og ikke minst utrolig populær i Østerrike, og det er faktisk der dette selskapet sine hovedkontorer befinner seg. I motsetning til Novomatic sin tidligere lansering som hadde tittelen Hoffmania, har faktisk ikke denne spilleautomaten «Allpay» funksjonen på samme måte som sist. Hoffmeister har i stedet kun fått 10 spillelinjer. Spillet har derimot absolutt ikke mistet sjarmen sin og er fortsatt en slotmaskin som alle bør prøve, enten man har hørt om denne mannen før, liker han eller ikke. Hoffmeister kan nemlig friste med en rekke ulike spennende bonuser, imponerende og vel gjennomførte animasjoner og selvfølgelig vil spillerne kunne høre Hasselhoff lydeffekter. Som mange allerede er klare over, er tross alt Hasselhoff en utrolig flink underholder. Dette kan man ta som en advarsel, da det kan ta en stund før man kan ta øynene vekk fra skjermen fra det øyeblikket man spiller.
Funksjoner og de ulike innsatsalternativene i Hoffmeister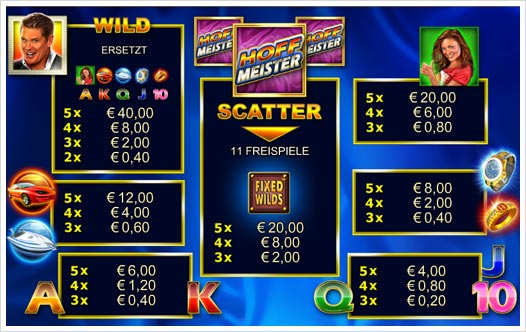 Denne spilleautomaten har fått et standard oppsett, noe som betyr at den er satt sammen av fem hjul og tre rader med symboler. Som nevnt allerede inneholder Hoffmeister 10 spillelinjer, noe som er overraskende lite for en slotmaskin. Siden det nettopp er kun 10 spillelinjer i slotmaskinen, vil disse snurre på en litt annerledes måte enn på Novomatic sin tidligere lansering som hadde blitt justert for at den skulle passe andre forhold. Bortsett fra akkurat dette er faktisk hele oppsettet og de ulike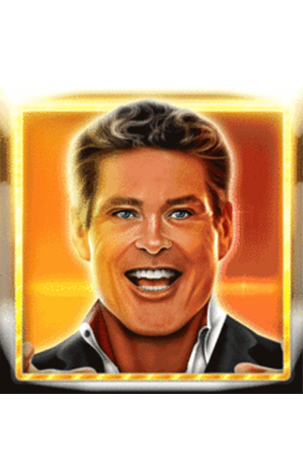 innstillingene ganske likt den forrige lanseringen, Hoffmania. Spillerne vil selvfølgelig kunne justere på en rekke ulike innsatsalternativ for at spillet skal passe flest mulig kasinospillere og ulike spillekontoer. Spillerne kan justere på både antallet spillelinjer som skal aktiveres i tillegg til hvor mye som skal satses per spillelinje. Hoffmeister har enda flere ting som ligner på Novomatic sin tidligere lansering, Hoffmania. Her kan man nemlig finne en gamble funksjon som spillerne kan ta i bruk på en hvilken som helst
gevinst, da vil man kunne doble gevinstene sine. Det eneste som spillerne må gjøre der er at de må kunne gjette riktig farge på det vinnende kortet. Dette kan man gjøre hvor mange ganger man vil, helt frem til man treffer den maksimale grensen eller man taper en gang i rekken. Det som spillerne bør være klare over er at man ikke kan ta i bruk denne funksjonen når man får de virkelig høye gevinstene eller dersom man benytter auto play.
Spillets symboler og forskjellige bonusrunder
Som man kanskje hadde forventet, finnes det selvfølgelig en rekke symboler på spillets fem hjul som er inspirert av nettopp The Hoff. I denne spilleautomaten er man nemlig omringet av alt som finnes inne i Hoffmeister sin verden, og dette har Novomatic fått til på en utrolig bra måte. På hjulene kan spillerne se både yachter, de raskeste bilene, Hasselhoff sine fans og selvfølgelig noen flotte smykker. Det er disse symbolene som er spillets hovedsymboler. Deretter finnes det selvfølgelig noen spesialsymboler som vil dukke opp, David eller Michal Knight som noen kanskje kjenner han som er blant annet spillets wildsymbol. Dette symbolet vil kunne erstatte absolutt alle andre symboler i spillet med unntak av scattersymbolet. Scattersymbolet er derimot i form av Hoffmeister logoen, men det er selvsagt symbolet som viser Hasselhoff som gir de aller største gevinstene.