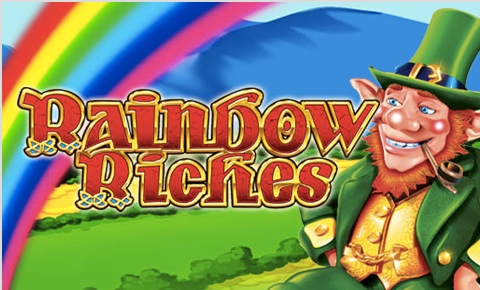 Hva gjemmer seg egentlig på enden av regnbuen? Dette har det blitt skrevet sagn om siden tidenes morgen. I nordisk mytologi, var regnbuen koblingen mellom jorda og gudenes verden. I andre populære sagn, er det en liten mann med hatt som sitter på en skattkiste, full av gull og edelstener. Hvem er vi til å si hva som er sannheten? Først må vi lære oss å ta igjen denne fantastiske lysende fargesirkelen på himmelen. I Barcrests Rainbow Riches, er tematikken og designet veldig fargeinspirert. Kanskje ikke så rart når Regnbuen består av alle fargene vi kan tenke oss?
Temaet og grafikken i Rainbow Riches
Noe som Rainbow Riches skal få god kritikk for, er gjennomførte symboler. Det er en del av standardsymboler som kortene 10-A, men disse er innmari pene å se på. I tillegg har de andre symbolene i spillet fått en like god stilforandring, som standardsymbolene. Her finner vi spesialsymboler som gullmynter, ønskebrønner, regnbuer og en liten mann med grønn hatt. Bak hjulene ser vi en fargesprakende regnbue, over et eksotisk landskap. Lydbilde har dessverre fått litt lite oppmerksomhet i forhold til symbolene og grafikken, i Rainbow Riches. Lydene i spillet er underholdende og man finner noen sammenhenger med tematikken, spesielt de irske historiene om Leprechaun.
Innsatser og tilleggsfunksjoner i Rainbow Riches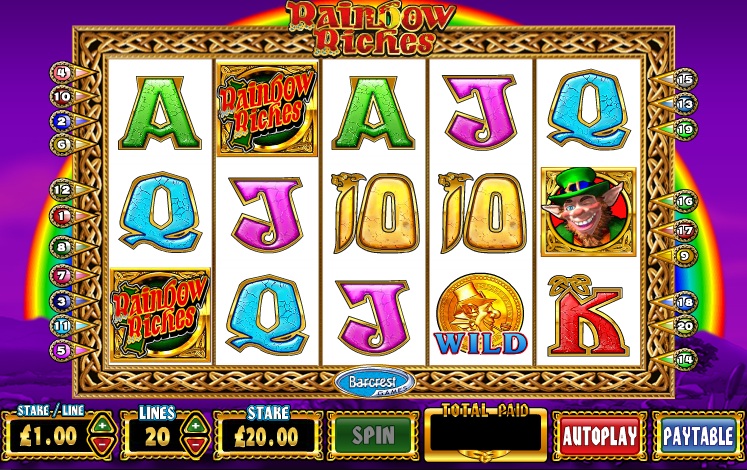 Rainbow Riches tilbyr en utrolig enkel og grei brukervennlighet. Her ser man enkelt og greit hva slags innsatser man bruker, og knappene er veldig tydelige å finne og forholde seg til. Du kan variere antall rader du ønsker å spille på, samt hvor mye du ønsker å satse per rad i euro. Du kan satse så lite som en cent per rad, opp til hele tjue euro per rad. Med tjue gevinstlinjer fordelt på fem hjul og tre rader, blir dette en maksinnsats på hele firehundre euro per spinn. Med andre ord, du finner et nivå som passer perfekt for deg, uavhengig av om du liker å spille for tusenlapper eller hundrelapper.
Spesialsymboler og bonusfunksjoner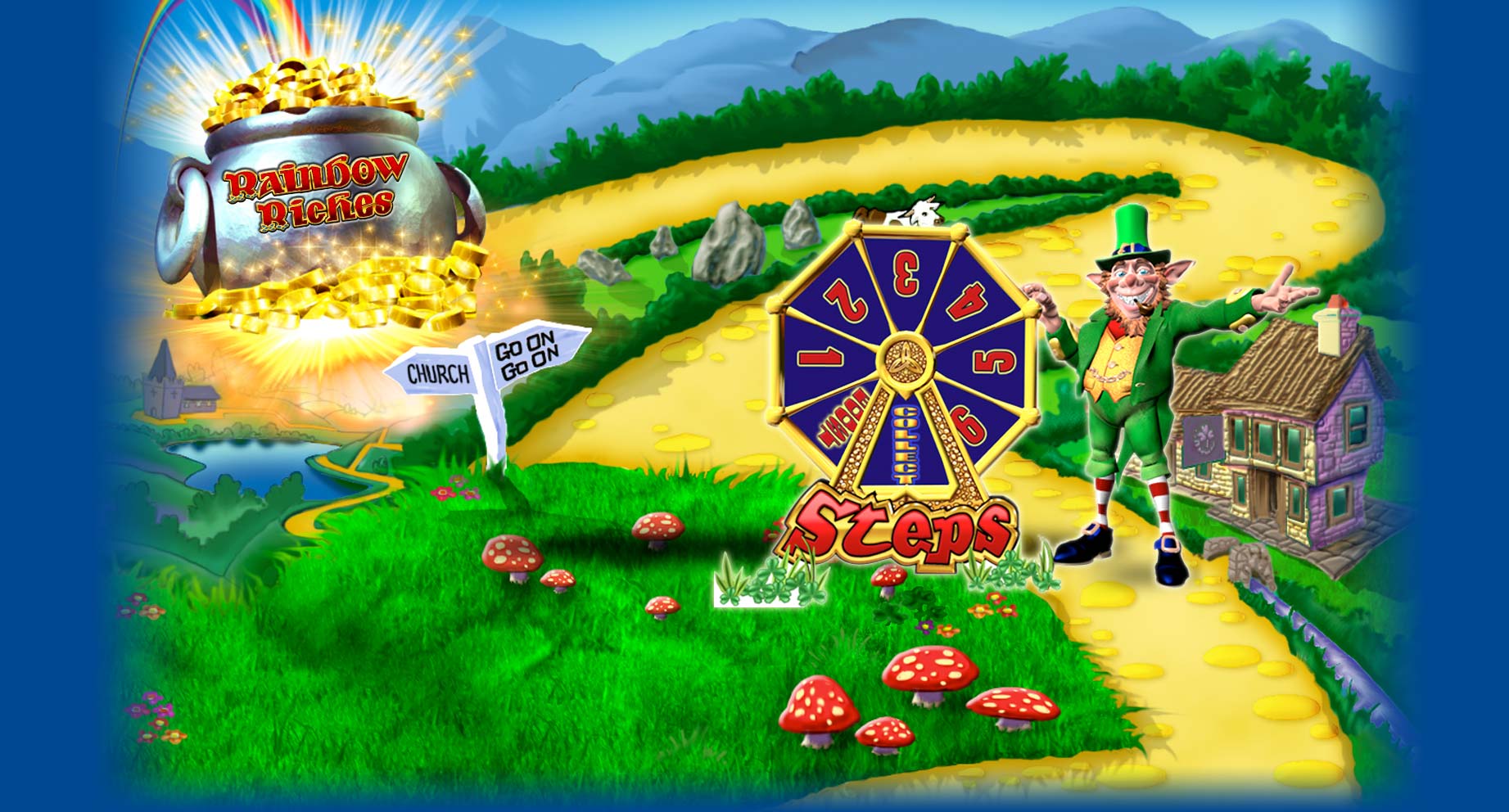 Rainbow Riches har noen spennende tilleggsfunksjoner som garantert vil underholde deg i noen timer. Her finner vi wildsymboler, og stablede symboler som kan utbetale noen ganske så heftige premier. Det som er litt sært er at Rainbow Riches ikke har noen form for scattersymboler eller gratisspinn. Wildsymbolet i Rainbow Riches fungerer som alle andre wildsymboler. Det erstatter alle andre symboler og du får større sjanser til å få gevinst. Det er dog noen symboler som ikke kan bli erstattet og det er, de tre bonusfunksjonene som heter Wishing well, Pots Of Gold og Road to Riches. Alle disse har fått hvert sitt symbol. Wishing well er en ønskebrønn. Dette symbolet aktiverer et bonusspill, hvor man skal klikke på forskjellige ønskebrønner for å få en gevinst. Her kan man være heldig å få hele 500 ganger innsatsen i premie. Du må få minst tre symboler for å aktivere bonusrunden. Road to Riches aktiveres ved at man får tre eller flere symboler med Leprechaun på et spinn. I dette spillet er det et lykkehjul som er i sentrum. Også i dette bonusspillet er det mulig å dra in en premie på 500 ganger innsatsen. Pots Of Gold funksjonen i spillet, er den som desidert utbetaler best i spillet. Den er også veldig enkel å ha med å gjøre. Du får tre kjeler fulle av gull på brettet, dette skjer titt og ofte, og her finner du minst 50 ganger innsatsen og helt opp til 500 av det du satset på et spinn!
Sammendrag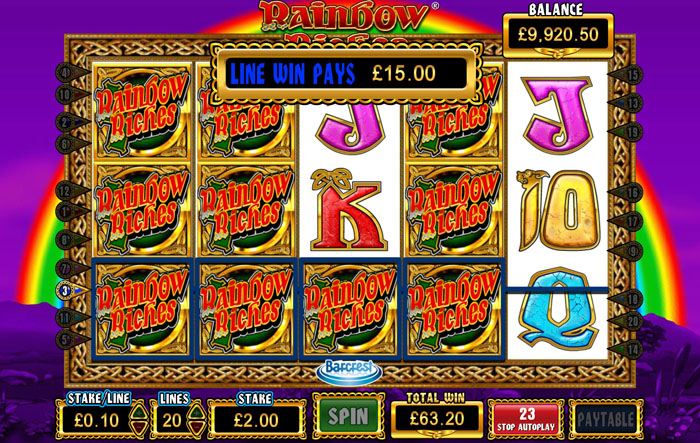 Rainbow Riches er et fem hjul, tre raders spill med 20 gevinstlinjer, og med nokså lave innsatsmuligheter. Det er også fullt mulig å spille for mye. Mange vil nok si at 400 euro er en god slant med penger for et spinn. Du finner tonnevis med bonusfunksjoner i spillet. Her finner du blant annet tre bonusspill, samt wildsymboler og stablede symboler som alle hjelper deg nærmere kjelen fylt med gull, i enden av regnbuen. Hvis du er glad i gratisspinn og scattersymboler, så må du dog se en annen vei. Dette finner vi rett og slett ikke i Barcrests spill Rainbow Riches.